Henry David Thoreau once wrote that "None are so old as those who have outlived enthusiasm." If this is true, then call Klaus Obermeyer anything but old. The German-born skiing legend and founder of Sport Obermeyer, Ltd. turned 100 earlier this week. Still, his zest for life is as readily apparent as it ever was. The Aspen, CO resident still serves as CEO of Sport Obermeyer, the company he founded in 1947. He also still manages to find the time and energy to exercise on a daily basis. And yes, he still skis.
Klaus Obermeyer recently shared some of his thoughts on life and health with the Aspen Times. When asked about how someone might get to be where he is at his age, he said:
"Set priorities. The first priority is your health — what it is you need to do every day to retain as much as possible your health. That's No. 1 in eating and exercising and living and breathing. No. 2 is how to make a living. That's really important. No. 3 is what you want to do for your fun stuff."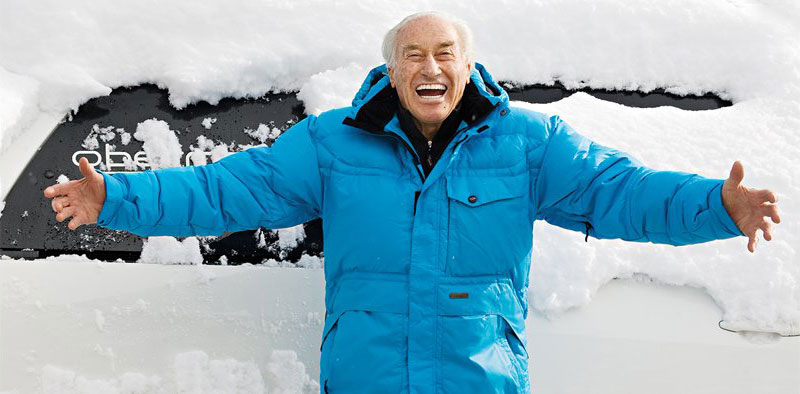 Indeed, his commitment to his first priority, a healthy lifestyle, is unwavering and nothing short of inspirational. When the Aspen Times asked "Have you ever had a day where you just weren't feeling it and said 'I don't feel like exercising or skiing today'? His response was:
"No. That is against my philosophy; it is to stay No. 1 (to) keep your body and your spirit healthy by using them. To be lazy and say "I'm not going to do it today," I don't think that's right. You're cheating yourself. That's something you just don't do."
With respect to his second priority – making a living – Obermeyer has also done quite well for himself. He first came to the United States at the age of 27 and eventually made his way to Aspen where he found work as a ski instructor. According to his biography on the Sport Obermeyer website, it was this work that ultimately led to his founding of Sport Obermeyer in 1947. Since skiing was relatively new to Americans at that time, it just so happened that the gear available for those eager to take up the sport was lacking in overall efficiency and warmth. Obermeyer reportedly made his first down-filled parka out of the blanket his mother had sent with him to the U.S., and the rest, as they say, is history.
In addition to the quilted parka, Obermeyer is credited with several other ski apparel and gear innovations, including the first mirrored ski sunglasses, the first nylon windshirt, dual-layer ski boots, and elasticized turtleneck collars, among others. Obermeyer has received numerous awards and honors in relation to his contributions to the ski industry. Most recently, he was inducted into the Colorado Business Hall of Fame by Junior Achievement-Rocky Mountain and the Denver Metro Chamber of Commerce in 2015.
And what of Obermeyer's third priority? You know, the "fun stuff?" It seems he takes his fun wherever and whenever he can. But his love of skiing no doubt holds a special place in his heart. When the Aspen Times asked what he thinks about while riding the lift, he responded:
"I just love nature. I just think it's so beautiful to look at a tree with snow on it standing there watching you like little people. It's just such a miracle. And then you see a weasel run across, and that's another miracle. I think it is a gift what we have inherited that took billions of years to develop. … It's just such a miracle what we have inherited. All the life, all the many, many plants, the beautiful roses. How do they do it? The snails. How they can build that little house without having to go to snail house-building school? That they have that little, little thought that they inherited that they can do that. Life is such a miracle and puts a smile on your face. I love it. Love it. Love it."
We love it too, Klaus. Thank you for all of your contributions…not the least of which – a healthy dose of inspiration!