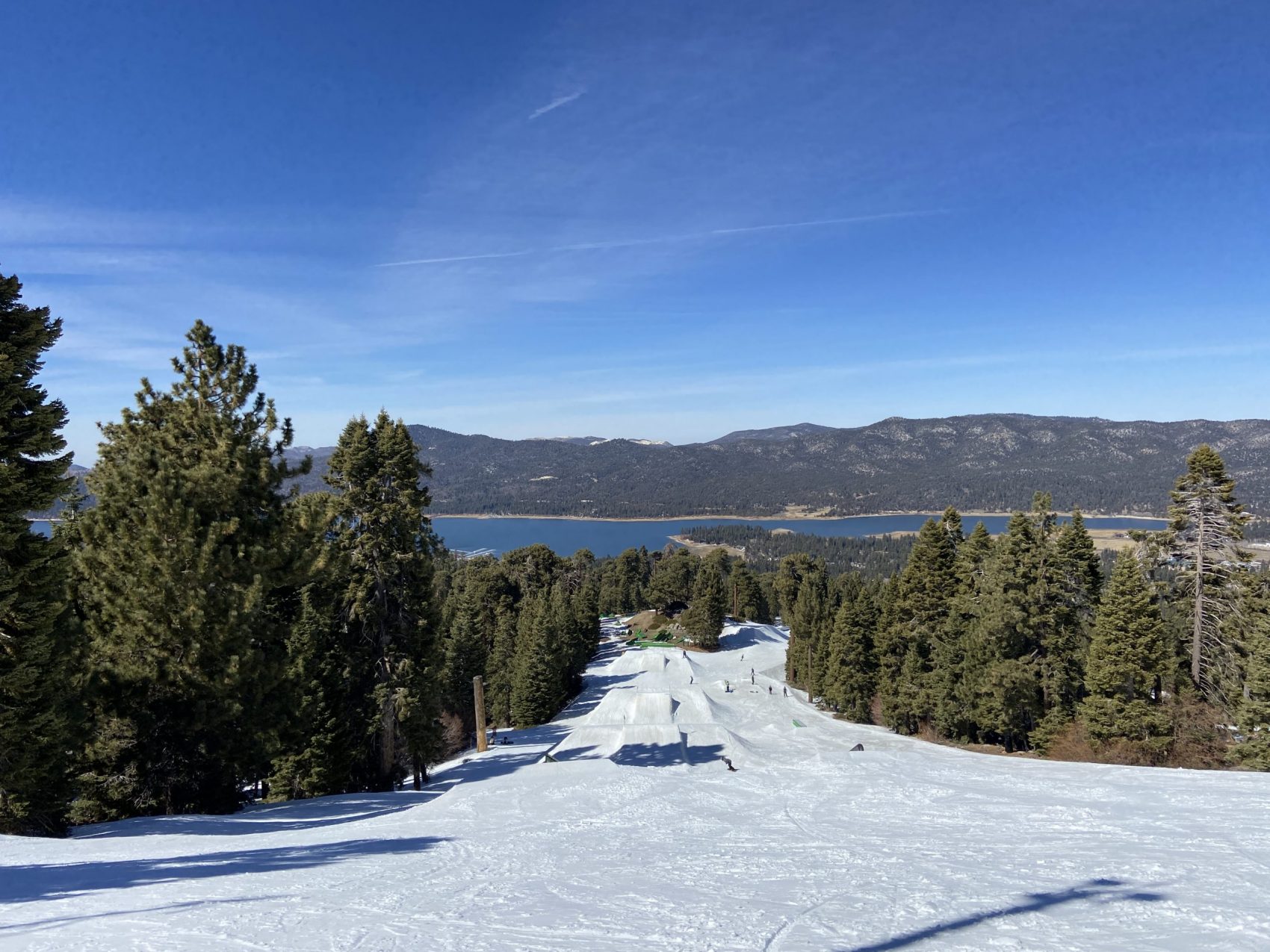 Brought to you by Ski California
Report from Friday, March 5th, 2021
What is Big Bear, California known for? It's known for being one of the sunniest ski destinations in North America, and today was no exception. Bluebird skies and temperatures pushing 55ºF (13ºC) made today's skiing feel like summer.
The best conditions were in the morning. Temperatures that dropped below freezing that night allowed for a solid base to be loosened up by around 10 am, making for great carving that you could really dig your edges into. Some of the highlight groomer runs for me were Timber Ridge, Eco Trip, and Miracle Mile.
As the day went on and the direct sun and warm temperatures began to melt the snow, the famous Big Bear terrain parks began to be the place to ski. The Westridge Terrain Park was in the best conditions and allowed you to lap top to bottom while taking the high-speed quad, Chair 2.
For a Friday, lift lines were surprisingly minimal, I never had to wait over five minutes, and anything other than Chair 1 & 2 had no lift lines at all.
Snow Numbers
So far this season, Snow Summit has fared well with its natural snowfall, already seeing 107″ (272cm) of snowfall this season, exceeding their average of 100″ (254cm) of snowfall a season.
Weather Outlook
The extended forecast for Big Bear Lake shows that Snow Summit will continue to see warm weather in the 50's (10ºC+) for the next three days, following with temperatures dropping and a chance of snow on Tuesday.
Handling of Covid-19 Guidelines
The only disappointment that came to me today was the minimal Covid-19 enforcement. It was a common sight to see no social distancing in lift lines and lots of people simply not bothering to wear masks in lift lines, with seemingly no ramifications for not following the rules. On a couple of occasions, I even saw lift operators not properly wearing masks. This came as a great surprise considering how well all of the ski resorts I have been at this year have handled things.
Final Thoughts
Nonetheless, Snow Summit offered a great day of spring skiing 15 days before the start of spring. Although the warm temperature was nice, I hope mother nature gives a little more snow and cold weather so Snow Summit can see its season last into April.
Additional Photos