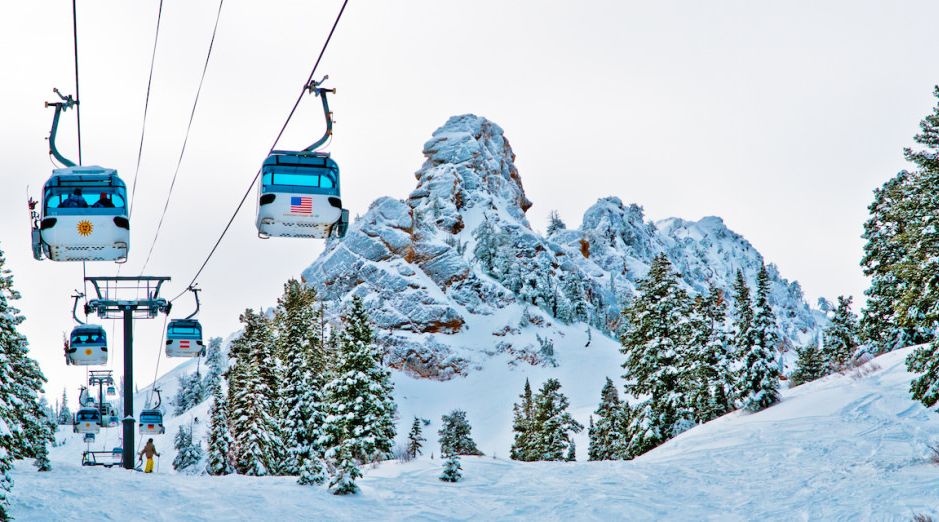 With the recent foot of fresh snow, Snowbasin, UT, one of the longest operating resorts in the United States, is looking forward to celebrating its 80th season with a target opening in late November/early December, pending snowfall and available terrain.
As the 2020-21 winter season approaches, Snowbasin is pleased to share additional enhancements and precautionary measures the resort will be taking in order to ensure the health and wellbeing of guests, employees, and the mountain community while continuing to offer the superior experience guests have come to expect.
As previously announced, Snowbasin will not implement a reservation requirement for season passholders. Instead, the resort will aim to mitigate large gatherings in bottleneck areas, including lodges, the base area, and lifts. Volume will be carefully monitored daily and lift ticket capacity will be restricted if necessary.
The Snowbasin team has worked extremely hard to create additional space within the resort's expansive 3,000-acres. These include the following enhancements for the 2020-21 season:
New Learning Area: Snowbasin has relocated the Grizzly and Wildflower Carpets to offer expanded beginners' terrain with an 11% slope, just north of the Learning Center. With the success of the resort's award-winning Learn and Earn program, Snowbasin is committed to expanding learning opportunities on its slopes year after year
Outdoor/Slopeside Dining: Three new ski-in/ski-out, outdoor dining options will open on-mountain to provide faster service while also eliminating the need to go inside lodges. These slopeside dining facilities will be placed near Earl's Lodge, the Old Day Lodge, and at the base of Strawberry Gondola. Guests will be able to purchase food or drinks at a window and enjoy outdoor seating with a view.
Yurts & Warming Areas: A new yurt village has been built at the base of the Middle Bowl to provide an area for guests to rest and warm-up, remote from any resort lodge. Additionally, the resort has added a yurt to the base area to provide faster season pass and ticket pickup without entering Earl's Lodge. Furthermore, the Old Day Lodge will be open to provide additional space for seating and restrooms as well.
Handle Tow: The Wildcat Handle Tow was installed at the junction of Littlecat Trail and Orson's Terrain Park to provide easier access to Wildcat Express. This allows guests an additional open-air option to access upper and mid-mountain terrain without taking Needles Gondola
Ski Trail to Canyon Rim Parking: Snowbasin added a new trail, Squirrel, to easily access the Canyon Rim parking area without entering a shuttle. Guests can enter the trail near the top of Littlecat Chairlift to ski 3,000 feet to the parking lot. A new crosswalk will also be added to allow guests to safely enter the parking.
Needles Lodge: Renovations were made at Needles Lodge with the addition of 'The Overlook,' a new full-service bar with panoramic views from 8,700 feet as well as operational improvements to increase speed of service and flow.
Slopeside Drop-Off: A new drop-off zone was added to the Wildcat Parking Area, allowing guests to drop off friends or family slopeside. From there, guests can ski to several lifts without needing to visit the base area. With this update, the Wildcat Parking Lot will be open daily. Please note that skier services, including rentals, are not available at this location.
"With the support of our guests in following the new safety protocols, we believe the upgrades and enhancements that the resort has put in place should allow for a safe and successful ski season. We truly appreciate the support and respect of our new policies as we strive to create another great year of skiing and riding. I look forward to seeing our loyal passholders, both old and new, as we celebrate the kickoff of our 80th winter season."

– Davy Ratchford, general manager at Snowbasin Resort