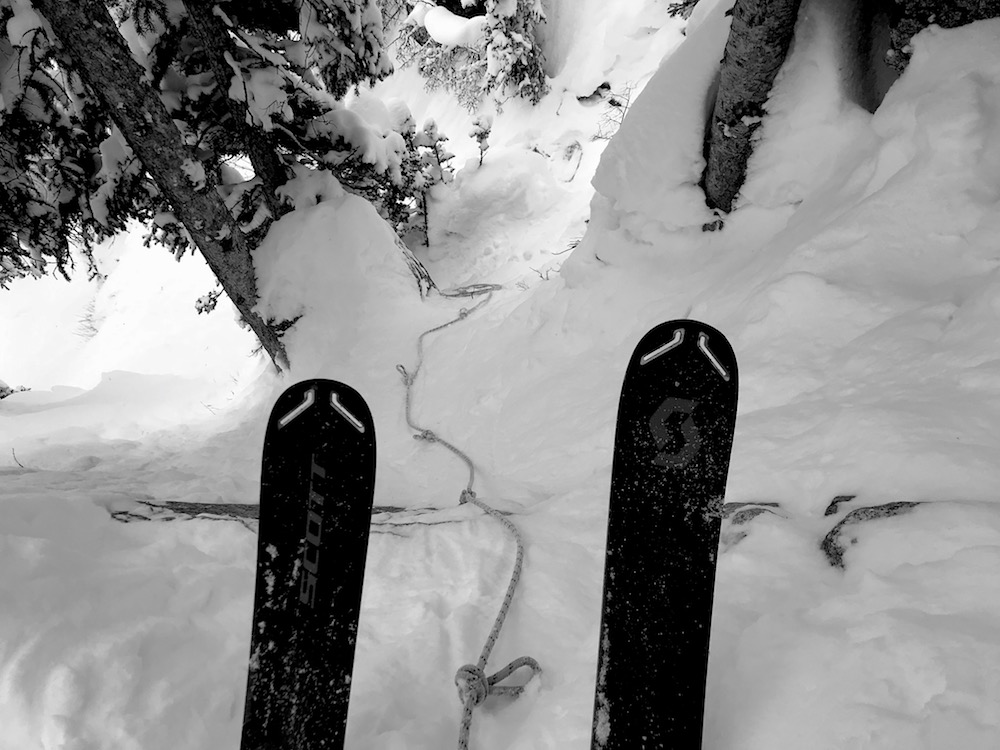 Report from January 23rd, 2019
Snowbird ski resort in Utah continues to highly impress me.
Today, I was out for a rip by myself and I stumbled into some terrific terrain right under the chair.
I wondered why the zone was still mostly fresh powder.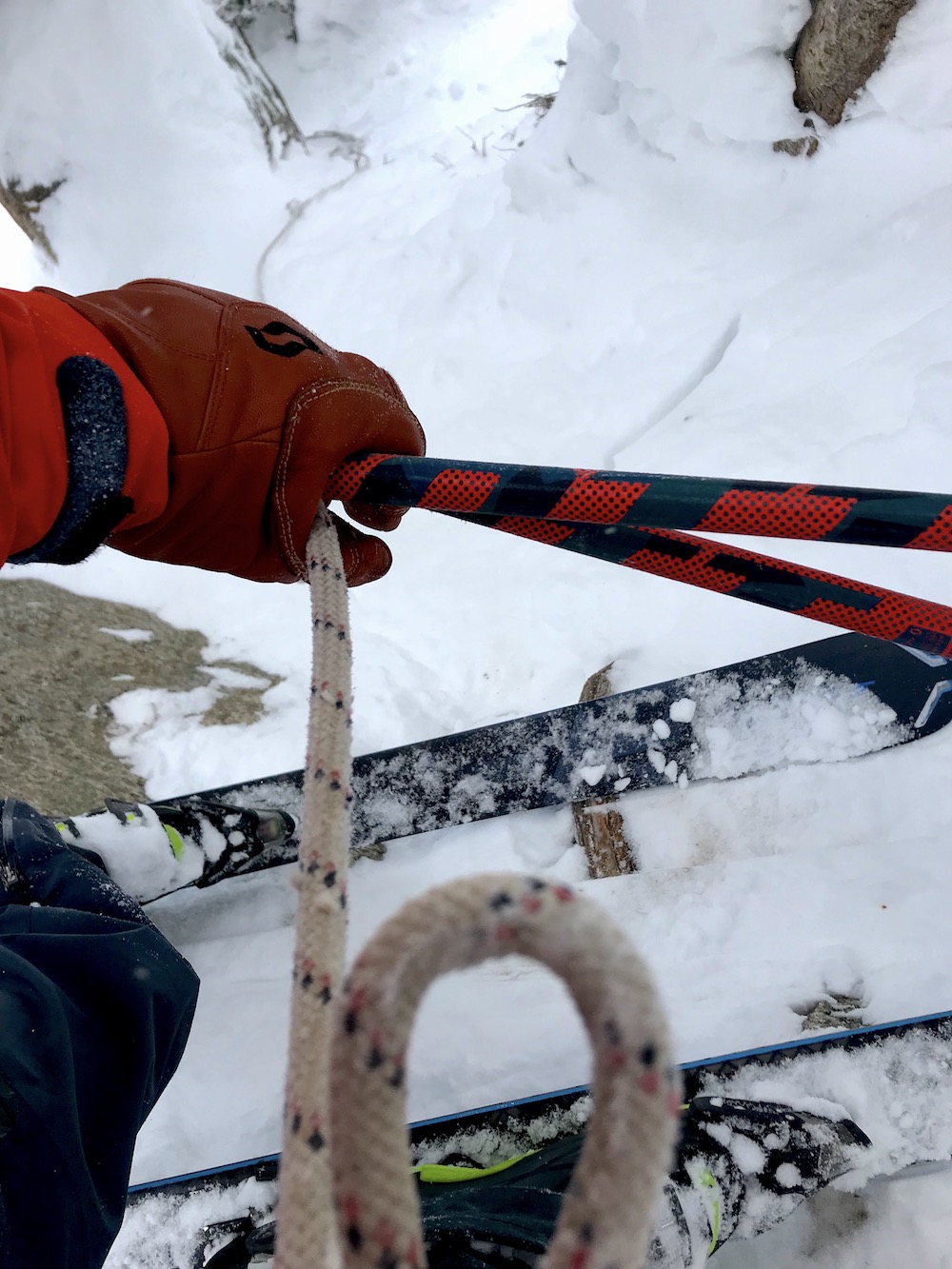 That is until I rolled up to the spot and looked down…
The entrance is steep, it's rocky, and it protects a very cool set of chutes.
The chute I chose looked nearly impossible to get into until I noticed a handy rope with knots it in lying languidly across the slope.
Get Serious Door 3, perhaps?…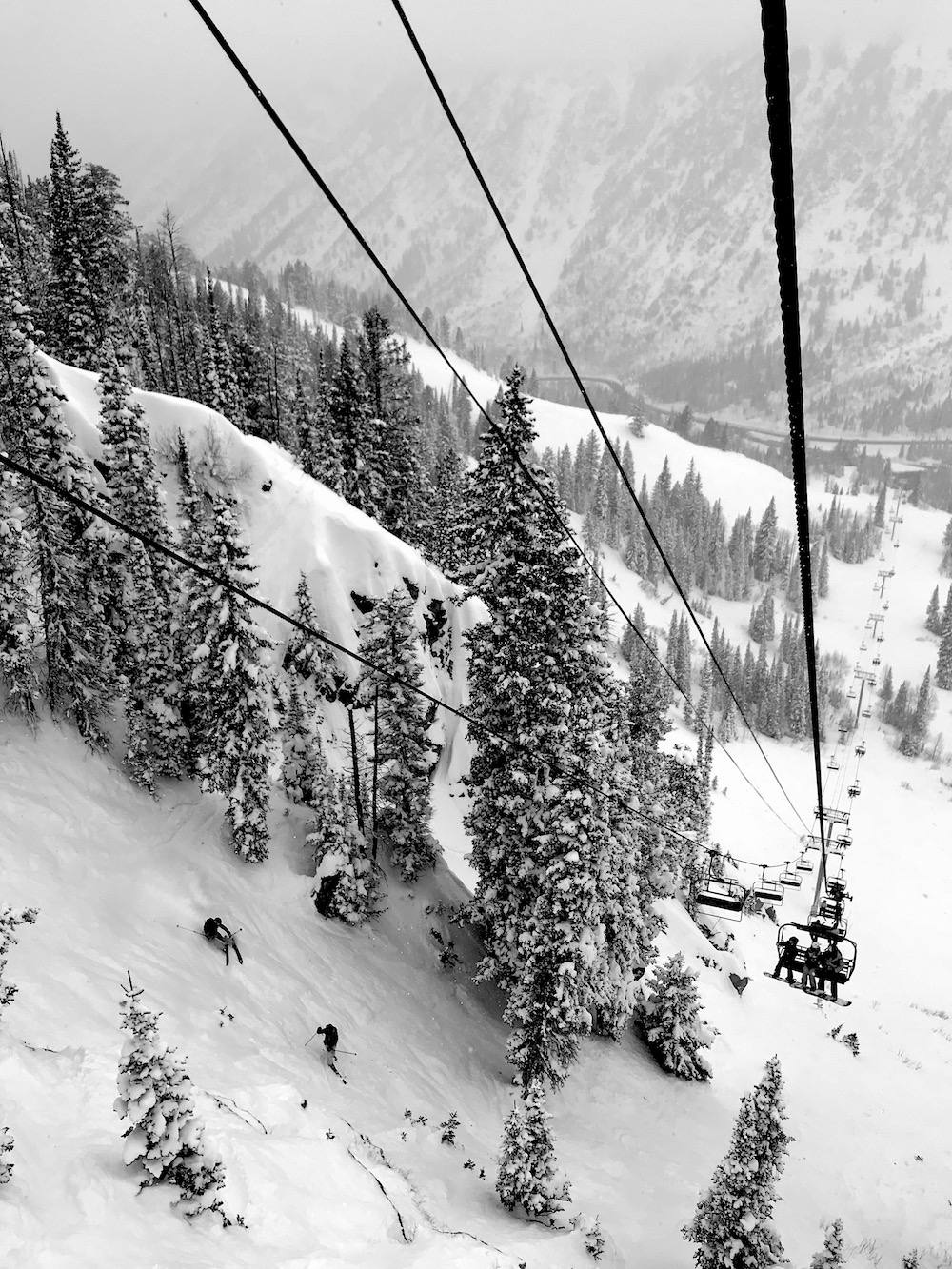 I grabbed it, threw it down the rocks and roots and ice that I wanted to descend, gave the rope a nice arm wramp on my uphill hand and started inching my way down.
Patrol nailed it with this rope as it was exactly the right length to get me into a safe spot where I felt comfortable enough to drop the line and start making turns.
The first 2 turns were on a steep wall before dumping me into the chute proper where fresh snow and sluff had piled high and allowed for fast, slavry turns that sent snow flying repeatedly into my face.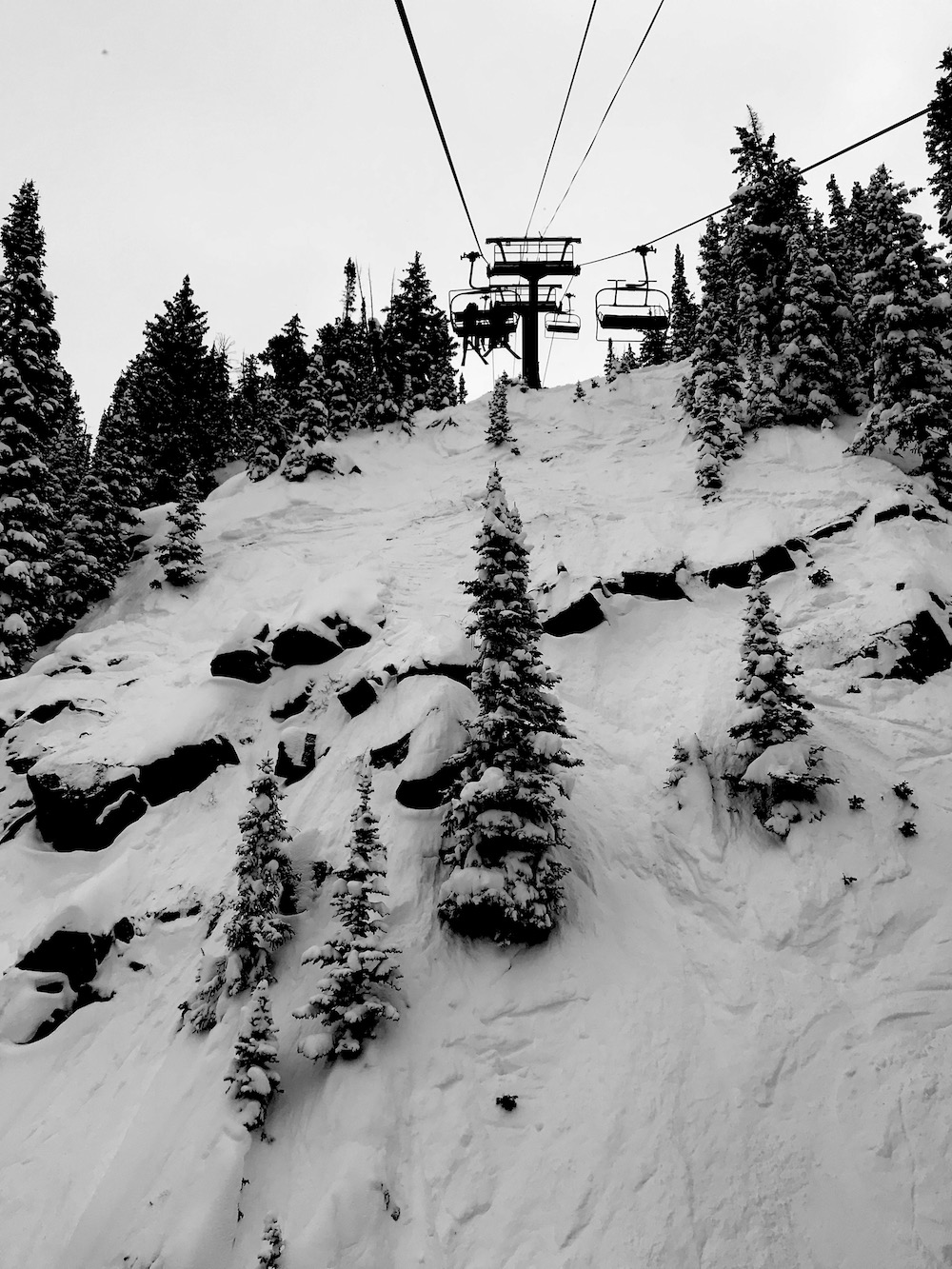 The line has a decent hero factor as a small portion of the Gadzoom chair can see you ripping out – snow flying everywhere.
I've said it before – the snow just stays good here.
Everywhere I skied today was soft and supple.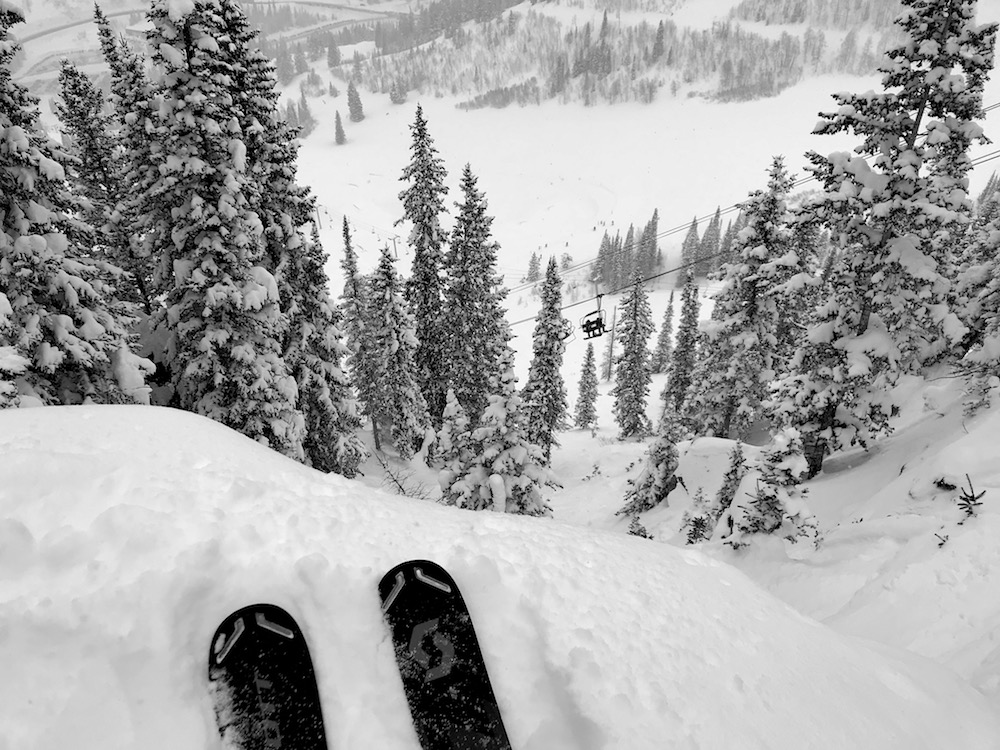 The weather today was stormy, windy, and cold with light snow and many upper lifts closed due to avalanche danger and wind.
Snowbird is still not done managing a huge set of storms that dropped copious amounts of snow and left Snowbird with 282″ of snowfall this season so far!
NOAA has issued a Winter Weather Advisory that is calling for 6-10″ of snow at Snowbird today and tomorrow.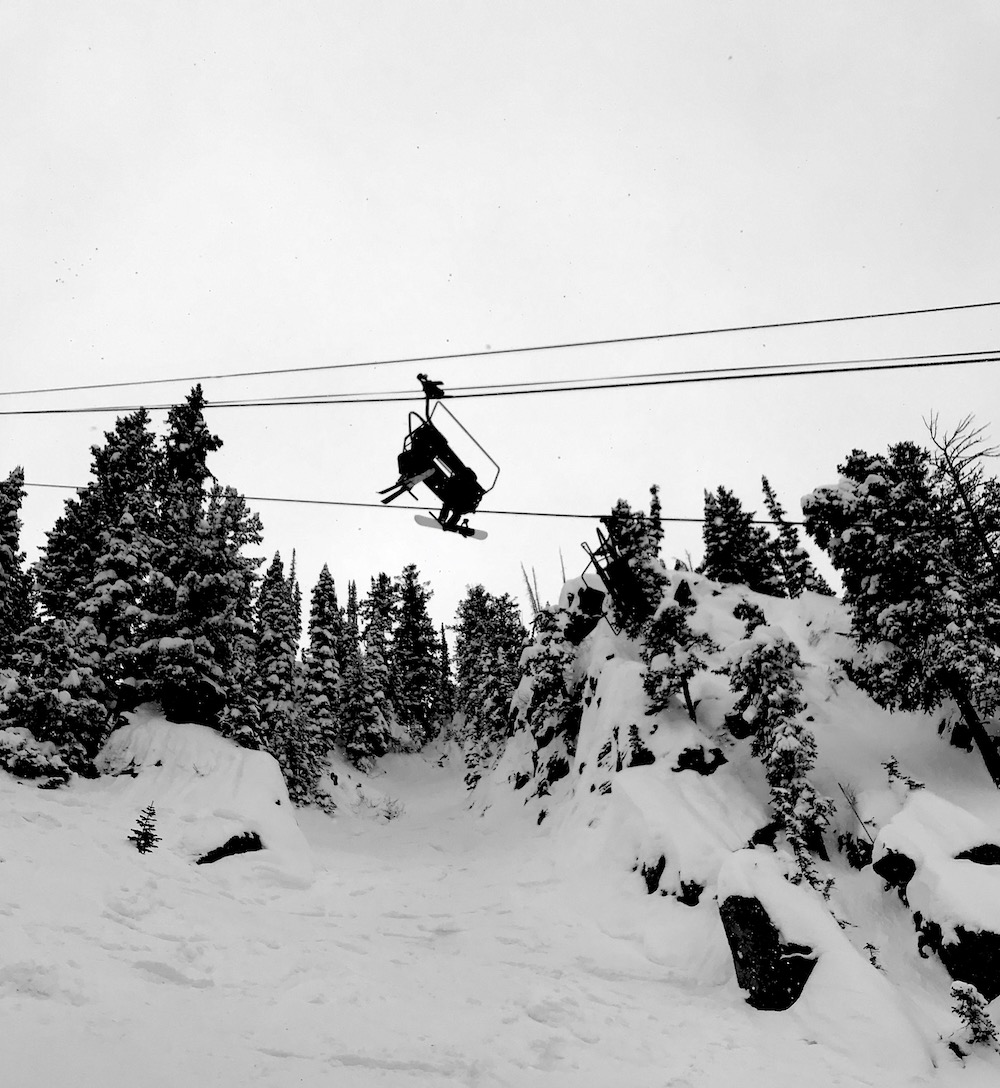 SNOW NUMBERS:
FORECAST:
Winter Weather Advisory
URGENT - WINTER WEATHER MESSAGE
National Weather Service Salt Lake City UT
256 PM MST Wed Jan 23 2019

Wasatch Mountains South of I-80-Western Uinta Mountains-
Including the cities of Alta, Brighton, and Mirror Lake Highway
256 PM MST Wed Jan 23 2019

...WINTER WEATHER ADVISORY REMAINS IN EFFECT UNTIL 5 AM MST
THURSDAY...

* WHAT...Snow expected with areas of blowing snow. Total snow
  accumulations of 4 to 8 inches, with higher accumulations of 6
  to 10 inches in the Cottonwood Canyons. Snow accumulations
  around 3 to 5 inches near Parleys on I-80. Winds gusting as high
  as 40 mph.

* WHERE...Wasatch Mountains South of I-80 and Western Uinta
  Mountains.

* WHEN...Through 5 AM MST Thursday.

* ADDITIONAL DETAILS...Plan on slippery road conditions. Areas
  of blowing snow could significantly reduce visibility.
PHOTOS: