We've compiled a list of our picks for holiday gifts for the skiers and snowboarders on your shopping list.
Shot on Insta360 One X2
The Insta360 One X2 is an amazing pocket-sized action camera sure to thrill any skier or snowboarder on your holiday shopping list. The One X2 is jam-packed with incredible features to take any ski edit to the next level. The camera is pocket-sized and is waterproof up to 10 meters, and has not one but two built-in wide-angle fisheye lenses which each shoot in a resolution of 5.7K at 30 frames per second. The One X2 is lightweight (149g/5.25oz) yet manages to pack an impressive array of features. The Steady Cam feature enables a single lens stable capture, but the Flow State Stabilization feature is truly next level. This ultra-high tech stabilization feature captures footage from both lenses and uses a cutting-edge algorithm in addition to six gyroscopes to stabilize the footage, resulting in higher quality stabilization than that found through the use of a gimbal.
We've all seen choppy, unaesthetic, and essentially unwatchable action camera footage–but for users of the One X2, that will never be a problem due to the incredible stabilization provided by Flow State Stabilization. Also, the One X2 comes with an invisible selfie stick (the selfie stick automatically gets edited out of any shot by the app), so users can create drone-esque footage with the click of a button. The Insta360 One X2 can be ordered with a snow-specific package, which includes an invisible selfie-stick, sd card, helmet mount, helmet mount extension pole, pole mount, and chest strap.
Holiday Gear Gift Ideas
Now available in a 95mm waist (as well as a 105 and 115 mm waist), the Scott Scrapper has been described as the swiss army knife of skis. The Scrapper 95 is light enough for the backcountry (at a nimble 1400 grams), yet versatile enough for resort skiing due to its progressive rocker profile and 3Dimension sidecut. Plus, it's a twin tip, so you can feel confident throwing down in bounds or in the backcountry. The Scrapper is the ultimate freeride tool and– for the ladies reading this–Scott also produces the Scrapper 95 and 105 in a women's specific version, which is lighter weight and more flexible than the men's version.
Made of recycled high-tenacity nylon, the Snoskiwoski is one of the most user-friendly ski packs out there. The Snoskiwoski has an ambidextrous diagonal carry system, so users can carry whichever way suits them or the terrain the best. Users can also adapt the pack to carry A-frame style. Additionally, a side zipper makes it easy to access the snacks and layers stashed in the pack mid-hike, without having to remove skis from the pack! Perhaps best of all, a removable foam panel can be used as a seat pad, which radically improves the comfort of enjoying a summit beer.
Maybe someone you know (or you!) has been rocking stolen rental poles for too long. Take this as a sign to upgrade to the Scott Team-Issue SRS Pole. Made from a light-yet-strong aluminum alloy, the Team-Issue SRS pole also has a special carbon tip for increased traction on ice and features an innovative strap release system so the straps can release from the pole to prevent injury in sketchy situations.
Perfect for making a statement at the gym, bar, or meeting, SnowBrain's socks feature a graphic of a chairlift (a high-speed quad, to be exact!) and the SnowBrains logo. These socks are one size fits most, making them an easy gift to give to just about any skier or snowboarder in your life!
If you're looking for the perfect holiday gift for someone who splits their ski time between charging hard at a resort and earning their turns in the backcountry, look no further than Flylow's Baker bib. The Baker bib is designed to be incredibly waterproof and durable to help riders crush laps (including knee and cuff areas reinforced with 1000 Denier). And, the Baker bib also includes inner and outer thigh vents for those sweaty springtime backcountry laps. For the ladies, consider the Foxy bib, which is also designed to perform well in and out of bounds. Made of 3L softshell which is more flexible than hardshell materials, the Foxy also features a "barn door zipper." This zipper system allows the wearer to easily use the bathroom in the backcountry and has created something of a cult following for these bibs.
Glade's Adapt line of goggles features a truly impressive photochromic lens. Instead of buying a lens for bluebird days and another for low-viz days, with the Glade Adapt lens, riders no longer have to change lenses with changing conditions. Also, the Adapt lens has full UV protection, a wide-angle lens, and venting designed to minimize goggle fog. A special lens treatment repels oil and water which helps keep lenses clean and dry. Plus, with this limited edition SnowBrains x Glade collaboration, wearers can share their love for their favorite ski news website! Order quickly—there are only 100 pairs of these unique goggles available!
Holiday Gifts Under $20
If you're holiday shopping for the snow sports enthusiasts in your life but don't want to break the bank on a gift, we recommend these stocking stuffers under $20.
Rise of Superman draws on decades of research into flow states and uses athletes pushing the limits of their sports as case studies, including snowboarder Jeremy Jones and the late great Shane McConkey. Whether you're looking to learn more about the factors that help elite athletes push their sports in groundbreaking new ways or if you're simply looking for insights to help upgrade your own performance, Rise of Superman is an engaging, accessible, and informative read. I'm giving all my ski buddies copies!
Add some fun and functional flair to your ski poles with Mtn Straps. Mtn Straps are designed by a variety of amazing artists, then hand-crafted and packaged in Bozeman, Montana. These pole straps replace the stock pole strap on ski poles with an eye-catching and aesthetic strap sure to attract attention (and make it easy to find your poles on a crowded ski rack!) If you're holiday shopping for a four-legged friend in your life, Mtn Straps also create beautiful dog collars and leashes.
The SnowBrains offers a fully synthetic shirt featuring a crisp graphic of a chairlift. Because it's synthetic, users can feel confident layering the shirt for sweaty ski days or other outdoor pursuits.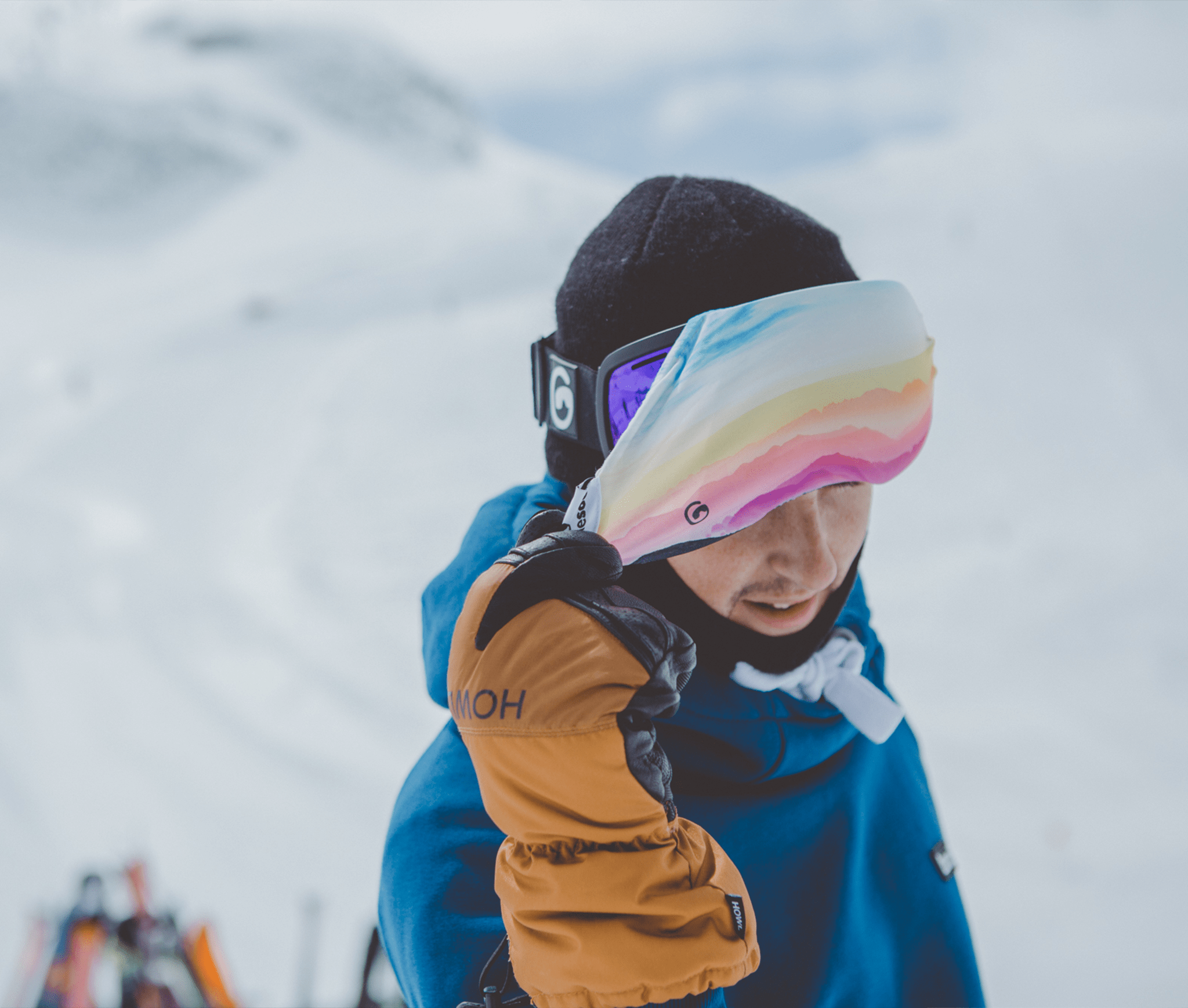 GoggleSocs provide an easy, stylish way to protect goggle lenses from scratches and even double as a goggle wipe! The stretchy microfiber cover simply fits over the lenses of the goggle and provides a rad and functional solution to that moment when you forget your goggles are on your helmet and you accidentally head-butt the corner of a table when you reach down to undo your ski boots at lunch. (I can't be the only one who does this!) Make all of the goggle-wearers in your life smile over the holiday with the gift of a goofy and eye-catching GoogleSoc.
The first Titan strap prototypes were developed for an epic 300-mile bike and packraft adventure in Alaska. Founder Cameron Lawson loved the straps' exceptional durability and ease of adjustment. Titan straps come in a range of sizes and categories. The Industrial category features straps in lengths from 20 to 36 inches and is wider and thicker than the Utility category, which includes straps 9 to 25 inches. Titan Utility straps are ideal for strapping skis together for easy carrying, or securing important items to your pack for backcountry missions, and are the perfect holiday gift for the gear head who already has everything. Titian Straps is based in Bozeman, Montana, and has no shortage of local skiers who swear by the efficacy (and durability!) of these straps.
The SnowBrains phone case features a crisp design and sleek look–perfect for that someone in your life that loves reading SnowBrains and also loves skiing! The phone case comes in a variety of sizes and models including Apple and Android. If having a smartphone is too mainstream for you, SnowBrains also sells hoodies, beanies, and t-shirts with the same design, sure to please even the pickiest gift-receiver.