Forecast By SnowBrains Chief Meteorologist – Eric McNamee
 9:00 PM MST, 10/7/2021
Forecast Summary:
This weekend trough will move through the region and bring up to a foot or more of snow to the Wind River Range.
A potent trough next week has the potential to bring significant early-season snowfall to the higher terrain of Wyoming.
There is still uncertainty in this plating out, so we will closely watch the system as it unfolds.
Short-Term Forecast:
Friday-Sunday:
A trough will move through the region this weekend and bring a foot or more of snow to the Wind River Range.
Snow will initially start Thursday night and fill in during the day Friday as moisture is advected into the state from the south.
Snow will continue Friday night and most of the day Saturday before ending that evening.
I would not be surprised if a winter weather advisory is issued for the Wind River Range.
Conditions will then clear out Sunday.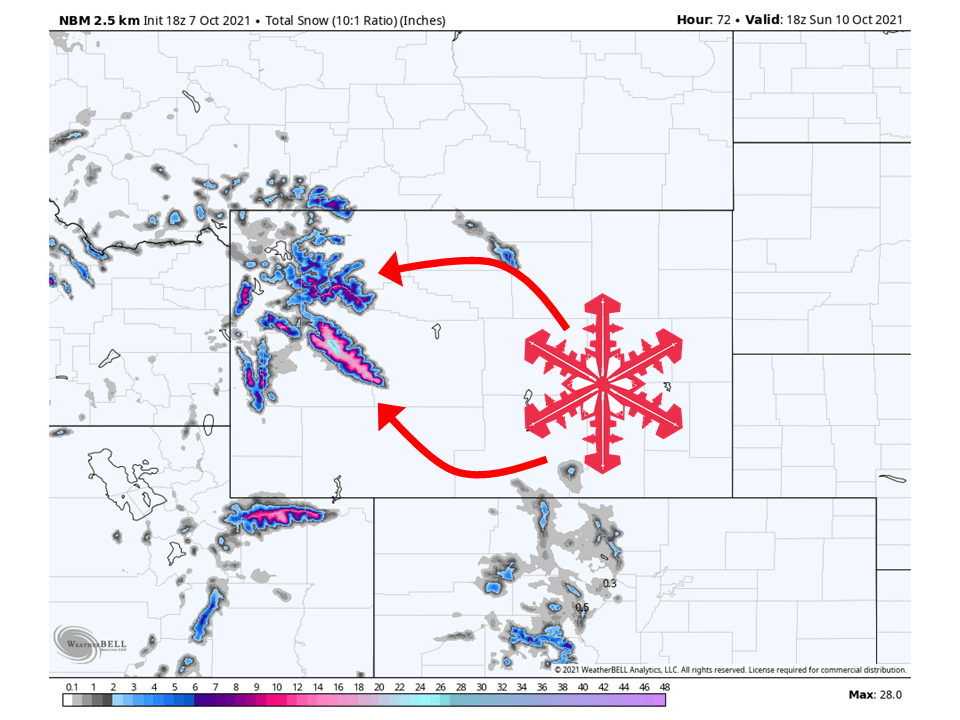 Long-Term Forecast:
Monday-Thursday:
Things get interesting heading into next week as a potent trough digs into the western US.
Right now, the projected track of this trough would bring the potential of significant snowfall and wind to the western 2/3 of the state.
There is still a lot of time until the trough arrives, so things can still change, but most recent guidance is leaning towards this solution.'
Check back in this weekend or Monday for an updated forecast.
Monday evening/night, the models are hinting at some precipitation
associated with a Colorado low that is progged to dip into the Four
Corners region Tuesday afternoon and move into northeast Colorado
sometime Wednesday. As it does this, it will advect ample moisture
into our area and bring a significant chance for precipitation Monday
night into Wednesday afternoon. Precipitation will start out as rain
across the lower elevations of our CWA, with snow in the high terrain.
As temperatures cool down overnight, places west of the Laramie Range
could see the change over to snow or even a rain/snow mix. It is
possible that the I-25 corridor won`t see snow until sometime Tuesday
night. Models like the ECMFW have been trending warmer and have H7
temperatures above freezing for the eastern portion of the CWA for
most of the duration of the storm. So, when and if these areas see
snow still needs to be ironed out. What we do know at this time is
the best chance for precipitation will be between Monday night and
Wednesday afternoon. There is still much uncertainty with this
system including duration and intensity of the storm, and even
precipitation type in some portions of the CWA.
-NWS Cheyenne, WY 10/7/2021
Extended Forecast:
Thursday and Beyond:
Global ensembles are indicating near to above-average precipitation and below-average temperatures for Wyoming in the long term.