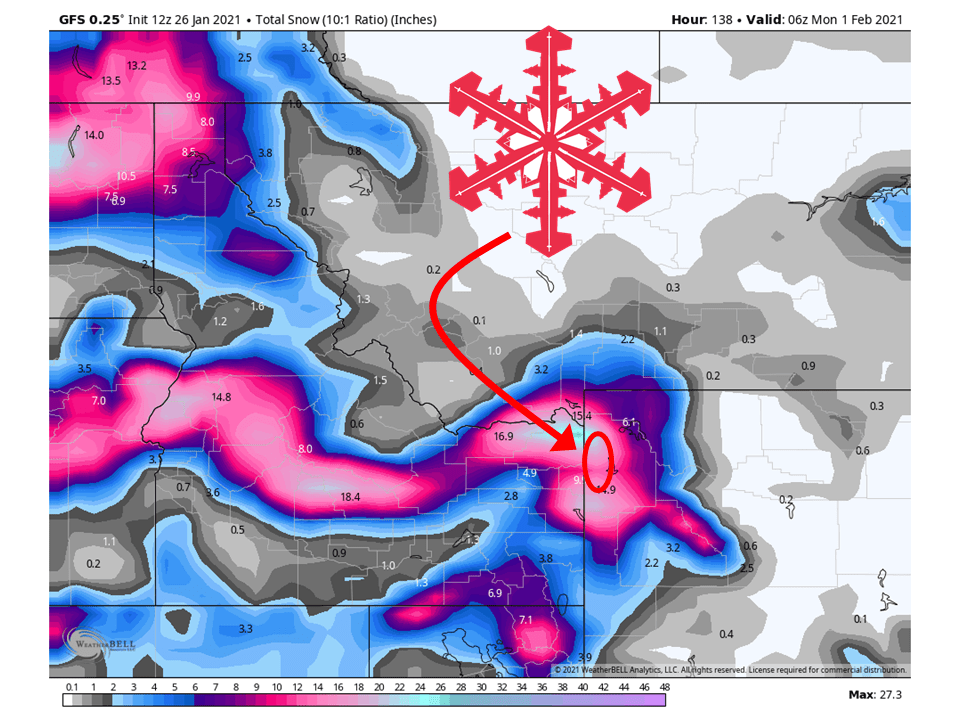 Forecast By SnowBrains Meteorologist – Eric McNamee
 5:10 PM MST, 1/26/2021
Brought to you by Grand Targhee
Forecast Summary:
Prolonged moisture streaming into the western US will total up 1-2 FEET of snow in the Tetons, WY. 
This will lead to heavy snowfall for Grand Targhee during this time, especially the second half of the week.
An active pattern will continue through the extended period of the forecast.
Short-Term Forecast:
Tuesday-Thursday:
The first couple waves of moisture will make their way to the Tetons Through Thursday, bringing around 6-10″ of snow.
Snowfall rates won't be super impressive to start the week as these waves will be the scraps of what's left from California.
Snow will begin to tick up as a more direct round of moisture hits the region from a shortwave trough. 
Long-Term Forecast:
Friday-Monday:
Through the weekend, the moist southwest flow will continue across the area, bringing an additional 6-14″ of snow to the Tetons.
Conditions will then dry out as we get into the beginning of next week.
Extended Forecast:
Sunday and Beyond:
Global ensembles are indicating chances of above-average precipitation and below-average temperatures in the extended.