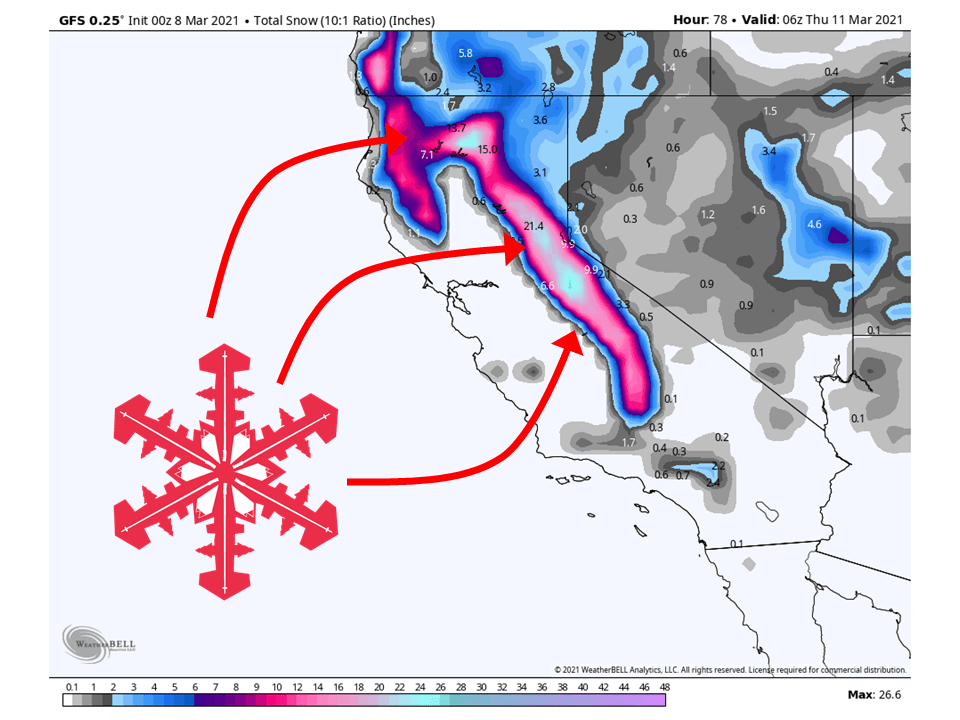 Brought to you by Squaw Valley Alpine Meadows, CA
Forecast By SnowBrains Meteorologist – Eric McNamee
 10:45 AM MST, 3/8/2021
Forecast Summary:
An upper-level trough will move into California tomorrow and bring 1-2 FEET of snow around Tahoe through Wednesday, with similar amounts for Mt. Shasta.
Resorts likely to get the most snow are Boreal, Kirkwood, Sugar Bowl, Squaw, Alpine, Northstar, Homewood, Heavenly, and Mt. Shasta Ski Bowl. 
Relatively quiet weather is expected in the extended period. 
Short-Term Forecast:
Monday-Wednesday:
An upper-level trough off the coast of California will move onshore tomorrow and bring 1-2 Feet of snow to the Sierra through Wednesday.
Snow will start on-and-off later today ahead of the system, before filling in tomorrow afternoon.
Snow intensity at this time will increase as well with most of the dynamics and moisture moving into the area.
Snow will continue through most of the day Wednesday before tapering off late Wednesday night.
The National Weather Service has issued Winter Storm Watches for the Northern Sierra and a Winter Storm Warning for Mt. Shasta.
More significant precipitation possible for the Central Valley and
northern Sierra Tuesday and Wednesday as the closed low drops
south to near the Bay Area. Pattern is classic late winter/early
spring heavy snow producer for the northern Sierra with a
prolonged period of southwest flow along with steep mid-level
lapse rates generating significant snow despite rather meager
overall moisture (TPW around 1/2 inch). Thunderstorms will also be
possible each day with small hail expected to be the primary
threat, though shear parameters indicate potential for some longer
lived storms should sufficient instability materialize.

Winter storm watch has been posted for the far southern Cascade
Range and northern Sierra for Tuesday afternoon into Wednesday
evening. Several feet of snow will be possible with accumulating
snow possible down into the upper foothill elevations leading to
significant travel impacts.
-NWS Sacramento 3/8/2021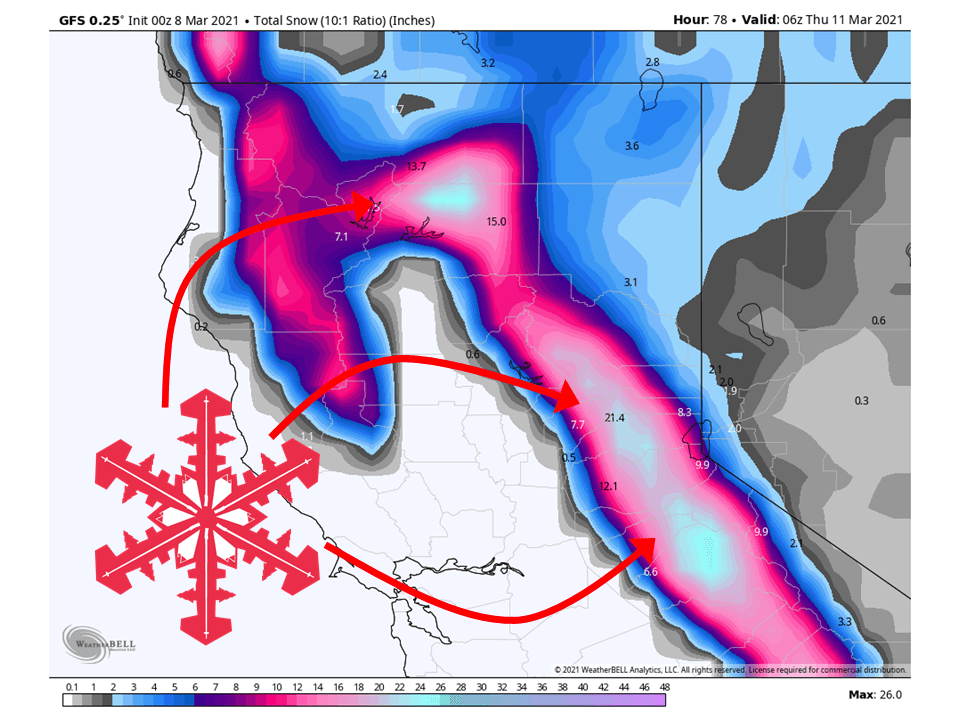 Long-Term Forecast:
Thursday-Sunday:
Conditions are expected to dry out as we head into the second half of the week with a ridge of high-pressure building over the western US.
There are some indications of a trough possibly moving through late Sunday, but there is still disagreement between models on this.
Extended Forecast:
Sunday and Beyond:
Global ensembles are indicating a generally dry pattern in the extended period of the forecast.