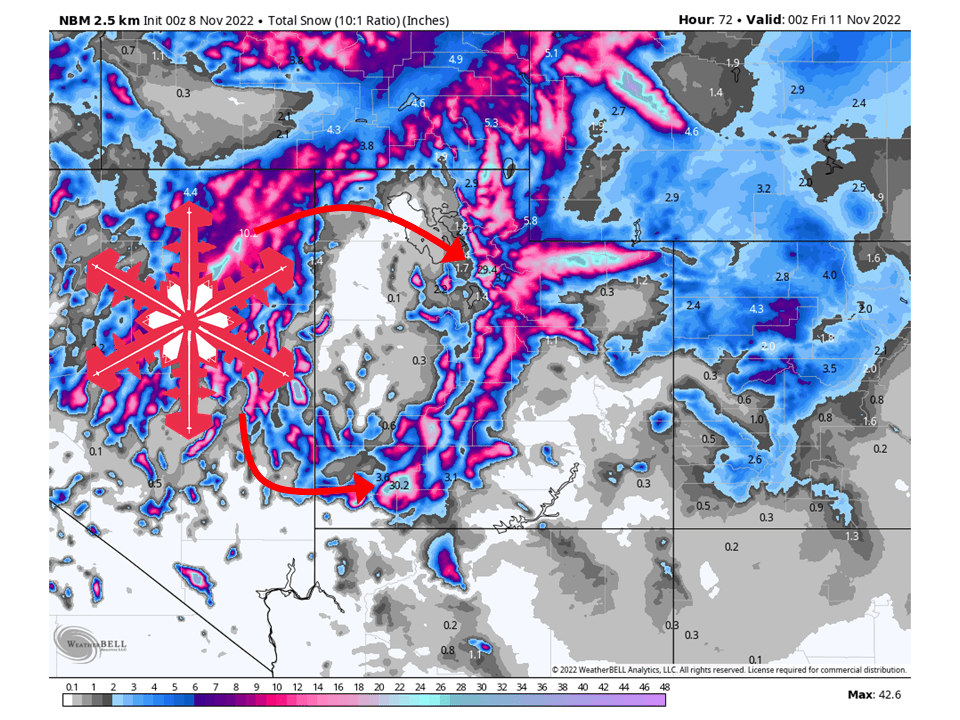 Forecast By SnowBrains Chief Meteorologist – Eric McNamee
 9:10 PM MST, 11/7/2022
Forecast Summary:
A trough will move through Utah Monday night through Thursday and bring 1-3 FEET of snow to most mountain locations.
Snow will develop Monday night as the cold front associated trough stalls over the NW part of the state.
This cold front will slowly move and transport an abundance of moisture into the state Tuesday through Thursday.
Conditions will then dry out Thursday night as the system moves east.
Resorts that will see the most snow are Alta, Snowbird, Brighton, Solitude, Deer Valley, Park City, Canyons, Snowbasin, Powder Mountain, Beaver Mountain, and Brian Head. 
Short-Term Forecast:
 Monday Night-Thursday:
A trough will push through Utah Monday night and bring 1-3 FEET of snow, to most mountain locations through Thursday.
Snow will start Monday night as a cold front stalls over NW Utah and transports moisture into the state.
This cold front will then slowly move to the east through the day Tuesday and into Wednesday, transporting copious amounts of moisture into the state.
By Wednesday night, the trough will progress a bit further east and push the cold front through Utah.
Snow will continue behind the front as moist, unstable, northwest flow allows the orographic lift to keep snow showers going.
This will continue through Wednesday night before decreasing Thursday.
By Thursday afternoon/evening the snow will taper off.
Winter Storm Warnings have been issued by the National Weather Service in anticipation of this.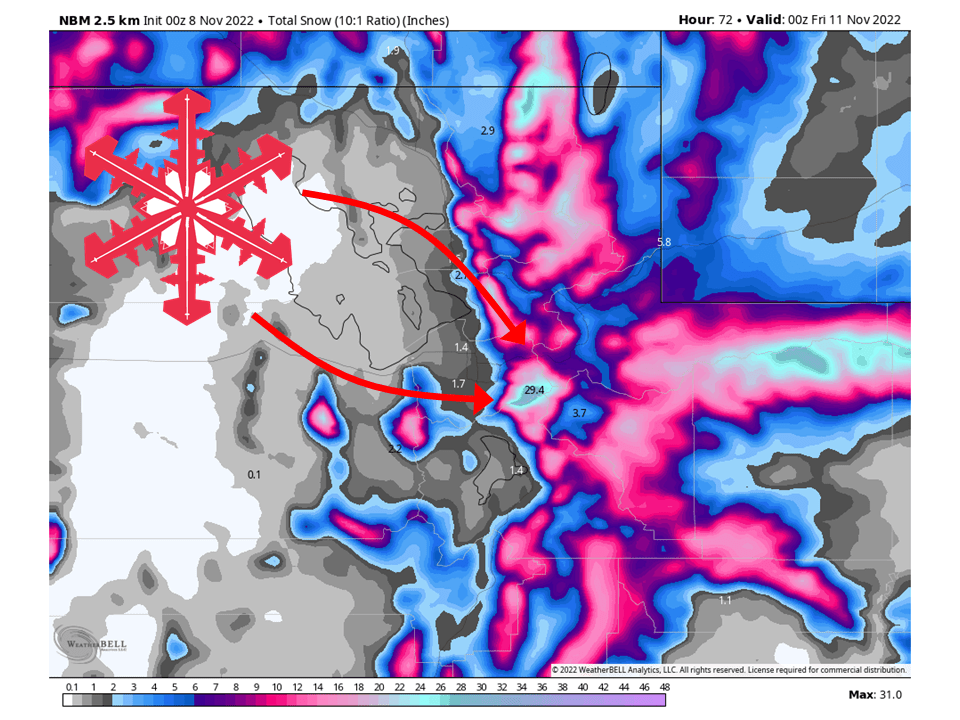 Long-Term Forecast:
Friday-Sunday:
Conditions then dry out through the weekend.
The next chance for snow looks to come the middle of next week
Extended Forecast:
Sunday and Beyond:
Global ensembles are indicating slightly above-average precipitation and below-average temperature across Utah through the extended.