Early this week, a strong winter storm will push through New Zealand, dumping 1+ feet at many resorts around the country. The highest totals will be located on along the eastern central mountains on the southern island.
Accumulation will begin on the northern island on Monday morning into the afternoon. Since the storm system is carrying significant air and moisture from the tropics, the beginning of the storm will start out as rain and will persist for quite some time, especially at lower elevations. Temperatures on the northern island will be an issue throughout the event, which will likely prevent much accumulation. The snow that does accumulate will be quite heavy and difficult to ski. Check out the ensemble temperature forecast at Ruapehu (forecast at 6306 feet, 1922m):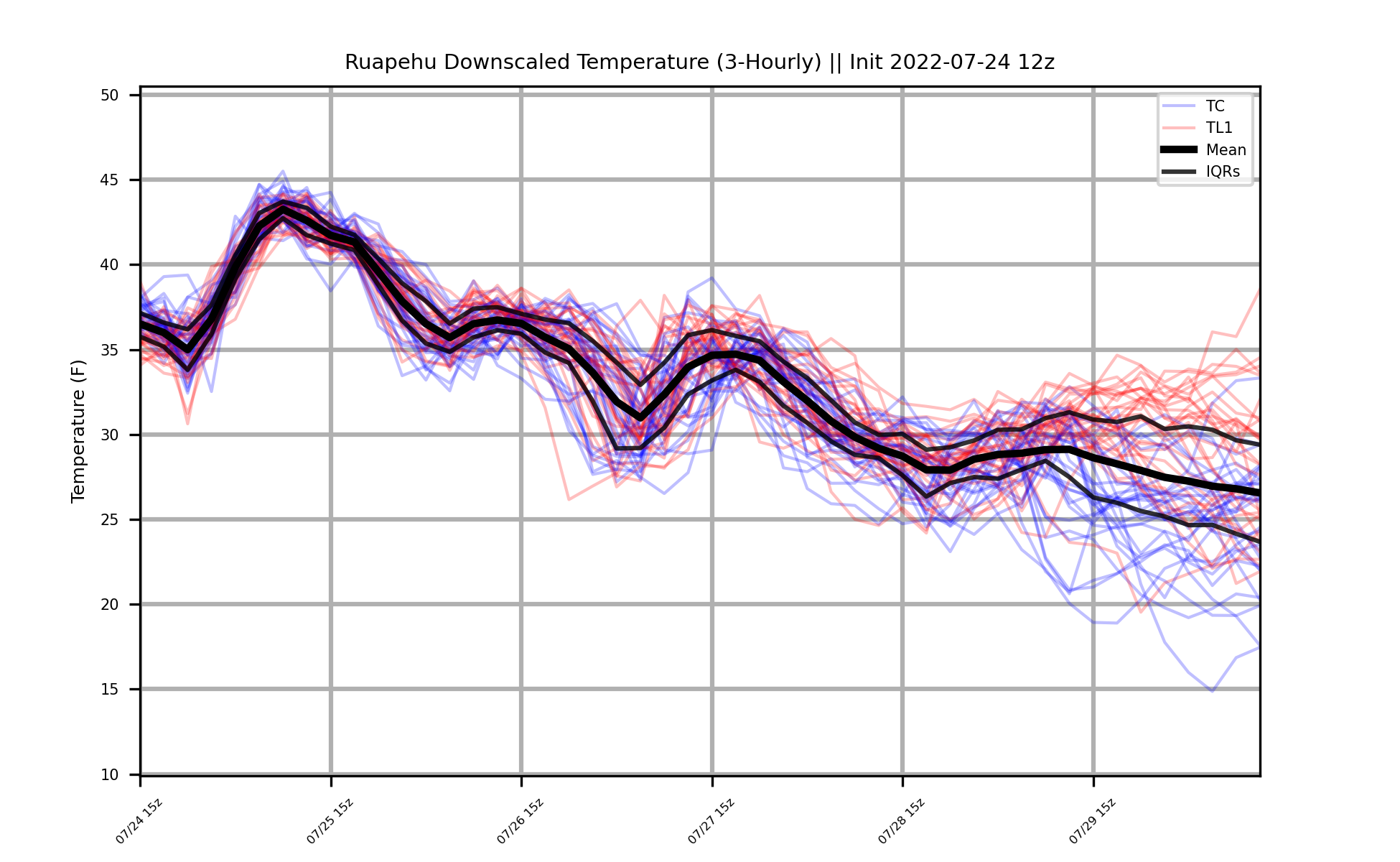 The southern island, however, is looking much better! The winds with the initial surge of moisture will start out of the north, but as the storm system passes over the island to the southeast, these winds will wrap around and eventually come out of the east on Tuesday night into Wednesday morning. This is absolutely ideal for the eastern flank of the mountains on the southern island, as the air will be adiabatically cooled as it is orographically lifted up the mountains, producing optimal conditions for snow accumulation. Additionally, this specific wind direction means that there's no terrain between the moisture source and the moisture, so the water vapor in the atmosphere won't be "squeezed out" beforehand.
The temperatures on the southern island will be more conducive to good snow conditions. However, this storm is coming in warm and wet regardless, so still be prepared for tough snow conditions. The bases of some resorts on the southern island may still see mixed precipitation (rain, snow, and sleet) throughout the storm, but the upper elevations should stay safe from any precipitation types other than snow.
In terms of totals, here are what I see as some reasonable forecasts by Wednesday morning:
Mt. Hutt: 8-12″ (20-30cm)
Cardrona: 1-3″ (2-7cm)
Remarkables: 0-2″ (0-5cm)
Treble Cone: 1-2″ (2-5cm)
Mt. Dobson: 8-13″ (20-33cm)
Ruapehu Turoa: 3-6″ (7-15cm)
By Wednesday morning, the weather will dry out considerably and precipitation rates will decrease, but it will remain cloudy through the rest of the week. Another small storm looks likely next week, but the details remain very fuzzy for now. Stay tuned for another forecast later this week with an updated forecast and extended outlook (what conditions look like for the next several weeks).