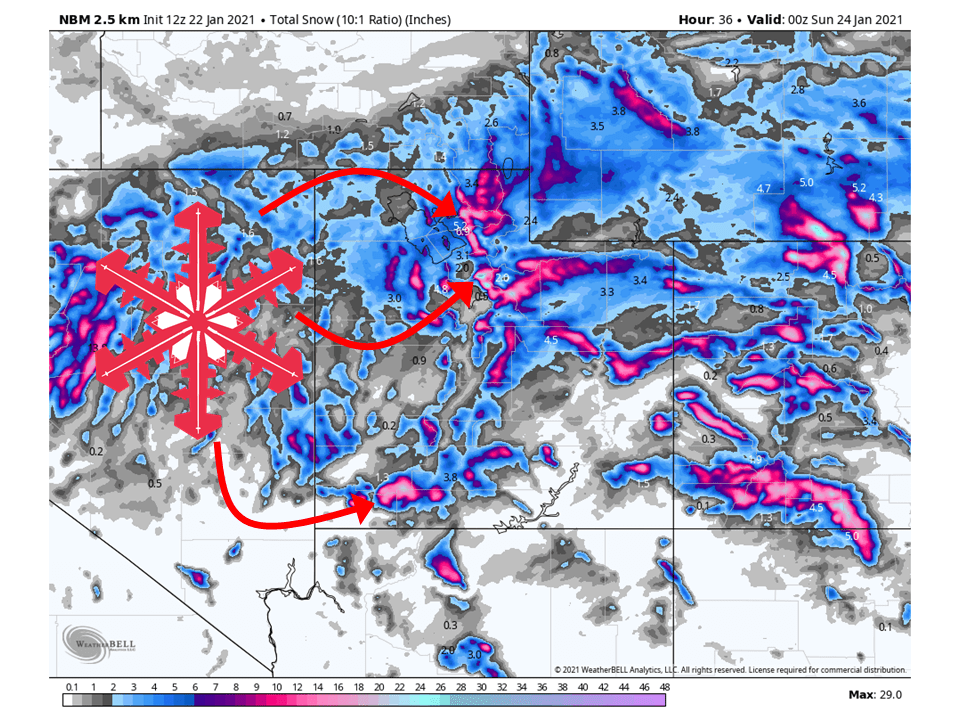 Forecast By SnowBrains Meteorologist – Eric McNamee
Brought to you by Alta Ski Area
 11:10 AM MST, 1/22/2021
Forecast Summary:
A shortwave trough currently off the California coast will move through Utah this weekend, bringing 12-18″ of snow for mountain locations, with more falling in the Cottonwoods.
Precipitation will fill in across the state this afternoon as upper-level dynamics associated with the shortwave interacts with a moist airmass to the south.
Precipitation will continue through the day Saturday, heavy at times, before tapering off early Sunday.
Conditions will dry out a bit early next week, but the overall pattern looks to remain active.
Resorts that look to see the most snow are Alta, Snowbird, Brighton, Solitude, Park City, Canyons, Deer Valley, Snowbasin, Powder Mountain, Sundance, Beaver Mountain, and Brianhead. 
Short-Term Forecast:
Friday-Sunday:
12-18″ of snow is expected for most mountain locations across the state, with possibly up to 2 FEET falling in the Cottonwoods.
Precipitation will begin to fill in this afternoon as the aforementioned trough interacts with a moist airmass in place.
Strong and persistent upper-level dynamics will allow for snow to keep going through Sunday morning. 
This shortwave trough will move off to the east Sunday, only to be replaced by another Sunday afternoon.
This one looks to take more of a southerly track, so it will primarily affect southern Utah and bring some additional snowfall. 
Long-Term Forecast:
Monday-Thursday:
By Monday, a deeper and colder trough will dig into the western US.
This looks to take a track further south than the previous trough, so the heaviest of snow will stay in Arizona, with southern Utah seeing some action. 
Troughing looks to continue over the western US through next week, meaning active weather will persist over Utah.
Extended Forecast:
Wednesday and Beyond:
Global ensembles are indicating above-average precipitation and below-average temperatures over Utah in the extended portion of the forecast.
**Alta Forecast**
Up to 2 FEET of snow is likely to fall in the Cottonwoods this weekend as a shortwave trough interacts with a very moist airmass.
Snow will begin this afternoon over the Cottonwoods and pick up in intensity as the center of the shortwave trough moves into the state.
Snow will continue through the day Saturday, before tapering off Sunday as the shortwave moves off to the east.
Conditions will temporarily clear out early next week but will return to being snowy as the active pattern continues.