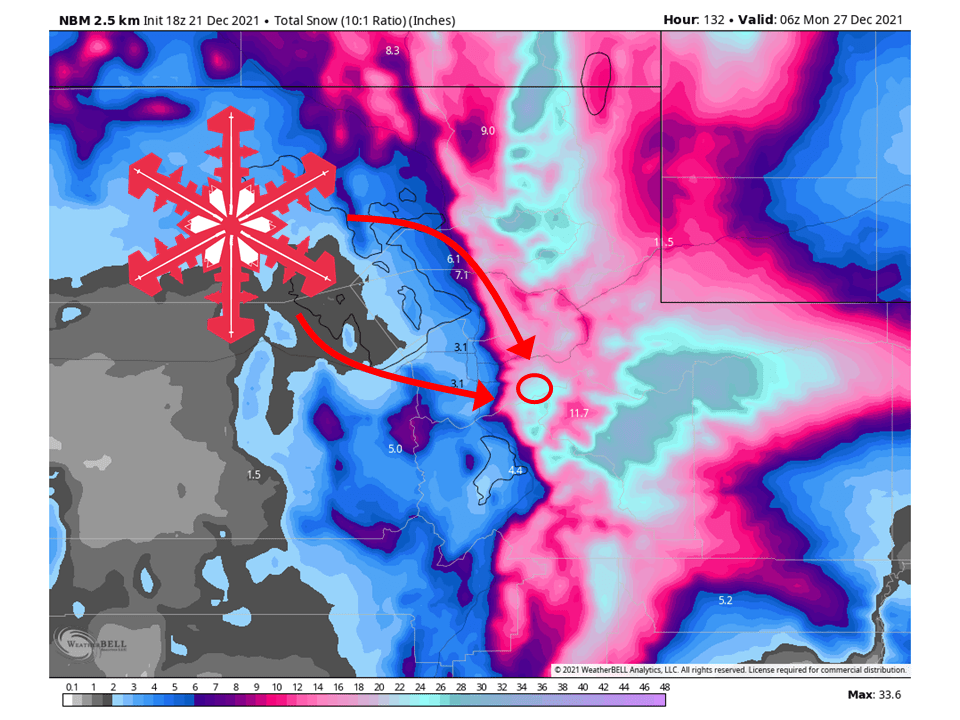 Forecast By SnowBrains Chief Meteorologist – Eric McNamee
 8:15 PM MST, 12/21/2021
Brought to you by Alta Ski Area
Forecast Summary:
A series of shortwave troughs will make their way through Utah and possibly bring 2-4+ FEET of snow to Alta Ski Area.
Snow will start Wednesday night and essentially continue nonstop through the weekend.
The heaviest snow looks to come during the day Friday and Sunday.
A very active pattern will continue into the extended.
Short-Term Forecast:
Wednesday-Friday:
Conditions will be dry for the most part through the day Wednesday before snow showers begin Wednesday night.
These showers will fill in Thursday and pick up in intensity through the day as the first plume of moisture moves into the state.
Temperatures will be relatively mild with this moisture plume with snow levels hovering around 7000′ Thursday.
This will be well below the base of the mountain, but SLR's will be in the 8:1 to 10:1 range through Thursday.
During the day Friday, a cold front will move through the state, shifting flow to come out of the NW and favor Little Cottonwood Canyon.
Snowfall totals will be in the 2-3 Foot range by Friday night with Winter Storm Watches being issued in anticipation of this, likely being upgraded to a Winter Storm Warning.
Long-Term Forecast:
Saturday-Monday:
Snow will continue Saturday with rates waning a bit, possibly taking a brief break, before picking back up Sunday as another shortwave moves through the state.
Heavy snow will pick up again at times during the day Sunday with another band moving through the area. 
Snow will then continue into Monday as unstable northwest flow keeps snow showers going over Alta.
Another 1-2 FEET is possible during this time.
Extended Forecast:
Sunday and Beyond:
Global ensembles are indicating above-average precipitation and near to below-average temperature across Utah in the extended.