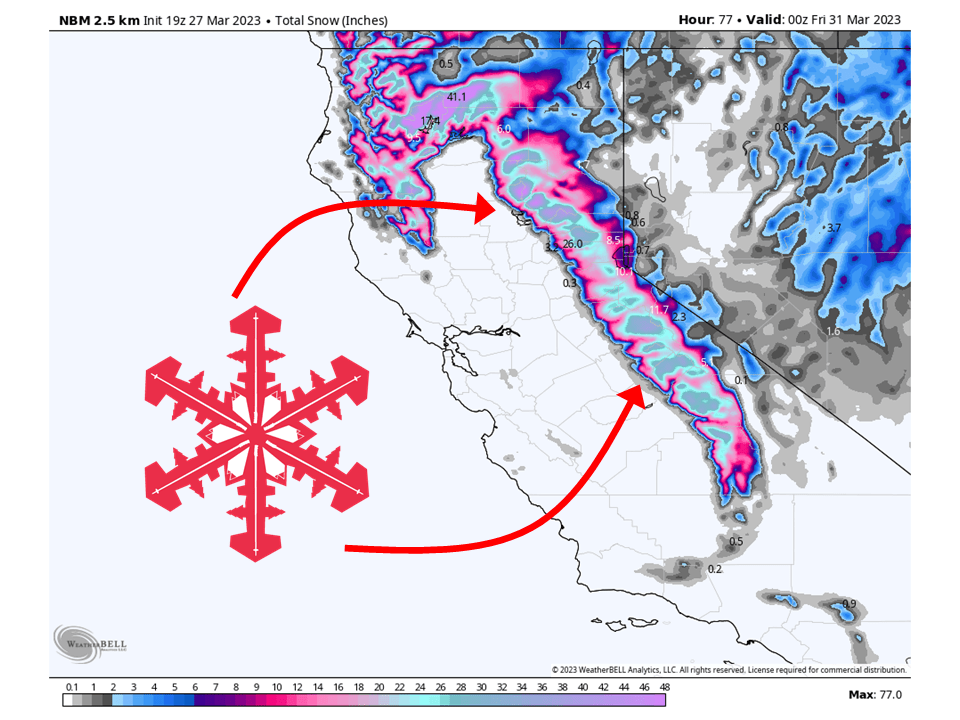 Forecast By SnowBrains Chief Meteorologist – Eric McNamee
 11:20 PM MDT, 3/27/2023
Forecast Summary:
Yet another storm will move through California Tuesday into Thursday, bringing 2-4 FEET of snow to the Sierra.

Precipitaion currently over the northern portion of California will move to the south and east as the storm pushes to the south.

Snow levels will initially start out around 5,000′ as precipitation fills in across the Sierra.
As the cold front associated with the storm pushes through the state, snow levels will drop to around 3,000′ by Tuesday night.

Residual snow showers will continue over the Sierra through Wednesday and Thursday.
Resorts that will see the most snow are:
Heavenly
Homewood
Kirkwood
Mammoth
Northstar
Palisades Tahoe
Sierra at Tahoe
Sugar Bowl
Short-Term Forecast:
Tuesday-Thursday:
Another storm will push into California Tuesday through Thursday, bringing 2-4 FEET of snow to the Sierra. A storm centered off the northern California coast is bringing widespread precipitation across far northern California as moisture streams into the state. This will sag to the south Tuesday morning, bringing snow and snow showers to locations above 5,000′. Snowfall rates along this stream of moisture will exceed 1-2″ per hour at times and help lower snow levels in spots to around 4,000′ during the day. Winds will also be quite strong, with wind gusts exceeding 70 mph over the Sierra Crest. By Tuesday afternoon and evening, the cold front associated with the storm will push south and lower snow levels to around 3,000′. Snow showers will continue behind the front over the Sierra as moist and unstable flow interacts with the terrain. Snow showers continue on and off through the day Wednesday and Thursday before tapering off by Thursday evening.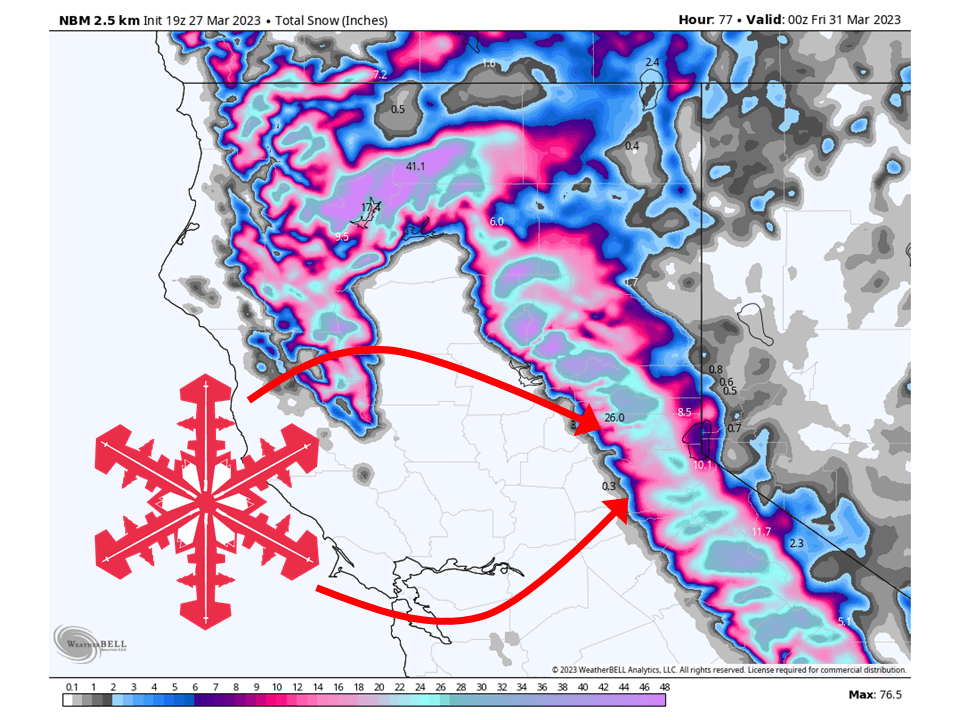 Long-Term Forecast:
Friday-Monday:
Dry weather is briefly expected during the day Friday before the next system pushes into northern California Friday night and Saturday. This system does not look as strong as its predecessor but will still bring snow to the northern Sierra. Snow showers continue through the rest of the weekend and into early next week as additional waves move through the state.
Extended Forecast:
Monday and Beyond:
The active pattern will continue as global ensembles indicate above-average precipitation and below-average temperature across California through the extended period.