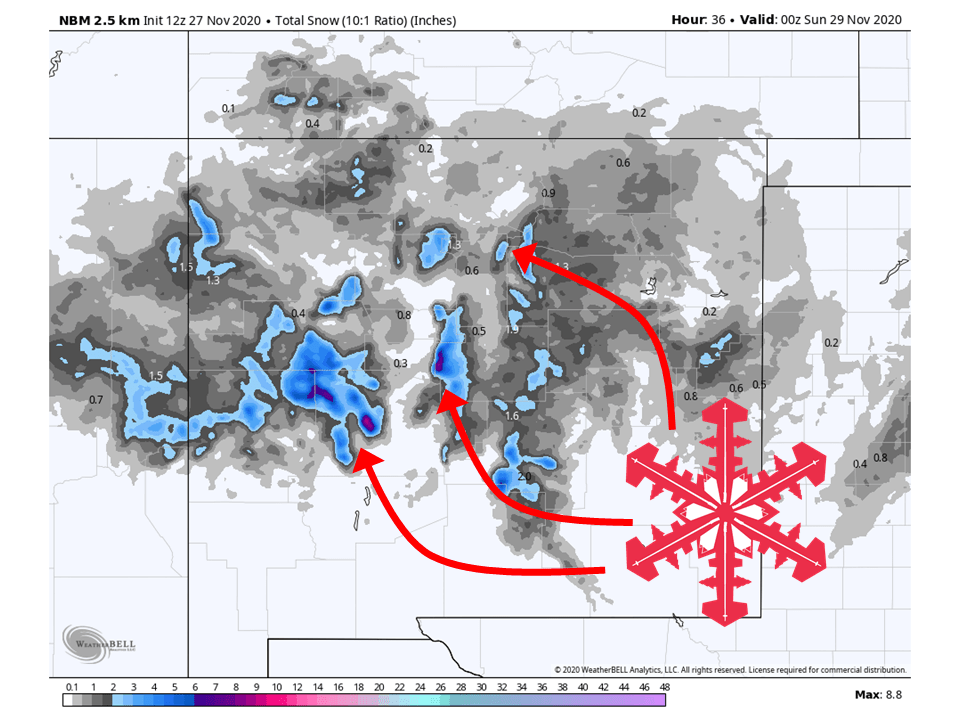 Forecast By SnowBrains Meteorologist – Eric McNamee
9:05 AM MST, Nov. 27, 2020
Forecast Summary:
A robust closed low over the desert southwest will bring 2-6″ of snow to the mountains of New Mexico. 
Taos and Ski Santa Fe ski resorts will receive snowfall totals in this range, with Ski Santa Fe likely seeing more. 
Conditions will clear out Monday before another system moves into the area Tuesday and Wednesday.
Short-Term Forecast:
Friday-Sunday:
The Mountains of New Mexico will see 2-6″ of snow as a robust closed low moves through the area. 
The center of the low is currently swirling over eastern Arizona and is expected to move to the east towards New Mexico tonight.
As it does so, the minimal moisture associated with it will move into the state.
High winds are also expected with this system, so blowing snow will be present in parts of the state. 
Because of this, Winter Weather Advisories have been issued for areas of the state.
A very dynamic storm system taking shape over AZ already shows an
impressive satellite depiction this morning. This system is moisture
starved but several key factors are likely to come together to
squeeze out every available snowflake today thru Saturday. A strong
baroclinic zone approaching from central AZ today will move slowly
east into western NM while deep layer ascent increases over central
NM with an 85kt upper level speed max. Meanwhile, a back door cold
front that moved southwest thru eastern NM overnight will surge west
thru the RGV by sunrise and to the Cont Divide by late morning. Snow
is already developing around KGUP and will continue spreading east
thru late morning. Generally 1-3" of snow is expected along the I-40
corridor of western NM by late day. In addition, east canyon winds
within the ABQ metro will produce wind gusts up to 55 mph from near
Placitas south to ABQ and Belen today.

The prime time for snow accums will come tonight as a tightly wound
upper level storm system and associated surface low move slowly east
along the U.S. 60 corridor. Upslope flow within the Jemez, southern
Sangres, and Sandia/Manzano Mts will coincide with the dendritic
growth zone to produce efficient snow accums. Cold temps will lead
to travel impacts on area roadways and the Winter Wx Advisories have
been expanded for much of central NM. There is some potential for
snow accums in the ABQ metro as well since models are hinting at
increasing convergence with canyon winds tapering off this evening.
Overall, despite a significant moisture tap we will likely squeeze
out 2-6" of snow around the higher terrain of central NM by Saturday
morning.
-NWS Albuquerque 11/27/2020
Long-Term Forecast:
Monday-Thursday:
Getting into next week, conditions will clear out Monday before another system moves into the desert southwest. 
Snowfall amounts are not certain at this time.
Conditions look to clear out again heading into the extended period of the forecast.
Extended Forecast:
Thursday and Beyond:
Global models indicate below-average temperatures and precipitation is likely over the desert southwest in the extended period of the forecast.