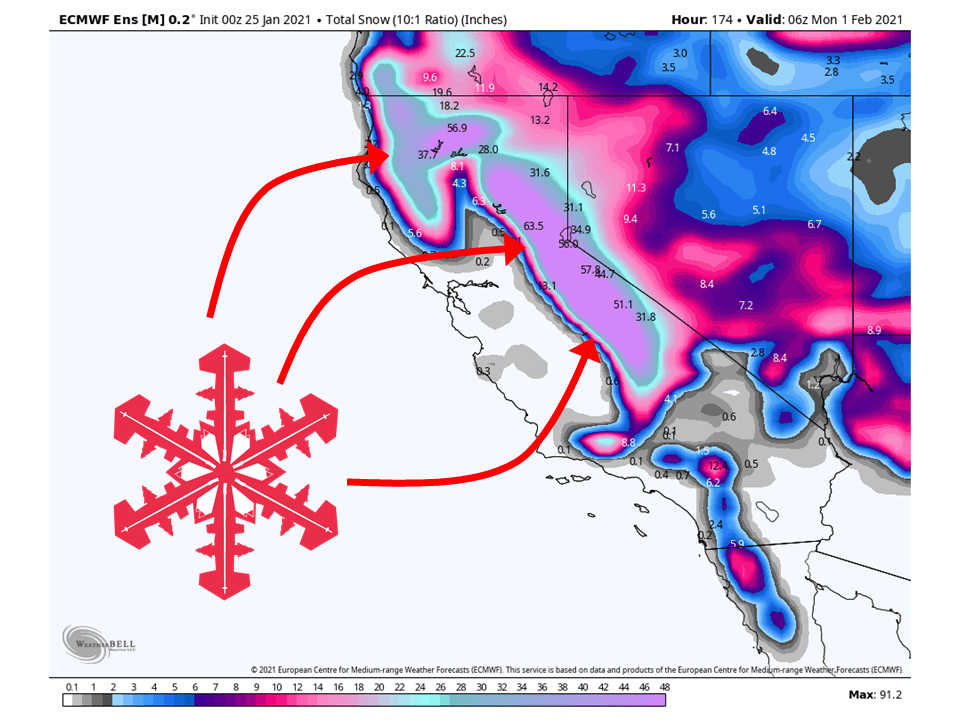 Forecast By SnowBrains Meteorologist – Eric McNamee
 10:25 AM MST, 1/25/2021
Forecast Summary:
The snowiest week of the year looks to be in store for California as a series of storms will drop 5-8 FEET of snow in the Sierra Nevada.
Even higher snow totals are possible as a long-duration Atmospheric River event looks to unfold.
Resorts like to get the most snow are Boreal, Kirkwood, Homewood, Heavenly, June, Mammoth, Northstar, Sugar Bowl, Squaw, Alpine, and Mt. Shasta Ski Bowl. 
A wet pattern looks to continue into the extended period. 
Short-Term Forecast:
Monday-Wednesday:
Scattered showers across the state will continue on-and-off through the remainder of the day, totaling up a few more inches in the mountains.
Conditions will temporarily clear out late and tomorrow morning, before precipitation fills in Tuesday evening.
This is when the long-duration Atmospheric River event will start, with precipitation starting in the north and moving south through the day Wednesday.
The airmass to begin the event will be fairly cold, so snow levels will be low to start.
Avalanche Forecast:
Currently, the Sierra Avalanche Center has the Tahoe, CA under the 'considerable' category. However, this will likely be upgraded this week so make sure to stay posted for updates.
Long-Term Forecast:
Thursday-Sunday:
The meat of the high snow totals comes in the latter portion of the forecast, with the bulk of the 5-8 FEET falling during this time.
As the event progresses, snow levels will creep back up as warmer air associated with the Atmospheric River moves in.
Winds will also be quite strong, which will lead to whiteout conditions in higher elevations.
Because of this, the National Weather Service has issued Winter Storm Watches and Winter Storm Warnings for the Sierra. 
By this weekend, the Atmospheric River will taper off and another shortwave trough will move through northern California.
The advertised high impact, cold winter storm arrives Tuesday early
evening beginning in the northwest portion of the area and continues
southeast overnight into Wednesday. The biggest changes with the
forecast come with strong winds and low elevation snow across the
far northern Sacramento Valley. For the snow, snow levels begin
extremely low on Tuesday especially in the Shasta County and
northern Sacramento Valley area. Ensemble guidance indicates a good
chance for low elevation snow in this area between Tuesday evening
and Wednesday morning, possibly down to around 500 feet impacting
areas such as Redding with even some possible light accumulation
down to Red Bluff. Have expanded the Winter Storm Watch to include
these areas until Wednesday morning before snow levels begin to rise
through the day.

Southerly winds increase rapidly overnight as this storm moves in
with 925mb NAM winds maxing out around 80 mph. This may translate
to winds across the Valley of 35 to 45 mph with gusts of up to 60
mph. A High Wind Watch has been issued for these anticipated
damaging winds. With widespread rain and snow also anticipated
during these overnight hours, expect extremely poor visibilities
and hazardous travel conditions.

Snow levels increase on Wednesday above 3000 feet with heavy
snowfall expected to continue into Friday morning. By the end of the
week, multiple feet of snow will be likely in the mountains with a
few inches of rain in the Valley. There may be some breaks in Valley
precipitation during this multiple day event and rain may vary from
very light to extremely heavy at times. Local flooding may be of a
concern especially on roadways.
-NWS Sacramento
Friday and Beyond:
Global ensembles are indicating an active and wet pattern to continue over most of the western US, especially over California.