Forecast by SnowBrains Meteorologist Rowan Sullivan
4:00 AM MST, 10/18/21
Forecast Summary:
A strong, compact upper low is bringing heavy snow to the Sierra Nevada. As the low progresses eastward, snow will return to northern Utah and parts of Wyoming by Monday night.
In Utah, snow will begin Monday evening. 4-8″ of snow is likely in the Park City area, with 6-12″ of snow in the Cottonwood Canyons in the Northern Wasatch by Tuesday morning.
1-2 FEET of snow are expected in Wyoming's Wind River Range, but most of Wyoming's popular resorts will miss out on the snow. 
In the long-range, more snow is possible before the end of October. 
Short Term Forecast:
Monday – Tuesday
A small but powerful disturbance is moving inland from northern California, with an associated cold front passing through the Salt Lake City area Monday afternoon. Evening showers and storms will quickly give way to periods of heavy mountain snow across the area. 
Quick periods of heavier snow and even some thunder are possible Monday evening before steadier snow begins and persists through Tuesday morning. 
Snow levels will drop as low as 5,500 ft by Tuesday morning. 
6-12″ of snow is expected through Tuesday morning in Cottonwood Canyons and the Northern Wasatch. The less elevated Park City area resorts can expect 4-8″ of snow. 
Snow will spread into the Wind River Mountains in Wyoming through Monday night, with heavy snow lasting into mid-day Tuesday. Snow totals there will flirt with 2 FEET by Tuesday afternoon. Sadly, the resorts in the Tetons are unlikely to get more than an inch or two out of this storm. 
Quiet weather will return by Tuesday night.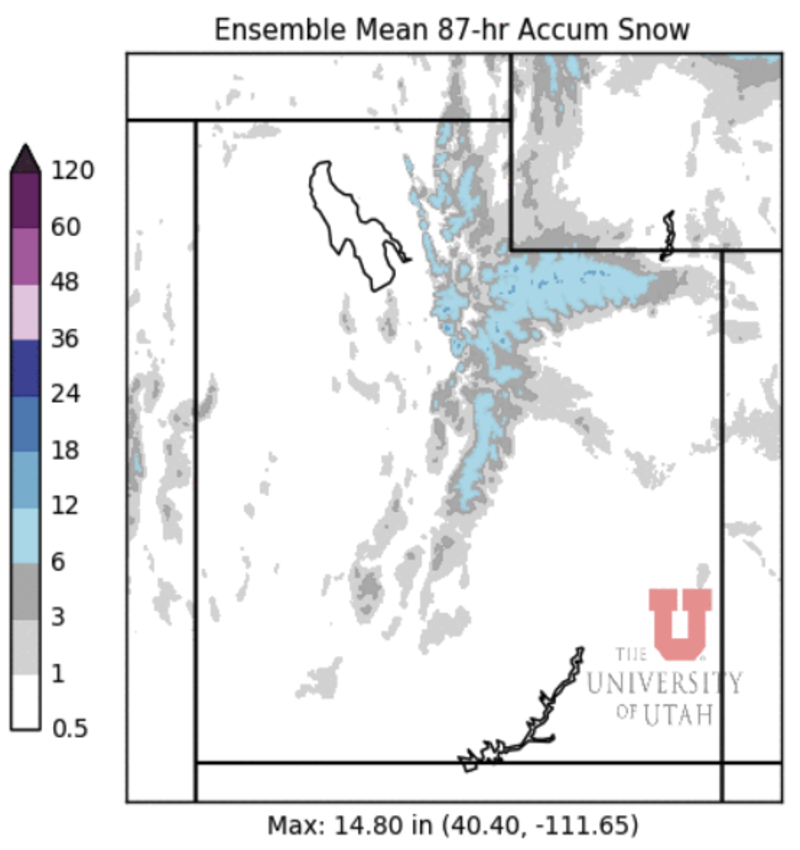 Long Term Forecast:
Wednesday – Sunday
Behind tomorrow's storm, high pressure will dominate the forecast across the area through next weekend. 
Warmer weather with no real chances for accumulating snow will persist until early next week. 
Next Week
There is some signal from the ensembles that another storm could bring more snow to Utah and Wyoming early next week. 
At this time, more snow looks most probable Monday or Tuesday of next week. This potential storm is still a week out, so we'll need to watch the forecast evolve over the next few days. Still, chances are good that the area will see some more winter before November begins.