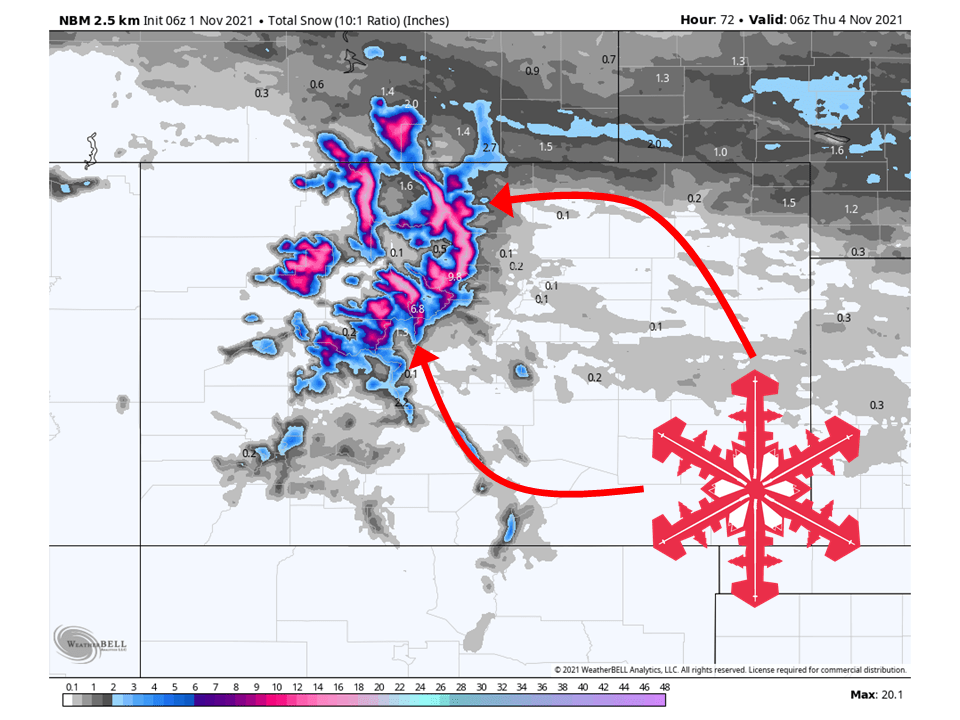 Forecast By SnowBrains Chief Meteorologist – Eric McNamee
 12:30 pm MST, 11/01/2021
Forecast Summary:
A quick-hitting system will move through Colorado and bring 6-12″ of snow to the mountains through Wednesday.
Snow from this system will begin Monday night and continue into Wednesday.
Dry conditions will return the second half of the week through and through the extended.
Places to see the most snowfall are Steamboat, Winter Park, Loveland, and Arapahoe Basin.
Short-Term Forecast:
Monday-Wednesday:
A quick-hitting will move through Colorado and bring 6-12″ of snow to the mountains through Wednesday.
Snow will start Monday night as moisture begins to move into the state with this system.
This will continue through Wednesday, with snowfall rates increasing during the day Tuesday as the main core of moisture and dynamics moves in.
This has prompted the National Weather Service to issue Winter Weather Advisories for the area.
Snow will taper off Wednesday and completely stop by Wednesday evening.
Our next system is just around the corner and will arrive
tomorrow. A good slug of moisture will make it to the forecast
area tomorrow morning, with ECMWF integrated vapor transport in
the 99th percentile of the CFSR climatology west of the divide.
Snow levels initially start near 10kft in the morning but will
fall to about 7500ft by the evening hours. Just enough snow for
the Park/Gore range to justify an advisory across our far
northwest including Rabbits Ears Pass but otherwise snow amounts
will be fairly light. For the plains, we should see scattered
showers develop in the afternoon with good synoptic scale ascent
coupled with some marginal instability. Precipitation amounts will
be fairly light along and east of I-25 through the late afternoon
hours. It will also be breezy throughout the day tomorrow. Hi-res
guidance shows a brief period of 40-50 mph gusts late tomorrow
afternoon with a passing cold front.
-NWS Boulder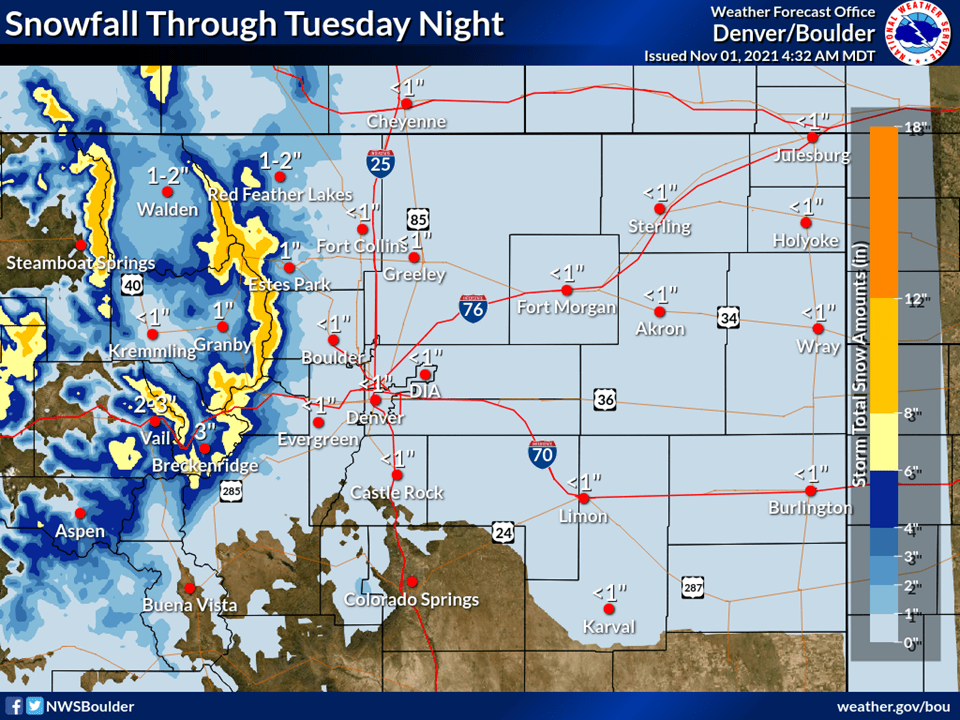 Long-Term Forecast:
Thursday-Sunday:
High pressure will build over the west Wednesday/Thursday and dry out conditions in Colorado.
Mild weather will continue through the weekend.
Extended Forecast:
Sunday and Beyond:
Global ensembles are indicating below-average precipitation across Colorado through the extended.