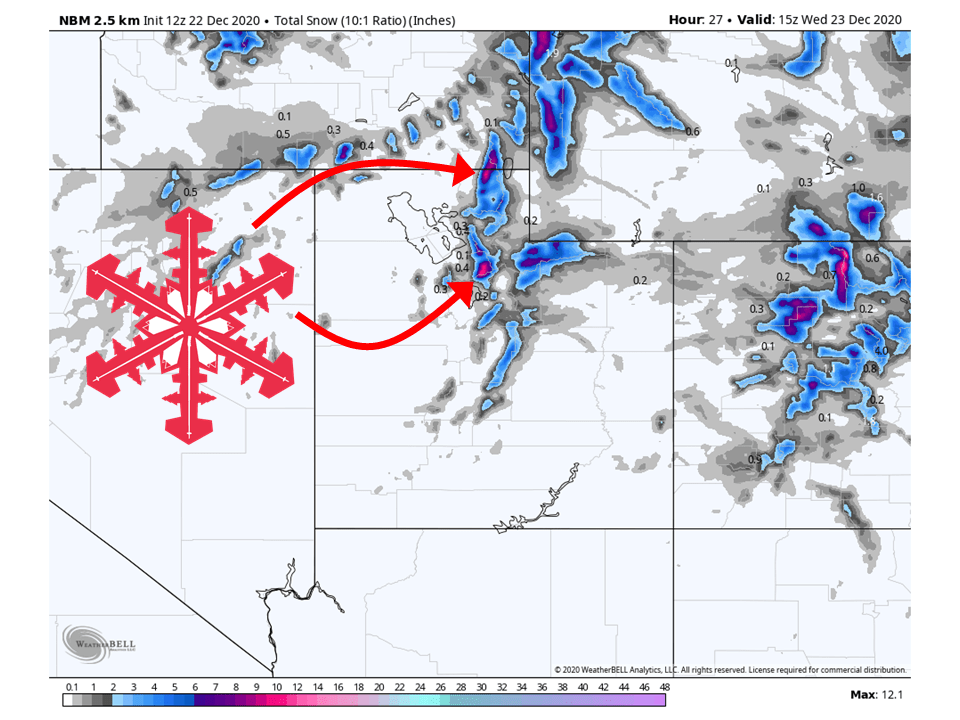 Forecast By SnowBrains Meteorologist – Eric McNamee
Brought to you by Alta Ski Area
 11:50 AM MST, 12/22/2020
Forecast Summary:
A quick-hitting shortwave trough will bring 6-12″ of snow to Utah's Wasatch Mountains through tomorrow, with locally higher amounts (Cottonwood Canyons).
This trough will bring a fairly strong cold blast to the region, coupled with strong NW winds that will allow for some decent orographic lifting.
This has prompted the National Weather Service to issue a winter weather advisory for the mountains of Northern Utah.
By Wednesday conditions will dry out as a ridge of high pressure builds over the Western US.
The next shot for precipitation looks to come this weekend as another shortwave trough moves through the region.
Resorts that look to see the most snow are Alta, Snowbird, Brighton, Solitude, Park City, Canyons, Deer Valley, and Beaver Mountain. 
Short-Term Forecast:
Tuesday-Thursday:
A fairly complex shortwave trough will move through Utah today/tonight, bringing 6-12″ of snow to the Wasatch Mountains.
This shortwave will be accompanied by fairly cold air aloft, which will help to destabilize the atmosphere.
Coupled with strong Northwest winds will help create decent orographic enhanced precipitation along the Wasatch Mountains. 
The area that will see the most snow will likely be in the Cottonwoods Canyons, where they do well under unstable northwest flow.
By Wednesday afternoon, conditions will clear out as high pressure builds over the Western US.
Long-Term Forecast:
Friday-Monday:
The ridge of high pressure mentioned above will remain in place over the west through Friday.
By this weekend, models are showing a couple of shortwave troughs that will make their way through the western US.
Right now it looks like Utah will get in the action with these shortwaves and could see some decent accumulations.
However, this is 5+ days out so exact snowfall totals are uncertain with the setup remaining pretty fluid.
Extended Forecast:
Wednesday and Beyond:
Global ensembles are indicating below-average precipitation and below-average temperatures are possible over Utah in the 8-14 day outlook.
**Alta Forecast**
Snow looks to get going later today and last through the day tomorrow, bringing 8-12″ to the mountain with possibly more.
Strong Northwest winds coupled with cold air will help destabilize the atmosphere and allow for orographically enhanced precipitation.
There is also the chance for some lake-enhanced snow due to the uniform northwest flow and cold temperatures aloft.
Snow will taper off by late tomorrow morning and conditions will clear out as high pressure builds over the western US.
The next chance for some snow comes this weekend as a couple of shortwave troughs move through the region.
Snowfall totals are unknown at this time.