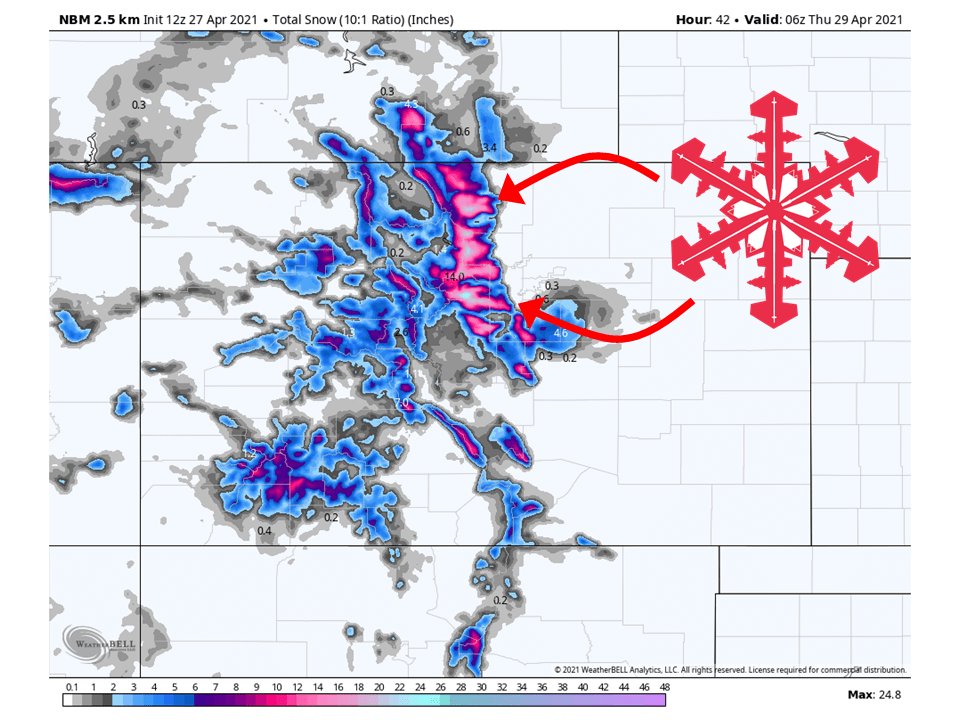 Forecast By SnowBrains Meteorologist – Eric McNamee
 12:15 PM MST, 4/27/2021
Forecast Summary:
A trough will move through the state today and bring 6-18″ of snow to the Front Range through tomorrow.
Snow will fill in across the higher elevations today and continue through tomorrow.
Things will taper off tomorrow afternoon as the trough moves off to the east.
Resorts that look to see the most snow are Loveland, Eldora Mountain, Arapahoe Basin, and Winter Park.
Short-Term Forecast:
Tuesday-Thursday:
A trough will move through the state today and tomorrow, bringing 6-18″ of snow to the Front Range.
Snow will start this afternoon and pick up later this afternoon as daytime heating will help destabilize the atmosphere.
Snow will continue in the high elevations through tomorrow as the trough slowly moves across the state.
By tomorrow night, snow will taper off as the trough moves east and moisture exits the region.
A Winter Storm Warning has been issued across the high terrain because of this.
Snow level begins around 8500 feet and then drops through the
afternoon and evening. Expect the snow level to drop to around
7000 feet by sunset and by Wednesday morning the snow level will
be close to 6000 feet. Don`t expect much accumulation in the lower
foothills, but the higher foothills and Front Range mountains
should see at least 7 to 14 inches of snow. Therefore will upgrade
the Winter Storm Watch to a Warning.
-NWS Boulder 4/2/2021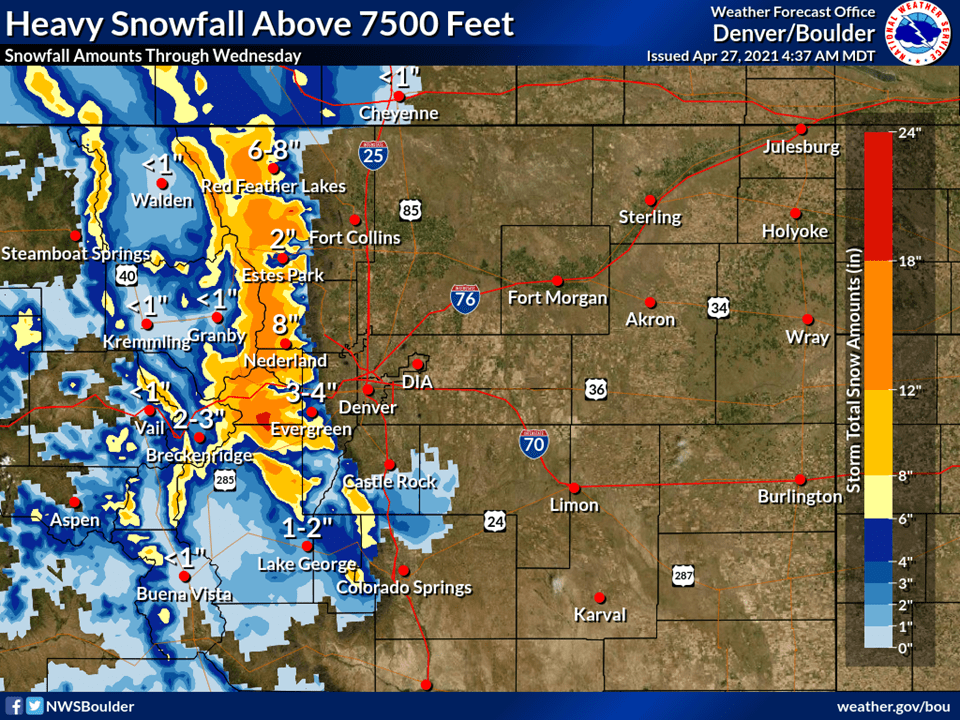 Long-Term Forecast:
Friday-Monday:
Conditions will clear out this weekend as high pressure builds over the western US.
There are some indications of system brushing by on Monday, but this system doesn't look that cold.
Extended Forecast:
Monday and Beyond:
Global ensembles are indicating below-average precipitation and above-average temperatures across the region in the extended.