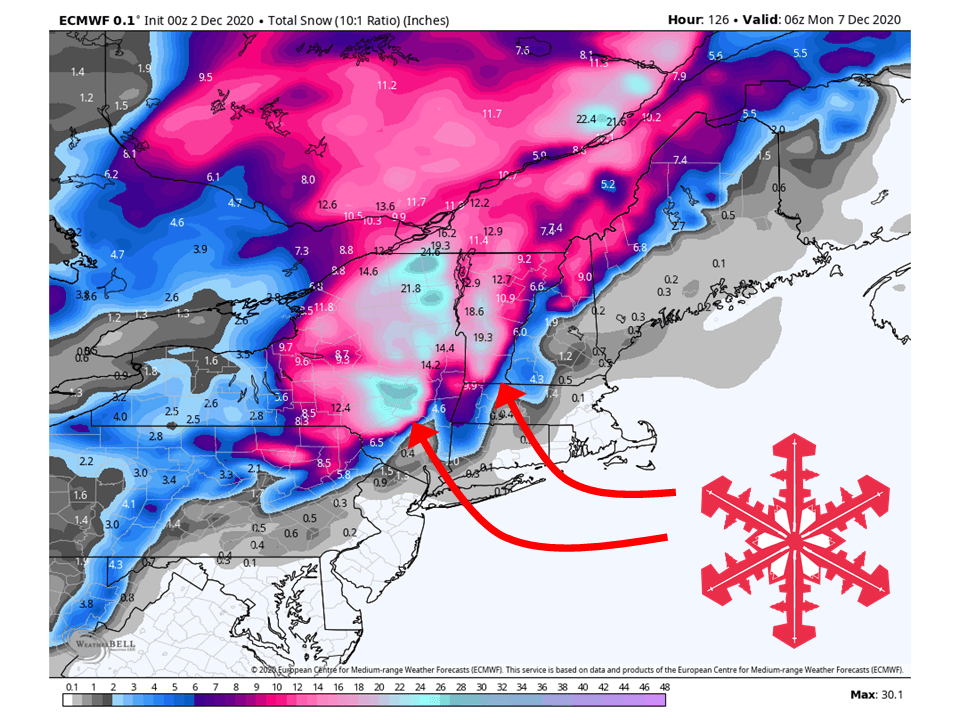 Forecast By SnowBrains Meteorologist – Eric McNamee
9:55 AM MST, Dec. 2, 2020
Forecast Summary:
A strong closed low is expected to develop this weekend across the northeast, bringing 6-18″ of snow. 
The intensity and track of the storm are still uncertain at this time, meaning snowfall amounts could change.
Conditions look to dry out heading into next week.
Resorts likely to get the most snow are Sugarbush, Stowe, Killington, Gore Mountain, Whiteface, and Cannon Moutain.
Short-Term Forecast:
Wednesday-Friday:
A shortwave trough over the region will bring scattered rain and snow showers today, with the highest amounts expected over the Hill Plateau, NY.
Another chance of some showers is possible this Friday from a weak disturbance.
This will bring some light accumulations for the higher elevations.
Long-Term Forecast:
Saturday-Tuesday:
Getting into the weekend a strong surface low will develop over the northeast, bringing 6-18″ of snow. 
However, there is still disagreement between models on the intensity and track of the storm.
This means snowfall amounts are subject to change since we are still 4 days out.
Conditions will dry out heading next week as high pressure builds over the area. 
As of 310 AM EST Wednesday...Another potent east coast storm
appears to be on the horizon as we see another phasing of the
northern and southern jet streams on Saturday. This system
appears like it`ll track further east than the storm system
observed several days ago which will likely keep us on the
cooler and less windy side of the system. There is great
agreement amongst the deterministic and ensemble guidance of a
rapidly developing low pressure system tracking up the east
coast and just inside of benchmark before quickly exiting to the
north and east on Sunday. However, the ECMWF depicts slightly
greater baroclinicity than the other deterministic guidance and
deepens the low significantly more than the GFS and CMC and also
about 12 hours faster. Regardless of the solution, however, it
appears the first winter storm of the season may be upon
portions of the North Country as we should see some
frontogenetic forcing in the northwest sector as the surface low
slides to our east. The big question with the current forecast
remains the evolution of the thermal profiles and how quickly we
are able to transition from rain to snow. The good news is that
we should see a seamless transition from rain to snow with no
mix of sleet and or freezing rain as the column is expected to
cool from the top down.
-NWS Burlington 12/2/2020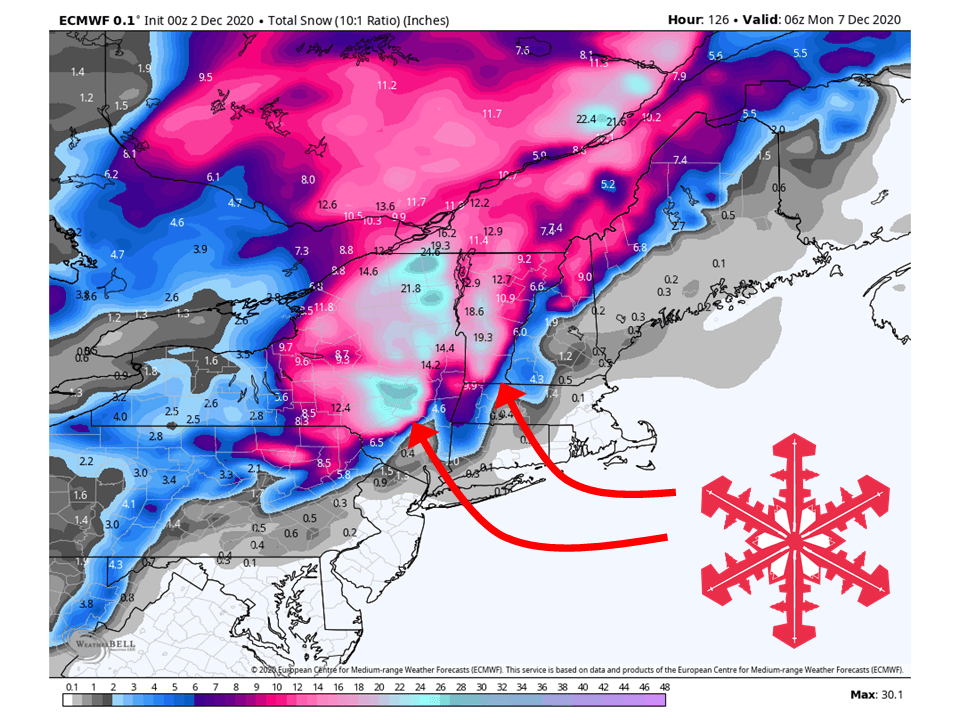 Extended Forecast:
Tuesday and Beyond:
Global ensembles indicate precipitation being below-average in the extended period of the forecast.
Below-average precipitation is expected over most of the country in general 6-10 days out, with the exceptions being Alaska and Montana.