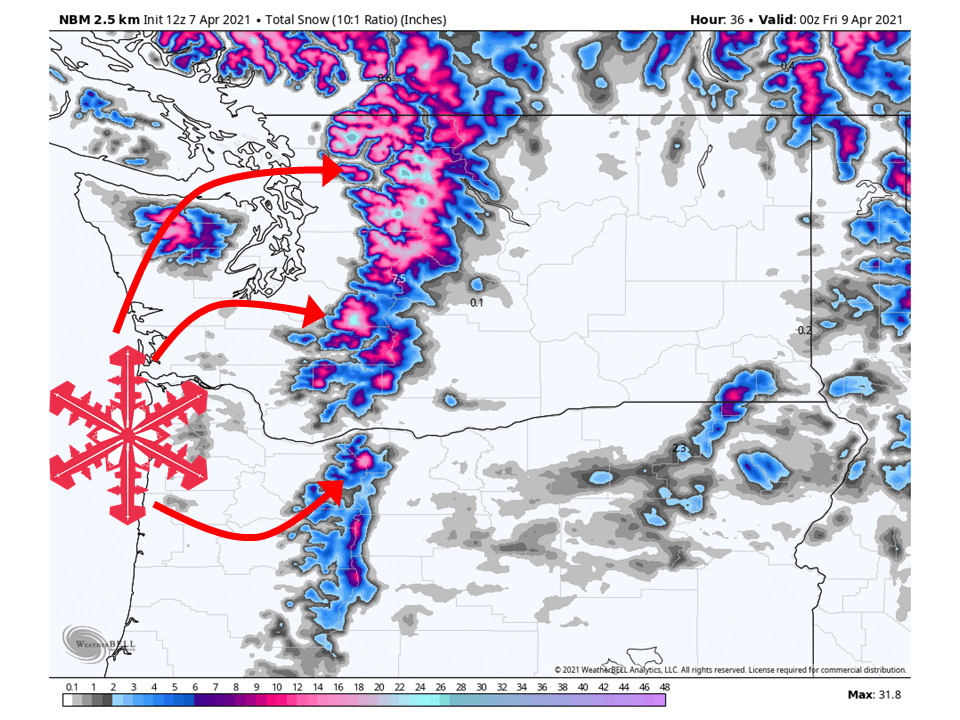 Forecast By SnowBrains Meteorologist – Eric McNamee
12:15 PM MST, 4/7/2021
Forecast Summary:
A shortwave trough will move through the PNW today, bringing 6-20″ of snow along the Cascades.
Snow will pick up in intensity this evening before tapering off tomorrow afternoon.
There will be a slight break in the action before another trough moves into the region Friday night.
This will bring another round of snow to the Cascades through Saturday.
Resorts that look to see the most snow are Mt. Bachelor, Hoodoo Ski Area, Crystal Mountain, Stevens Pass, Alpental, and Mt Baker.
Short-Term Forecast:
Wednesday-Friday:
A shortwave trough will make its way through the region today and tomorrow, bringing 6-20″ of snow to the Cascades.
Snow that has been falling in the Northern Cascades will fill in during the day today and pick up intensity tonight.
Snow will taper off tomorrow afternoon as the shortwave trough moves off to the east.
Winter Weather Advisories have been issued by the National Weather Service for this system.
Conditions will dry out briefly before another trough moves into the region Friday night, bringing more snow.
A pattern change will bring
cooler weather to the region today with rain and mountain snow
expected. The main impact will be accumulating snow in the
Cascades and highway passes - a Winter Weather Advisory is in
effect. Snow levels will lower to around 1500-2000 feet tonight
with snow expected at all highway passes. Down in the lowlands,
rain will start at the coast this morning then spread into the
interior this afternoon and evening. Seattle may see some rain
shadowing with westerly winds off the Olympics. The clouds, rain
and cooler air mass will keep temperatures below normal with highs
near 50 degrees. Rain and mountain snow will taper off early
Thursday as this system departs.

We`ll see a 24-hour break in the weather Thursday afternoon
through Friday afternoon, then more rain and mountain snow is
expected Friday night and Saturday. This next incoming system is
cooler and snow levels will remain low. This means more
accumulating snow with impacts possible at the Cascade passes.
It`s likely we`ll see another Winter Weather Advisory for the
Cascades over this period. Lowlands will see between a 0.10-0.25"
rainfall with this system with higher amounts at the coast.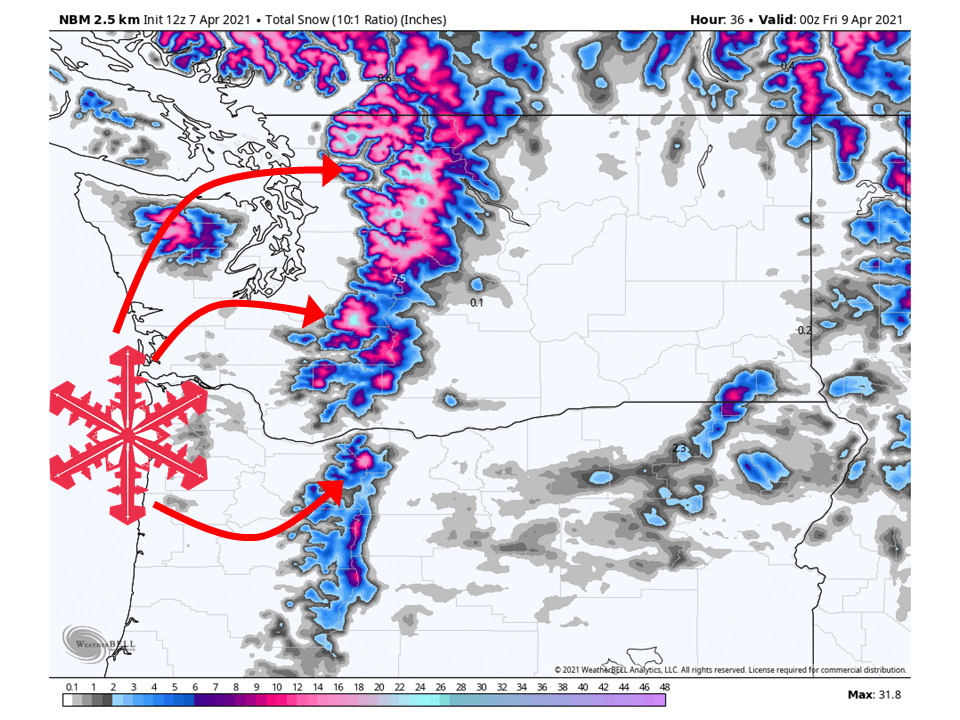 Long-Term Forecast:
Saturday-Tuesday:
Snow totals from this second shortwave will be similar to the system moving through today.
Getting into Saturday afternoon, conditions will begin to dry out as high pressure builds over the region through early next week.
Extended Forecast:
Tuesday and Beyond:
Global ensembles indicate below-average precipitation and slightly above-average temperatures across the Pacific Northwest in the extended.