Forecast By SnowBrains Meteorologist – Eric McNamee
 5:00 PM MST, 12/25/2020
Forecast Summary:
An extremely moist storm will hit California tonight and tomorrow, bringing 6-24″ of snow along the Sierra's and Northern California.
Resorts like to get the most snow are Boreal, Kirkwood, Sugar Bowl, Squaw, Alpine, and Mt. Shasta Ski Bowl. 
A wet pattern looks to continue into the extended period. 
Short-Term Forecast:
Friday-Sunday:
A potent winter storm will bring widespread precipitation across Northern California, with 6-24″ of snow falling in the higher elevations.
The snow that has been falling today will continue to do so through the day tomorrow.
This is due to high amounts of moisture streaming in from the Pacific and into Northern California. 
This has prompted the National Weather Service to issue a Winter Storm Warning for the mountains of California.
By Sunday morning conditions look to clear out as this system moves further inland, with another moving in behind.
Winter storm is starting to move into the interior. Snow levels
will lower tonight when the colder air is expected to move into
the region lowering to around 3000 feet over Shasta
County...locally down to around 2500 feet to around 4500 feet for
the western slopes of the Sierra Nevada...locally down to around
4000 feet by Saturday morning. Precipitation amounts are lower
which has also lowered the total snow output from this storm. Have
left the Winter Storm Warning for the western slopes for now but
have changed the Warning to Advisory for the other areas and added
the Burney Basin. Rain/Snow will taper to showers tonight and
gradually diminish during the day on Saturday.

The next system will brush the region Sunday night and Monday as
it moves towards Southern California for some much needed rain.
Amounts for Northern California will be light so at this time no
advisory is anticipated most areas with a low end advisory
possible for zone 69(West slopes of Northern Sierra Nevada).
-NWS Sacramento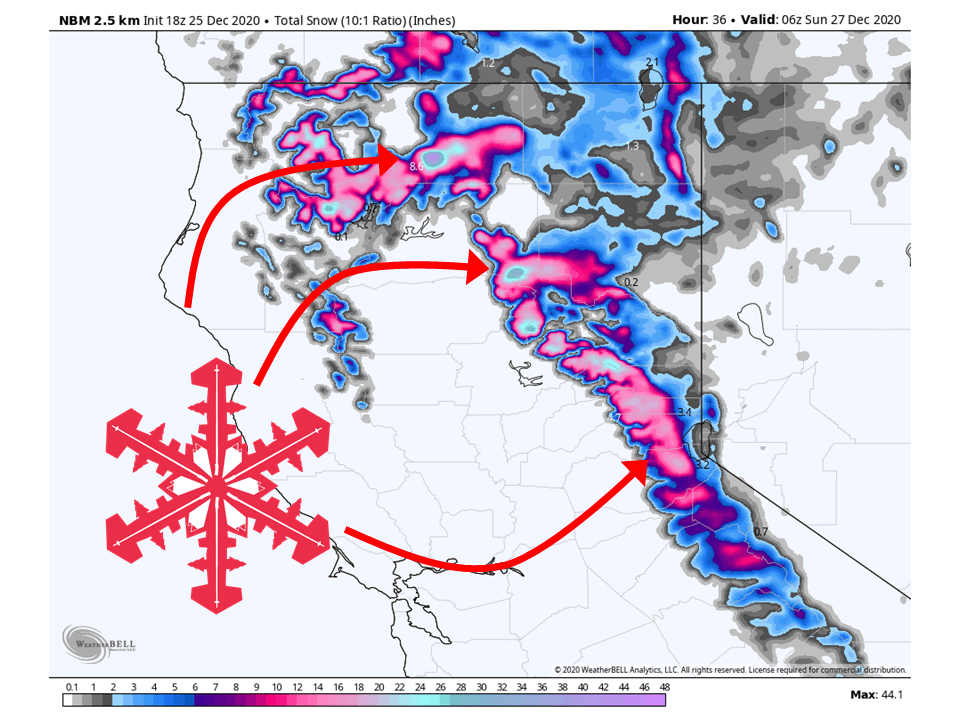 Long-Term Forecast:
Monday-Thursday:
Heading into next week, the next system will move into the western US.
Most of the moisture and dynamics with this trough will miss Northern California as it digs into the southern part of the state. 
Because of this, only light snowfall amounts are expected up north.
Extended Forecast:
Thursday and Beyond:
The next chance for decent accumulations comes in the extended as global ensembles are indicating an active and wet pattern to continue over most of the western US.