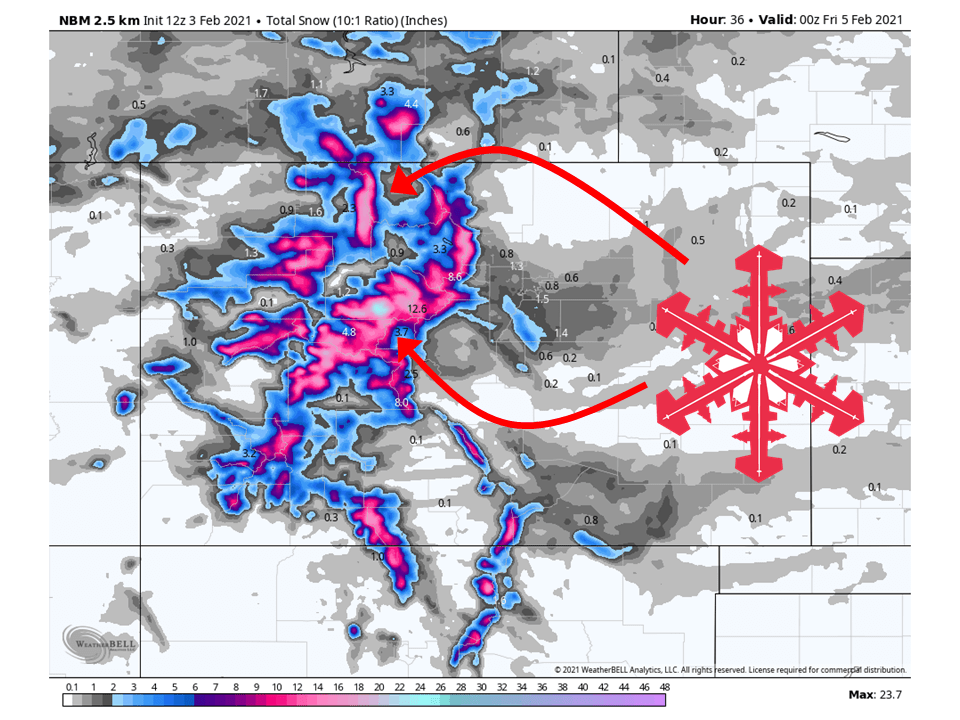 Forecast By SnowBrains Meteorologist – Eric McNamee
Brought to you by Monarch Mountain
 10:40 AM MST, 2/3/2021
Forecast Summary:
A shortwave trough currently over the Northwest will move through Colorado today and tomorrow, bringing 8-24″ of snow for mountain locations.
Another moisture-starved shortwave trough will move through Friday and bring some additional snowfall to the state.
Some light totals are possible through the weekend and early next week.
Resorts that look to see the most snow are Aspen, Steamboat, Wolf Creek, Vail, Loveland, Breckenridge, Copper Mountain, Keystone, Arapahoe Basin, Telluride, Monarch, and Winter Park.
Short-Term Forecast:
Wednesday-Friday:
8-24″ of snow is expected for mountain locations across the state through Friday, with some more coming this weekend.
A shortwave trough currently over the Northwest US will move through the state today and tomorrow.
Strong and moist southwest flow will be directed at the state, allowing for widespread precipitation.
There is quite a bit of instability associated with this trough, so there may be the chance for an isolated thunderstorm and thundersnow. 
Winter Weather Advisories have been issued for most mountain locations, with the possibility of those being upgraded.
The potent winter storm discussed over the past several days was
pushing inland over the Pacific Northwest early this morning as
models had predicted. Ahead of this system, moisture in the warm
sector ahead of the storm continued to bring clouds and a few
showers around, and just after midnight. Surface observations from
KDRO and KPSO recorded rain, and rain and unknown precipitation,
respectively. Meanwhile, showers occurred as snow at KGUC.

Showers will become widespread from late morning through afternoon
as the trough moves southeastward across the northern Great Basin
by days end. Impressive lift associated with this system according
to consensus model output. Jet divergence was indicated to be
considerable beneath the left exit region of an anomalously strong
250 mb jet, which models suggest may top 170 kts at its core. In
addition, Q derived omega fields showed a broad area of upward
motion. Meanwhile, strong southwest winds from 25 to 35 kts at the
700 mb level will provide ample orographic lift as well.
Temperatures ahead of the front will be quite mild and close to
yesterday`s readings. As a result, valleys can expect rainfall
today with a shift to a wintry mix, then snow over northeast Utah
and northwest Colorado behind the front. Meanwhile, mountains will
see a wintry mix at their bases with snow from around the 8000
foot level and up.
-NWS Grand Junction 2/3/2021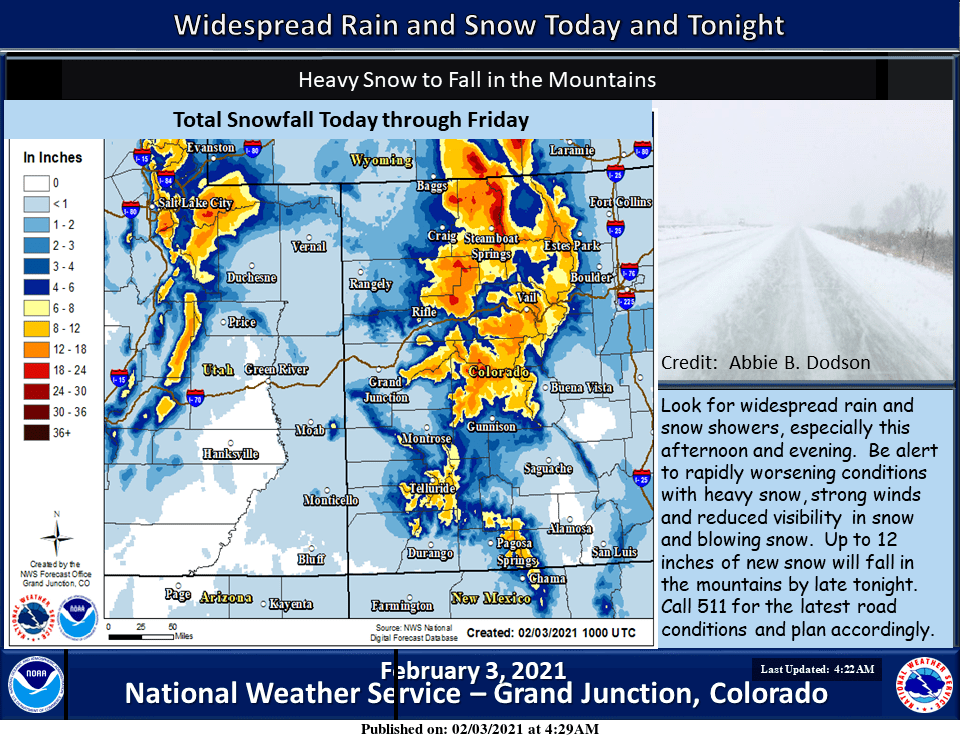 Long-Term Forecast:
Saturday-Tuesday:
Heading into this weekend, high pressure will build over the US West Coast.
However, some plumes of moisture from the Pacific will make their way around the top and down into Colorado.
This will allow for some additional snowfall in the northern mountains through early next week.
This will be great for some soft turns!
Extended Forecast:
Wednesday and Beyond:
Global ensembles are indicating below-average precipitation across southwest Colorado and generally average precipitation for the rest of the state.
Below-average temperatures are expected under the northwest flow.