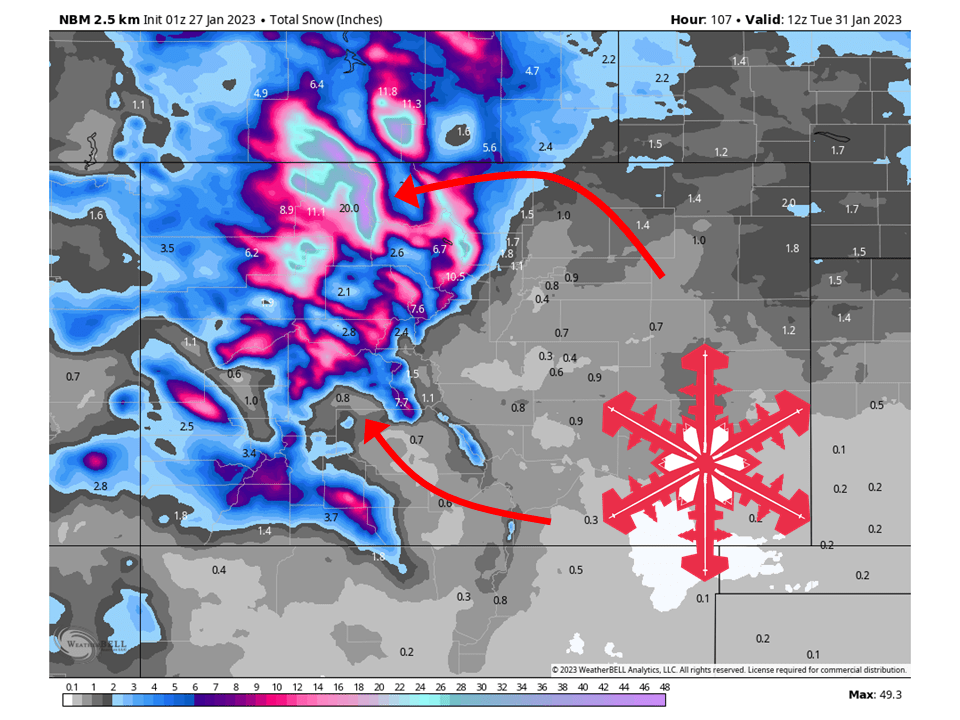 11:00 pm MST, 1/26/2023
Forecast By SnowBrains Chief Meteorologist – Eric McNamee
Forecast Summary:
A series of disturbances will move through Colorado over the next 5 days and bring 1-3 FEET to the northern mountains.

Zonal N-NW flow with sufficient moisture will keep snow going through Saturday over northern mountains.
Flow shifts to the W-SW Sunday as an open wave trough (next system) moves in from Canada.
This will stall and bring snow to the area through Tuesday.

Resorts likely to see the most snow are:
Steamboat
Winter Park
Loveland
Arapahoe Basin
Vail
Short-Term Forecast:
Thursday Night-Sunday:
Zonal N-NW and sufficient moisture will bring snow to the northern mountains of Colorado through Saturday. More specifically, the Park and Medicine Bow range will do quite well in this type of setup with sufficient moisture and orographic to bring an onslaught of snow. Saturday night into Sunday upper-level flow will shift to the W-SW as an open wave trough digs in from Canada. This will help draw moisture from the Pacific and bring more widespread snow to more Colorado mountains.
Long-Term Forecast:
Monday-Wednesday:
Snow continues into Monday as a front associated with the aforementioned open-wave trough stalls out over the northern half of Colorado. Snow will fill in slowly from north to south as the trough slowly moves to the south and splits. This will continue through the day Tuesday before tapering off in the afternoon Tuesday. In total, 1-3 feet of snow is possible over the northern mountains of Colorado.
Extended Forecast:
Tuesday and Beyond:
Global ensembles indicate near-average precipitation and below-average temperatures across the Northeast in the extended.