Forecast By SnowBrains Meteorologist – Eric McNamee
 12:30 PM MST, 5/10/2021
Forecast Summary:
A trough moving through the state today and tomorrow will bring 6-18″ of snow to the mountains through tomorrow.
Snow has already been falling and will pick up across the higher elevations today and tonight
Things will taper off tomorrow night as the trough moves off to the east.
Open resorts that look to see the most snow are Arapahoe Basin and Winter Park.
Short-Term Forecast:
Monday-Wednesday:
Another trough will move through Colorado today and tomorrow and bring 6-18″ snow to the mountains through tomorrow night.
Snow has already been falling across the higher elevations and will continue through the day.
Instability from this trough will allow for heavier bands of precipitation and some thunderstorms to develop across parts of the state.
Snow will continue in the higher elevation through the day tomorrow before tapering off tomorrow night.
Some terrain-based showers are possible on Wednesday but no major additional totals are expected.
Winter Storm Warnings and Winter Weather Advisories have been issued across the higher terrain.
Monday, expect widespread precipitation under overcast skies and
deep moisture. A 90 to 100 knot jet overhead in mostly zonal flow
aloft will increase the development of showers over the mountains
during the day and may contribute to banding of heavier
precipitation. Expect snow in the mountains and higher foothills,
rain on the plains and a mix for the lower foothills and Palmer
Divide. Low level flow will be southeasterly to easterly across
the plains into the Front Range in response to surface high
pressure building to the northeast which should enhance snowfall
in the foothills and mountains. A Winter Storm Warning remains in
effect for the Front Range Mountains and Foothills beginning
Monday afternoon, where heavy snowfall accumulations will begin
especially on the eastern slopes of the northern mountains. There
will be isolated thunderstorms in afternoon and evening but they
should not be severe due to a general lack of low level
instability.
-NWS Boulder 5/10/2021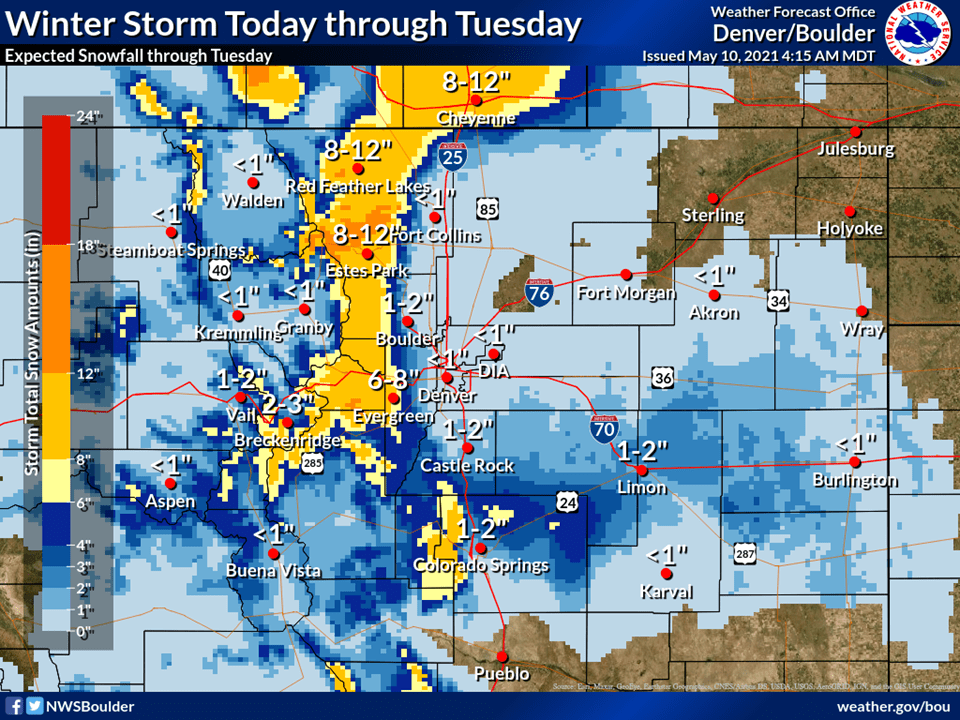 Long-Term Forecast:
Thursday-Sunday:
Conditions will clear out Thursday as high pressure builds over the western US.
Another trough will move into the region this weekend, but the exact track of the trough still is not certain.
It does appear to be on the warmer side at this time so totals may be pretty minuscule.
Extended Forecast:
Sunday and Beyond:
Global ensembles are indicating below-average precipitation and above-average temperatures across the region in the extended.