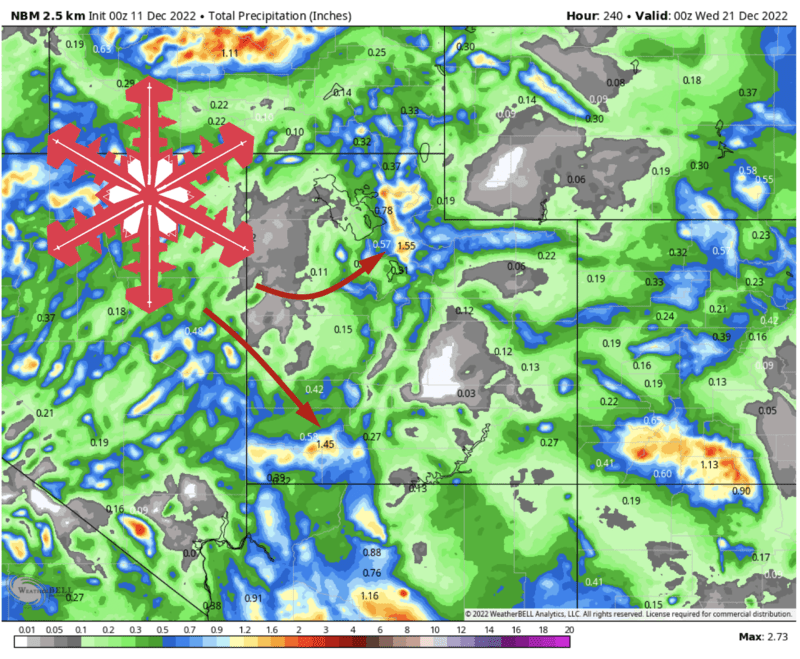 Forecast by SnowBrains Meteorologist Nathan Tarino – Updated Saturday, Dec 10th at 2100 MST
Summary
Utah's mountain snowpack is sitting pretty, with about 150% of median snow water equivalent for this time of year. With another big storm on the doorstep, coverage will be great into the holiday ski season.
The next storm will bring phenomenal skiing across the state on Monday. Tuesday will probably be pretty nice, too.
Long-range prospects are kind of dodgy. Not totally dry, but I don't see any more dumps for a bit after this one.
Snowpack Appreciation
This is by far the best start to a season I've had the pleasure of skiing. Snotel sites near the ski areas show that we're way ahead of the median snowfall for early/mid December.
Check it out, Snowbird sits at 205% of the median snow water content for December 10th. Quick explainer – the green line is the median snowfall for a given date or the amount of snow you'd expect to have on a very normal year. The black line is what we're at so far this season. The blue line at the top is the fattest snowpack ever measured at that site on a given date, and the red line near the bottom is the thinnest:

Here's a site near 7,500′ in Northern Utah not far from Beaver Mountain. This is just about the best start to a season this station has seen since being installed in 2010:
You can find all of this data for sites across the US here. It's a great resource.
With more snow on the way, resorts should have tons of terrain open for the holidays. Coverage in the backcountry will also be great for those who avoid resorts this time of year.
Short Term Forecast
A powerful storm system is moving ashore along the Pacific Coast today. It's nuking in Tahoe as I write, and Palisades recorded a 154 mph wind gust earlier this afternoon.
Winter weather moves into Utah Sunday afternoon, mostly after resorts close for the day. Very heavy snow (enough for deep powder skiing) will fall overnight Sunday into Monday. Monday morning will offer up awesome lift-served skiing.
The forecast becomes a bit more uncertain heading into Monday morning. Episodic snow showers will continue for northern Utah resorts all the way into Tuesday afternoon, but it's not entirely clear how efficient they will be at producing snow for the resorts. As always, these postfrontal showers will disproportionately benefit the Cottonwood resorts – Alta and Snowbird in particular.
On the light end, this could be just a spotty inch or two. On the heavier side, genuine refreshes are possible. I'll update this post when I have a more confident forecast to offer.
Regardless, accumulations will be deep by the time snow tapers off on Tuesday. Here's what I've got for storm totals, bear in mind the majority of this comes Sunday night into Monday morning: 
Little Cottonwood (Alta, Bird):

16-22″

Big Cottonwood (Soli, Brighton):

14-20″

Park City Ridgeline (Park City, Deer Valley):

8-15″

Northern Utah (Pow Mow, Snowbasin, Beaver):

10-18″

Southern Utah: 10-16″ for Brian Head,

7-11″

for Eagle Point  

(Pretty much all Sun-Mon down here)
Long Range Discussion
Ensembles hint at a chance for more snow next weekend into early next week. 
After that guidance suggests a ridge will develop upstream of the Pacific Coast, with mean troughing over the Northern Plains/Prairies:  
This isn't a death sentence for Utah, but it's not a pattern I like either. Generally, this is a recipe for cool but moisture-starved storms to dive into the region from the PacNW/Canadian Rockies. If we see that ridge trend any closer, I fear we could see a longer period of generally drier weather.
Hope not.
Here's a shot from a tour I took on Friday. The snow was already good, I'm eager to get out again after this storm.