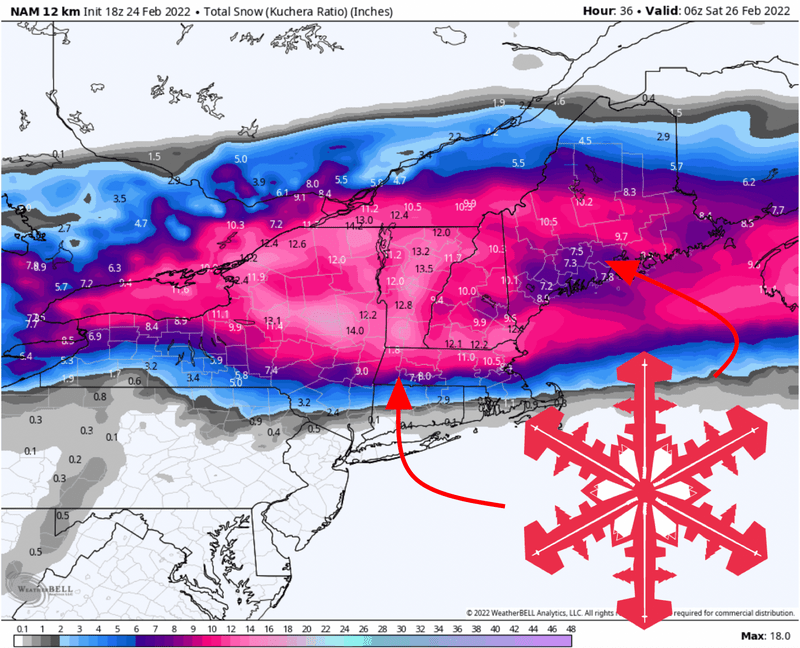 Forecast By SnowBrains Meteorologist Nathan Tarino
Updated 4 PM MST 2/24
Forecast Summary
A progressive but intense winter storm will bring heavy snow to nearly every New England ski area overnight Thursday and into Friday. Mixing of sleet and freezing rain threatens to degrade snow quality for resorts in the Catskills Mountains, as well as across Massachusetts and Connecticut. Otherwise, an excellent powder day is on tap for Friday across the region.
Great conditions will persist for a while after snow tapers off Friday, as cold temperatures and a couple more chances for snow stick around into the beginning of March. The forecast for the next week arguably looks more promising in the East than in parts of the West.
Short Term Forecast
Snow will begin to fall across the Northeast late Thursday night. By resort openings on Friday, a few inches of snow will make for good skiing in southern Vermont, southern New Hampshire, and even the Catskills. Resorts farther north and across Maine will need to wait a few hours for the accumulations to stack up but will be enjoying powder turns before too long.
The snow line will steadily push northward through the day on Friday. Mountains in the Catskills may have a narrow window of good snow quality on Friday morning before mixed precipitation moves into the area. Generally, models keep the precipitation completely as snow from Massachusetts northward:
By the time snow moves out of the area through Friday afternoon, expect deep snow for essentially all major New England ski areas:
Vermont resorts are looking at

8-18″

of snow. The heaviest accumulations will be found in the southern portions of the Green Mountains. Expect areas in northern Vermont to see higher snow ratios, but slightly less snow. Good skiing will be found across the state on Friday.
The Adirondacks will see

7-13″

of fresh snow. 
Snowfall totals in the Catskills will depend heavily on how much-mixed precipitation falls. Look for

4-8″

of snow with a bit of sleet on top.
In New Hampshire, resorts in the southern half of the state will see 8-14″ of snow. Farther north, expect

5-9″

. 
Long Range Prospects
Cold temperatures will keep riding conditions great through the weekend. A cold frontal passage on Sunday afternoon will once again bring the chance for accumulating snow, with a couple of inches possible – especially across the more northern resorts in the region.
Though the forecast remains somewhat ambiguous, there is a good shot at another dose of 3″+ accumulations around the 1st of March. It looks like a pretty great week to ski the East.
Enjoy the pow!