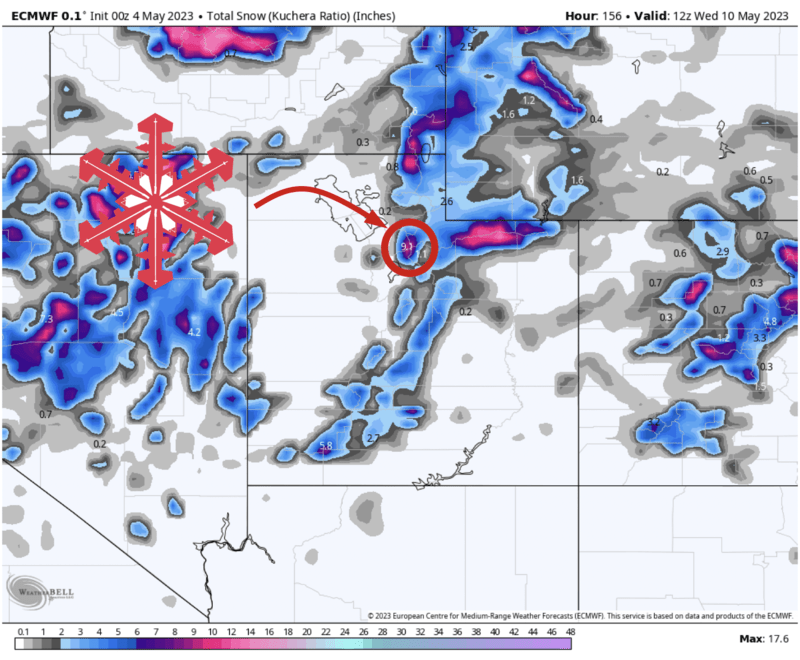 Forecast by SnowBrains Meteorologist Nathan Tarino — Posted 1 am MST May 4th
Forecast Summary
Despite a couple of weeks of warm weather recently, Utah's snowpack is still really deep in the upper elevations. Coverage is as good as I have seen it, even after a bit of melt.
A series of storm systems will bring cooler, unsettled weather over the next week. None of the upcoming storms are very impressive but together should team up to produce enough snow for some soft turns in the upper elevations over the weekend and into early next week.
This is probably winter's last hurrah before warmer weather settles in permanently. While I don't expect bottomless blower pow turns, it might be worth getting just a few more soft turns before a full transition to warm-season hobbies.
State of the Snowpack
This has been a pretty crazy winter. Alta surpassed 900″ of snowfall this season for the first time ever (at least in recorded history), many snowpack records were broken statewide, and travel in & out of Little Cottonwood Canyon has been a disaster all spring in the aftermath.
Snowmelt has begun. We've seen some river flooding this week as temps rise, huge avalanches and even debris flows in the mountains:
https://twitter.com/brian_schnee/status/1653504248783556636
Still, the upper elevation snowpack (above ~8,000′) remains massive. The Alta-Collins snow stake is reporting a depth of 168″. The Snotel site at Brighton (8,766′) shows that after breaking the previous record earlier in the spring, we're still close to record snow water content for the date.
The black line shows this season's data compared to the median (green) and the previous record (blue).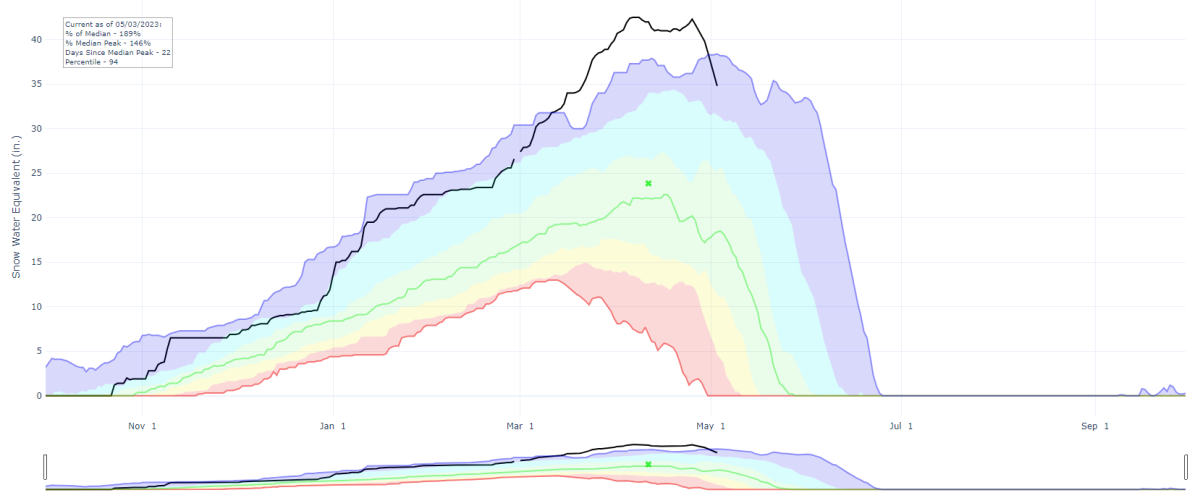 Certainly enough to ski on. Sadly, warm/windy weather has led to a few layers of dust in the snowpack. These will accelerate snowmelt as we head deeper into spring/summer:
https://twitter.com/UTSnowHydro/status/1653119927489032192
The Forecast
This forecast will focus on the Cottonwood Canyons, as only Brighton (Milly only), Solitude, and Snowbird continue to spin lifts.
This week's forecast features a barrage of weak storms embedded within a broader trough over the West Coast. None of them are going to do all that much on their own, but by the weekend, I expect they'll have improved ski conditions a bit. With springtime temperatures, expect snow quality and accumulations to be significantly better at the highest elevations. I think Saturday offers the best chance for decent skiing, but Sunday gets an honorable mention too. I'll be skiing both. Read on if you care for the details:
The first wave gets going Thursday afternoon, with showers and thunderstorms developing across the northern half of Utah. Snow levels initially above 10,000′ will slowly sag down closer to 8,000′ by Friday morning, by which point 1-2″ of dense, creamy snow is likely for the upper elevations in the Cottonwoods.
The next disturbance arrives Friday night into Saturday morning, bringing another round of showers. This time snow levels will fall slightly lower, maybe pushing close to 6,000′ Saturday morning. I bet we'll see another 2-4″ in the Cottonwoods with this one.
Yet another shortwave moves through Sunday morning, renewing chances for snow showers above ~7,000′. Doubt this one adds much for additional snow, but it'll add to the ambiance in the mountains regardless.
More chances for unsettled weather come Monday and Wednesday, though I'm not sure it'll be quite cold enough or wet enough to make an impact on ski conditions. We'll have to wait and see.