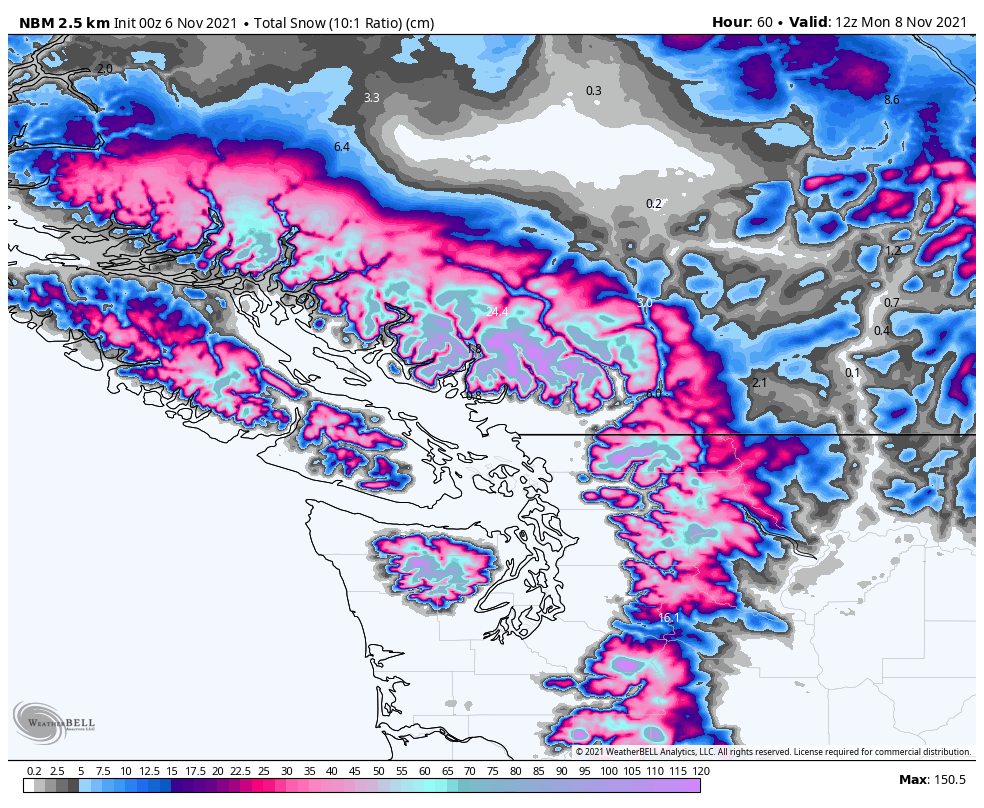 SnowBrains Forecast by Clay Malott
10:00 p.m. MST – November 5th 2021
Summary:
This weekend, a major winter system will push into Washington and British Columbia, delivering major snow totals to elevations above 3,000 feet. Localized maximum totals could climb up to as high as 60″ on the upper peaks by Monday morning, but snow accumulations closer to 30-40″ are likely on most elevations above 3,000 feet near the US-Canada border.
Friday-Saturday
The system currently offshore is right on Washington's doorstep and will move in and begin accumulating snow overnight tonight, heading into Saturday morning. Accumulations will start in the southern Cascades before gradually creeping further north and reaching the US-Canadian border by 3-4 am on Saturday. The most substantial snowfall will quickly target the northern Cascades and the coastal mountains of southern British Columbia by mid-morning on Saturday.
There is reasonably good model agreement with the first push of this storm, with all three major global deterministic models forecasting somewhere around 20″ maximums on Saturday near the US-Canadian border. Here's what Saturday's 24-hour accumulations look like from the Euro model:
The American and Canadian models are indicating slightly different totals in the same period, but the same overall idea (snow further north, with the highest totals right near the border):
Sunday
Things will really begin to heat up on Sunday, with a strong wall of moisture pushing into the region from the southwest.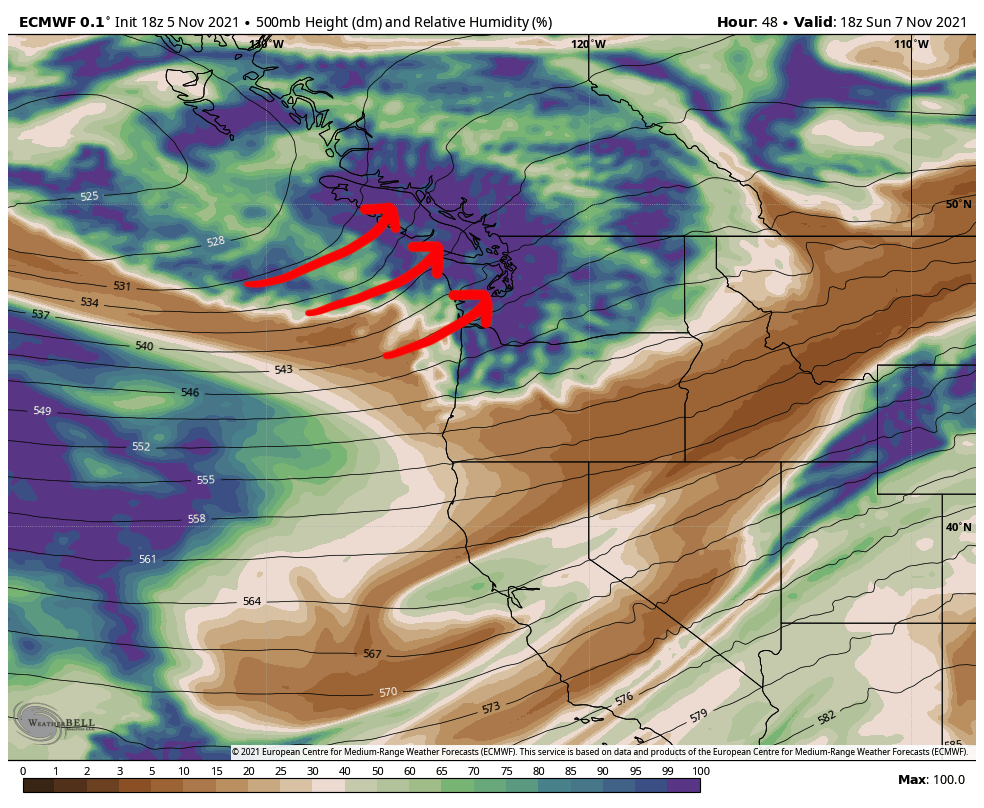 The model outputs are forecasting similar amounts on Sunday as they did on Saturday. However, there is more nuance to Sunday. More on that after some model outputs. The models like odds of 15-20″ maximums in northern Washington and southern BC on Sunday. Check out the bottom right corners of the images to see the maximum forecast values:
The primary meteorological mechanism driving this precipitation is orographic (air being forced up mountains), so wind direction will be very important for forecasting localized maximums. This means that topography is going to be super important for this storm. Since the flow is strongly out of the southwest, we can look at a topographic map of the region and identify the most likely areas that might outperform (receive more snow than) the low-resolution model output. These areas all have fairly uninterrupted access to moisture directly off the Pacific.
Monday and beyond
Things will quiet down from Monday through Thursday, with lighter showers and maximum accumulations between 15-20″. A powerful system is brewing up for the end of next week into the weekend, which has the potential to match or even exceed this weekend's totals.