Forecast by Clay Malott – 1/13/23 8pm PST
After two weeks of stormy, wet conditions, California is in for one more big storm before the pattern shifts to favor calmer and drier conditions for the state.
Over the last two weeks, California has been hit by an absolutely incredible series of atmospheric rivers. Just check out the estimated total snowfall since December 27th below! Incredible.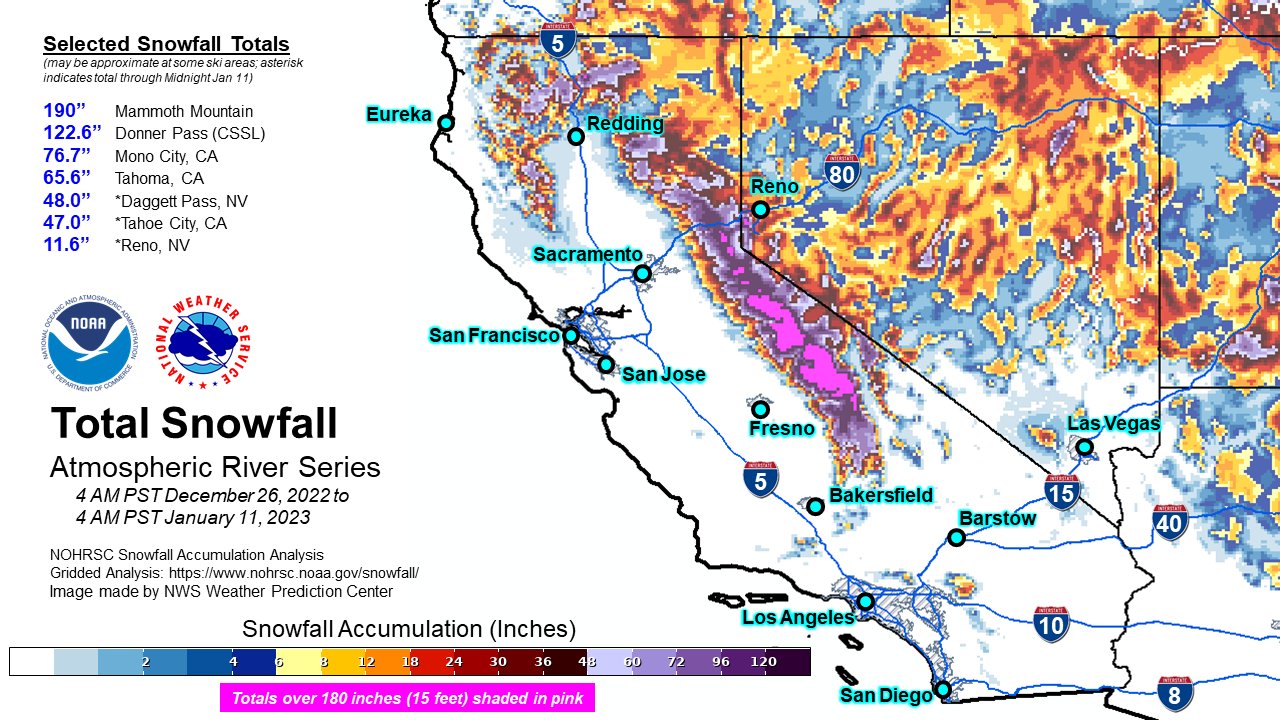 The next storm arrives on Friday night and will last through Monday afternoon, ensuring spectacular conditions for the holiday weekend. Snow levels will remain below lake level through the weekend, so rain is not a concern with this system.
Friday night will bring moderate snow to resorts around the region. Below are what I see as possible overnight totals by first chair on Saturday morning:
Snowfall: Friday night – Saturday morning
West Tahoe (Palisades, Sugar Bowl, Sierra at Tahoe, Kirkwood): 

6-10″

East Tahoe (Mt. Rose, Heavenly): 

3-5″

Central Tahoe (Northstar, Homewood): 

5-7″

Mammoth: 

5-8″
The best skiing on Saturday morning will likely be at Sugar Bowl, where the overnight precipitation bullseye will allow elevated totals for first chair. Notice the higher totals the further north and west you go from the lake:
Precipitation rates will pick up during the ski day on Saturday, though temperatures will remain in the high 20s, meaning the snow will be on the heavier side. During the day on Saturday, here's what I'm expecting from first chair (8 am) to last chair (4 pm) on Saturday:
Snowfall: Saturday morning – Saturday afternoon
West Tahoe: 

12-20″

East Tahoe: 

8-12″

Central Tahoe: 

9-15″

Mammoth: 

12-18″
Precipitation will decrease steeply on Saturday afternoon. The big surge of moisture comes ahead of a major cold front, so once the precipitation rates begin to decrease with the frontal passage, the temperature will plummet into the low 20s and high teens at some of the higher-elevation resorts. This means that the snow that falls on Saturday night will be nice and light and will make for excellent conditions on Sunday. Check out the difference between Saturday morning and Sunday morning, with much of the Sierra crest running 8-10 degrees colder:
Snowfall: Saturday night – Sunday morning
West Tahoe: 

6-12″

East Tahoe:

2-6″

Central Tahoe:

4-7″

Mammoth: 

8-12″
Sunday will be less snowy but will still see snow showers at resorts (increasing in the afternoon), especially in the western Tahoe basin. Accumulations will be light on Sunday during the day, with a few inches expected at western Tahoe resorts and the highest totals at Sugar Bowl (possible totals up to about 5″).
Sunday night will see several more inches fall and the start of a minor second wave starting early on Monday morning. This second wave may elevate snowfall rates back up to 1″ per hour during the peak on Monday afternoon, but will likely only bring an extra few inches to local resorts. As usual, resorts further west will do best. I definitely feel like I'm under-forecasting this Sunday-Monday window, so don't be surprised if totals end up being a bit higher if this window can deliver!
Looking ahead, the models are hinting at another small clipper system next week on Wednesday. Totals will likely be fairly minor from this system, although some models are hinting at this system dropping some decent totals in the Tahoe region. Watch the forecast and stay tuned for another SnowBrains post with updated information!
The Pacific Jet Stream will retract after this system on the 18th, returning to a more La Niña esque pattern with a more meridional (wavy) jet stream. This is bad news for California skiers, as this will largely shut down the nearly nonstop fire hose of moisture that has been delivering such a legendary few weeks. For skiers in the Pacific Northwest, this is great news as colder air and moisture look to make a return for the end of January and the beginning of February.