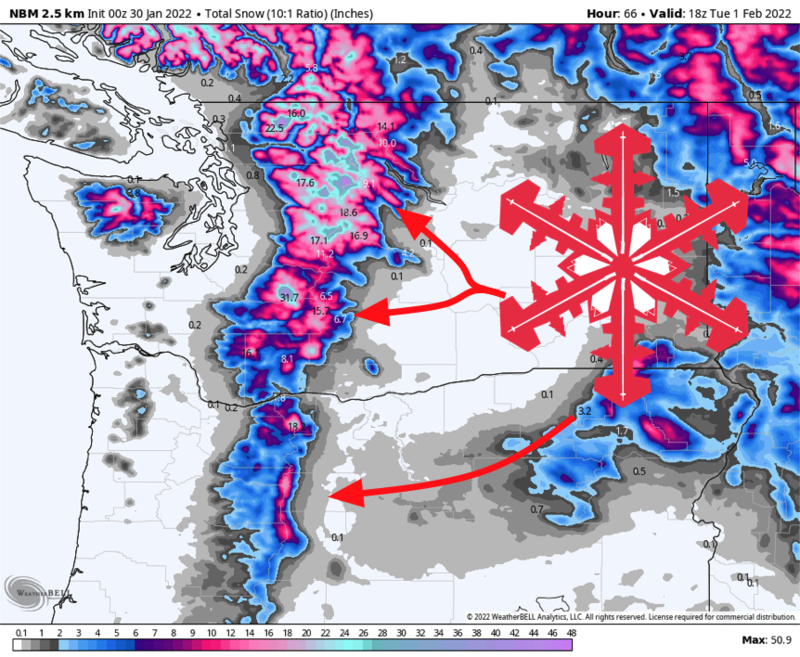 Forecast by SnowBrains Meteorologist Nathan Tarino
Last Updated 5:00 AM MST 1/30
Forecast Summary
The second half of January has been pretty pathetic across the Western US, with a high amplitude ridge aloft centered smack over the Pacific Northwest pushing the storm track north into Canada. In Washington and Oregon, it really hasn't snowed since January 12th. Below is a plot of SWE (essentially snowpack depth) in black compared to the median in green over the season so far at Stevens Pass. You can see recently we've been going the wrong way during what's typically the snowiest part of the season.
Thankfully, a storm is finally en route. Heavy snow will fall Sunday night, making for freshies by first chair Monday. Snow won't end till late Monday night, with a few snow showers persisting as long as Tuesday afternoon. Riding conditions should benefit quite a lot from general accumulations of 8-16″ of snow from Mt. Hood northward and 4-8″ for Mt. Bachelor. 
Long-range forecasts don't inspire a ton of hope. I'd get after this one if you're in need of a pow fix.
Short Range Forecast
Snow has already started above 4500′ in northern Washington, but the storm will really get going late Sunday. A cold front will pass through the Washington Cascades through the evening and drop snow levels to about 1000′. Expect the front to make it through the Oregon resorts by the early morning on Monday, taking snow levels down to near 1500′.
Heavy snow will fall along and behind the front, making for soft conditions by first chair Monday – especially farther north in Washington. Postfrontal snow showers will continue in a moist, unstable west-northwesterly flow through the day, and Monday should be a really fun day on the hills. In Washington, continued snow showers will likely tack on additional light accumulations (1-3″) over Monday night, so expect Tuesday to be a decent consolation prize.
By Tuesday morning, expect the following storm totals. Keep in mind most of the snow will fall Sunday night and Monday morning: 
Mt. Baker –

8-14″

Stevens Pass –

10-18″

Snoqualmie Pass Resorts – 9-16″
Crystal Mountain – 8-14″
Mt. Hood Resorts – 6-10″
Mt. Bachelor – 4-8″
The next shot at storm will come on Friday. Uncertainty remains as to snow levels and track, but certainly something to keep an eye on.
 Extended Forecast
The pattern remains generally unconducive to consistent snow. The ridge responsible for the dry second half of January is still hanging around centered a few hundred miles west of Seattle, and there's really no indication that it will be going anywhere anytime soon. A few storms can likely will still make it through, but the weeks of huge snow we saw in December and early January won't return until the ridge breaks down or relocates.
The CPC outlooks are correspondingly pessimistic. Still, it could be much worse – the PNW probably has the best long range prospects in the West.