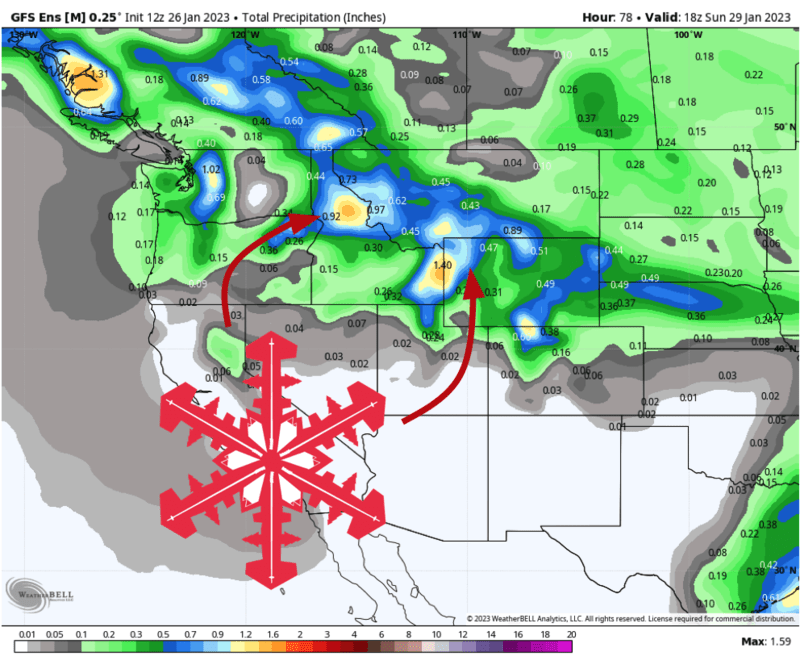 Updated January 26th by SnowBrains Meteorologist Nathan Tarino
Forecast Summary
A series of storm systems will bring a multi-day period of snowfall to portions of the Northern Rockies from Thursday evening all the way into Sunday. A few resorts in Idaho, Montana, and Wyoming are poised to catch upwards of a foot of new snow through the weekend.
Looking ahead, more snow looks probable late next week into next weekend. The large-scale pattern looks to remain somewhat favorable for the region as it takes on a more typical La Nina look as we head into February.
Short Term Forecast
Given the prolonged nature of this upcoming stormy period, I thought I'd divide the forecast into chunks temporally, giving a day-by-day breakdown of where the best conditions will be found. I'll also include a few storm total accumulation numbers at the end of this section.
Thursday night and Friday
Best areas to ski: Jackson & Targhee (especially Friday afternoon), anywhere in Montana, Idaho Panhandle.
Details:
Snow showers will fire up this evening (Thursday) over the mountains of Western Montana before slowly sagging southward into northern Idaho and the ski country of Wyoming overnight.
By Friday morning, an upper-level disturbance moving southeastward through the region will bring a period of heavier snowfall. This heavier snow will last a good chunk of the day, beginning to trend lighter for the last few runs.
Friday will be an excellent powder day for many northern Idaho, Montana, and Wyoming mountains. A few areas farther south in Idaho won't see much snow during this period. Unfortunately, spots like Bogus Basin, Sun Valley, and Magic Mountain will be left relatively snow-free.
Friday night and Saturday
Best areas to ski: Jackson & Targhee, anywhere in Montana, and near & north of McCall, ID. 
Details:
Another wave of heavier snowfall will slide southeastward into the Idaho Panhandle and Western Montana by late Friday night, eventually reaching western Wyoming by Saturday morning. Resorts near McCall, ID, will see their better window for snowfall as this wave passes through sometime midday Saturday.
Snow will tend to taper off for most of Montana through the day, and I suspect there will be some glorious bluebird leftover skiing in northwestern Montana on Saturday afternoon. Southern Idaho resorts are again left fairly dry through this period.
Worth mentioning that a very cold airmass will begin to move over Montana through the day Saturday. Be prepared for this if you venture out.
Saturday night and Sunday
Best areas to ski: Good skiing region-wide. Jackson & Targhee are best for fresh snow, but good snow quality will remain across northern Idaho and all of Montana, too. 
Details:
By Saturday night, most of the snow will have already gone. Still, a band of generally lighter snowfall will slowly drift south over central and southern Idaho through the night, finally bringing some snow to the Sun Valley area. The Tetons will keep seeing snowfall until midmorning Sunday too.
I'd be remiss in omitting very cold temps on Sunday. Be weather aware if you plan to hit up the slopes on Sunday, some areas will drop well below zero.
By the time snow winds down, some pretty hefty snowfall totals will have fallen in some areas. Comparably light totals should be expected elsewhere. I tried to show this range with my choice of forecast points for this storm, as you can see, the favored areas will win by a wide margin:
Big Sky: 16-28″
Bridger Bowl: 15-26″
Jackson & Targhee: 25-40″
Silver Mountian: 6-12″
McCall area Mountains: 4-7″
Whitefish: 5-9″
Sun Valley: 2-5″
Extended Forecast
Another chance for light to moderate accumulations appears likely late next week/weekend. 
Beyond that, we look to transition to a pattern where the Northern Rockies see somewhat more frequent stormy weather. Here's the CPC's outlook for the rest of the winter, suggesting higher chances of cool and unsettled weather: