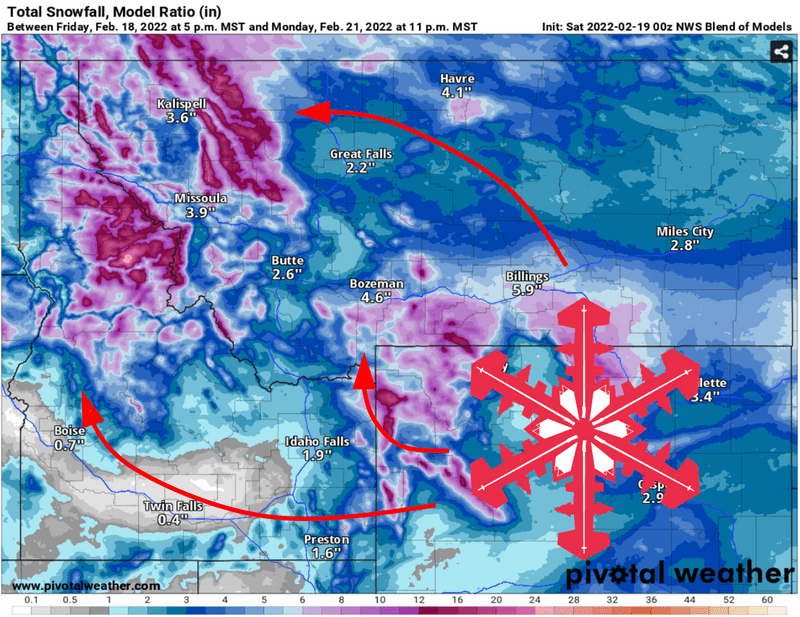 Forecast By SnowBrains Meteorologist Nathan Tarino
Updated 10:00 PM MST Feb 18
Forecast Summary
A potent winter storm will roll into the Northern Rockies this weekend. Plenty of cold air associated with the system will drop snow levels to valley floors and make for fluffy, right-side-up skiing.
Sunday will offer the best turns for most resorts. A few bonus inches and terrain openings should make for a great ski day on Monday, too. Resorts in the vicinity of Boise will be an exception, with decent skiing to be had Monday and Tuesday instead.
An evolving upper level pattern will make for more active weather to round out February. For a change, the extended forecast is promising.
Short Term
Snow will begin as a cold front pushes south over the area. The first flakes will fall in the Idaho Panhandle and nearby portions of Montana late Friday afternoon. Farther south, resorts near Bozeman will need to hang tight until Sunday morning for the first snow. In any case, snow quality will improve throughout the day on Sunday with moderate to heavy snowfall continuing until the afternoon.
With very cold air aloft, scattered snow showers will linger into Monday evening. Most resorts can expect to tack on an extra inch or two after the last lap on Sunday, carrying good ski conditions into the workweek. This is especially particularly true in the Sawtooths, where snow will continue into Monday night.
Snow totals will vary by region somewhat. By Tuesday morning, look for the following snow numbers:
7-11″

for resorts near McCall, Idaho

8-14″

for resorts in northwestern Montana

3-5″

for central Idaho resorts (Bogus Basin, Sun Valley, etc)

5-8″

along and east of the Bitterroots in Montana

6-10″

in southwestern Montana (Bridger Bowl, Big Sky)
Quiet weather will prevail after snow tapers off late Monday. A few snow showers will linger into Tuesday morning in the Sawtooths, potentially bringing another inch or two to resorts in the area.
Long Range Prospects
The high pressure aloft responsible for the recent drier weather is slowly retreating westward, out to sea over the Pacific. This will encourage stronger and more frequent storms to penetrate into the region as we approach March.
The next shot at stormy weather and fresh snow will come around the 27th of February. It's likely more active weather will follow as well.
The long range CPC outlooks are a relief to look at: