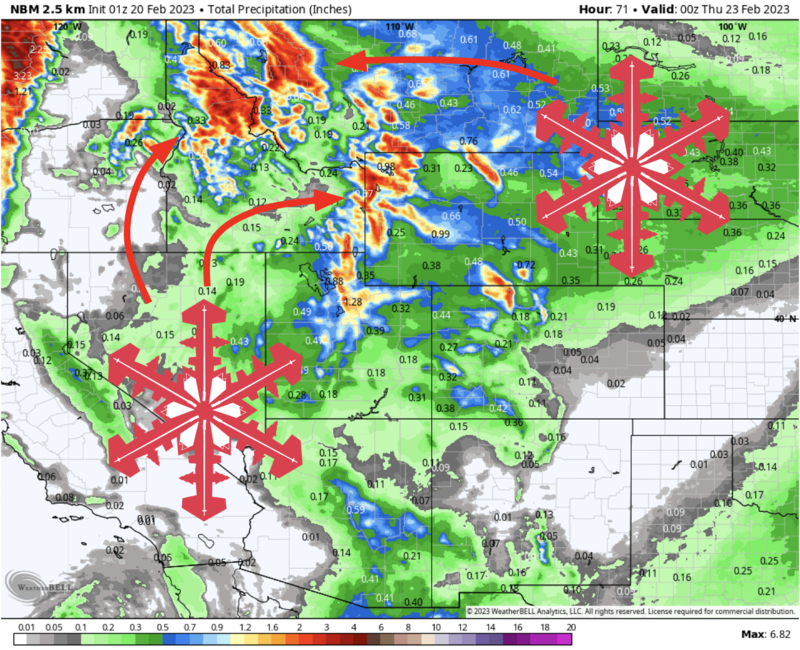 Posted the evening of Sunday February 19th
Forecast by SnowBrains Meteorologist Nathan Tarino
Forecast Summary
Moderate accumulations have already fallen across the region as of Sunday evening. Snow is ongoing across the ski country of Montana and Wyoming as I write.
Heavy snowfall is forecast region wide on Monday and Tuesday. A few areas will see continued snow into Wednesday. The bigger hills will see total accumulations between 20 and 40 inches through Wednesday, with fairly widespread 6-15″ totals for even the smaller and lower elevation resorts.
Another storm will bring some additional snow mostly to Idaho and Wyoming Thursday and Thursday night. 
Continued active weather is likely to close out the month of February. 
Recent Snowfall
We'll start off this forecast with a quick region wide snow report, as a fair amount has already fallen. These snowfall analyses (available here) do a decent job showing what's fallen as of Sunday morning: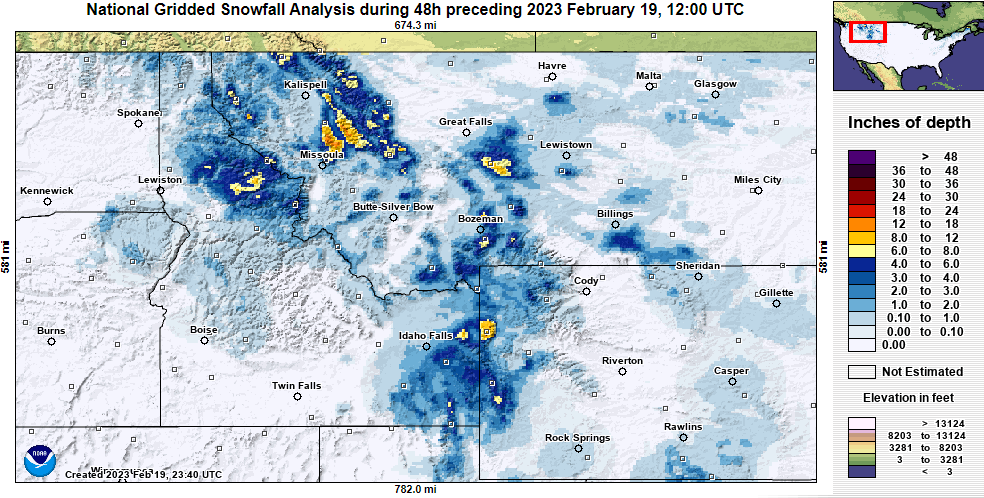 Montana:
Most resorts reported between 2″ and 8″ of new snow on Sunday morning. Bridger Bowl and Showdown mountain are the winners so far, with Bridger reporting 17″ total and Showdown close behind at 14″ as of Sunday afternoon.
Idaho:
Idaho hills also picked up light to moderate totals, with most resorts reporting 2-5″ by Sunday morning. Hills near Boise (Bogus Basin, Soldier, Sun Valley) haven't reported any new snow yet, but it's coming soon.
Wyoming:
Targhee and Jackson Hole reported 14″ and 7″ respectively, early Sunday morning, and moderate to heavy snow continued all day and is still falling: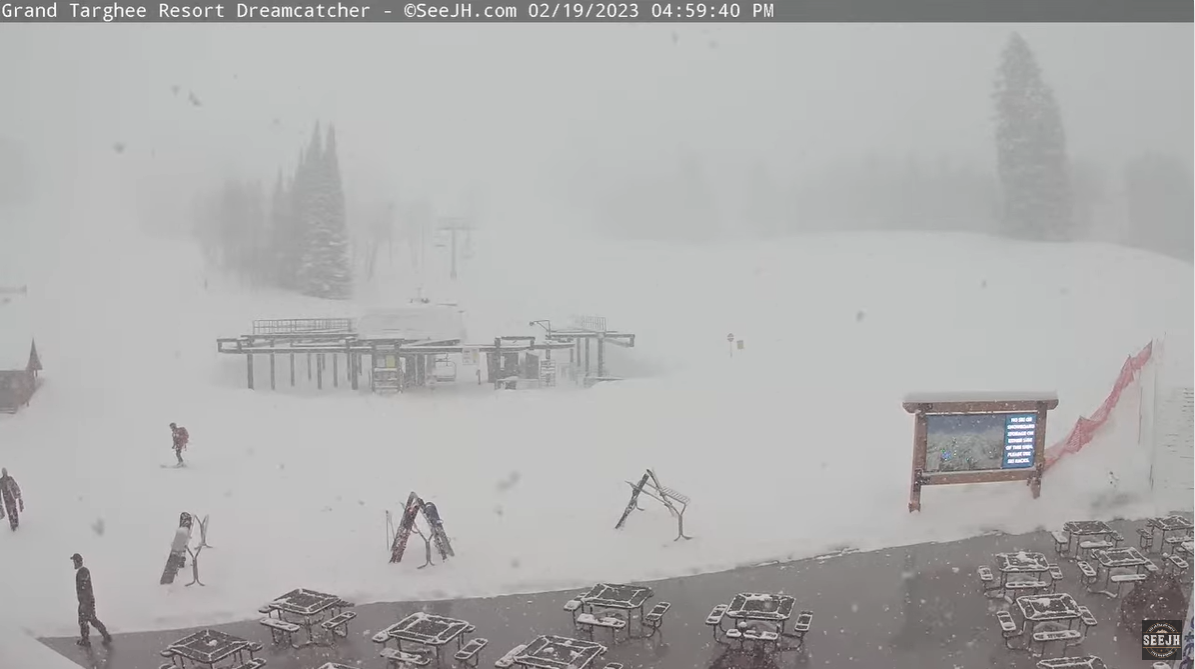 Short Term Forecast
Snow continues through Sunday night and Monday across western Montana, the Tetons, and portions of northern Idaho. The best skiing on President's Day will be found across Montana and Wyoming, with Idaho resorts near the Snake River Valley not catching much snow.
The best spots to ski on Monday include Bridger Bowl, Big Sky, Grand Targhee, and Lookout Pass. You really can't go wrong anywhere in Montana.
Snow will continue across the region Monday night into Tuesday. This time, snow will spread a bit farther south into Idaho through the day Tuesday and bring decent accumulations to resorts like Bogus Basin, Pomerelle, and Sun Valley, and even more snow across Wyoming and Montana, where things will be getting silly deep.
Tuesday will feature great skiing at almost every Northern Rockies mountain. Still, the deepest totals will be found in the Tetons and across western Montana. Truly phenomenal conditions will be up for grabs at Jackson Hole and Grand Targhee.
Snow showers slowly taper off Tuesday night. The exception will be across western Wyoming, far southeastern Idaho, and the southernmost resorts in Montana, where a bit of light snow will continue through the day Wednesday and even in some cases into the evening.
By Wednesday afternoon, look for the following (additional, from Sunday night through Wednesday) storm totals, I tried to pick at least one mountain from each general region:
Lookout Pass:

14-24″

Big Sky & Bridger Bowl:

8-16″ 

Whitefish:

10-18″

Tamarack & Brundage:

6-12″ 

Pomerelle & Magic Mountain:

3-7″

 
Sun Valley:

4-7″ 

Targhee & Jackson Hole:

20-35″ 

Schweitzer:

9-15″ 
Extended Outlook
Portions of southern Idaho and western Wyoming will continue to see light, showery snowfall at times until Friday. Don't expect this to tack on significant accumulations, but enough snow to keep things edge-able and fresh is likely.
Another storm system looks to bring additional snowfall next weekend into early next week. Details are a bit fuzzy this far out, but it is another chance for healthy accumulations region-wide.
The large-scale weather pattern is generally forecast to remain conducive to continued active weather. Ensemble forecasts call for a fairly huge trough (blue colors below) to develop over the northwest, making for frequent cold storms as we head into March.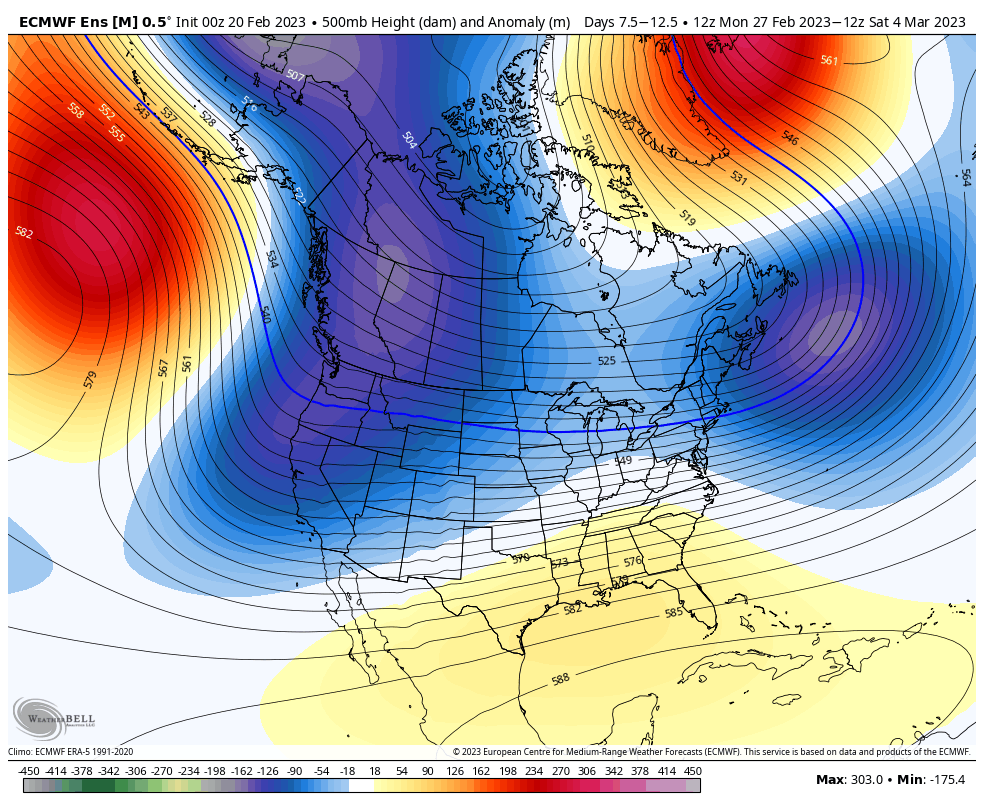 The Climate Prediction Center's long-range outlooks accordingly go for high probabilities of cool and wet weather: