Forecast by SnowBrains Meteorologist Nathan Tarino – Updated Tuesday night, Dec. 27th
Forecast Summary
Colorado ski resorts are looking ahead to a very snowy week. Multiple rounds of accumulating snow will stack up over the next week and beyond.
The first snowy period begins tonight (Tuesday night) and will bring fresh snowfall through Wednesday night. Great skiing will be easy to find by the end of the day Wednesday, and Thursday will be great too.
Snow will return by Friday night, and periods of accumulating snowfall will continue more or less uninterrupted through the weekend. I expect to see some pretty impressive totals across the state by Monday evening.
Below is an ensemble average snowfall forecast for the next week. This particular product has a bit of a wet (too much snow) bias, but I'm still excited whenever I see so many purples: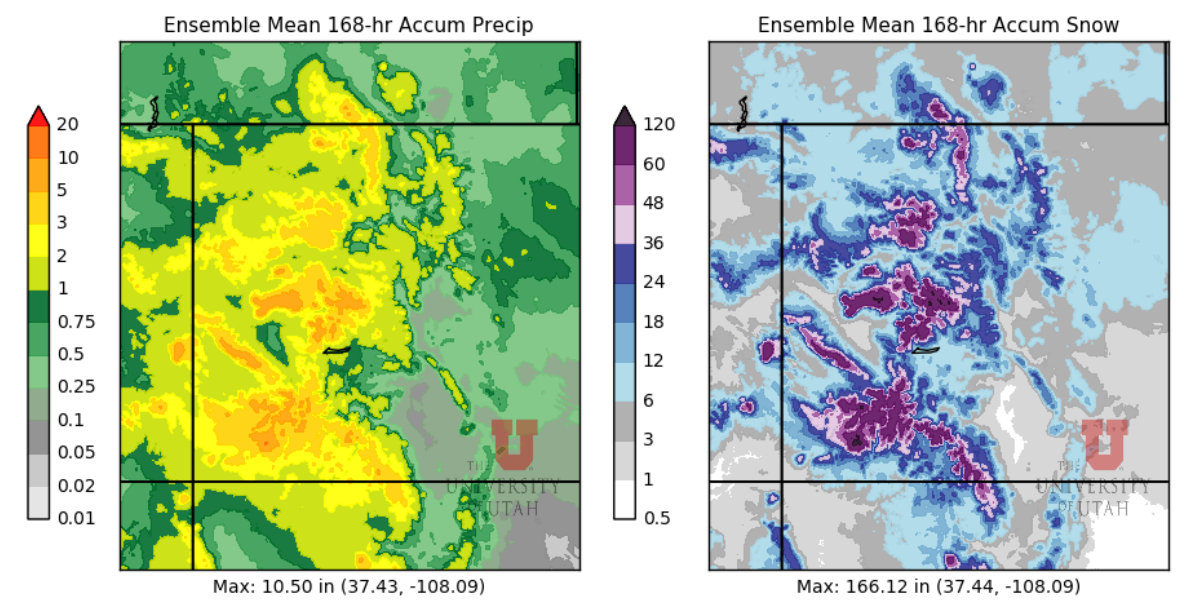 Short Term Forecast
The first in a series of productive storms will arrive in Colorado this (Tuesday) evening. Snow will last into late Wednesday night before eventually tapering off.
At first, southern mountains will be favored in a southwesterly flow direction. Mountains in the San Juans and the Elk/Grand Mesa area will do best Tuesday night. This will include spots like Telluride, Powderhorn, and Crested Butte, to name a couple.
Throughout Wednesday, more of the northern mountains will start to see steadier accumulations as the flow direction swings to the northwest. This will benefit the Vail area, the Front Range, Berthoud Pass, and that general zone, where the heaviest snow is likely to hold off until later in the day on Wednesday.
Wednesday will feature awesome skiing for the Southern Resorts, and by Wednesday afternoon, snow should start getting good farther north. Thursday will be a great ski day statewide.
By Thursday morning, expect fairly fat storm totals:
Front Range:

4-7″

Aspen & nearby hills:

8-15″

Vail & nearby:

6-12″

Steamboat:

8-15″

Powderhorn/Crested Butte:

10-16″

San Juan Resorts:

12-18″
Extended Forecast
Another moisture-rich storm system will bring snow Friday-Saturday, and another will follow Sunday-Monday. The result will be a four-day period of stormy weather across the state and additional very heavy snowfall accumulations.
It's a touch early to start talking specifics with this storm, but skiing conditions should be somewhere between great and incredible by the end of the weekend.
Even beyond the New Year, the large-scale weather pattern looks to continue to be conducive to storminess and snow.