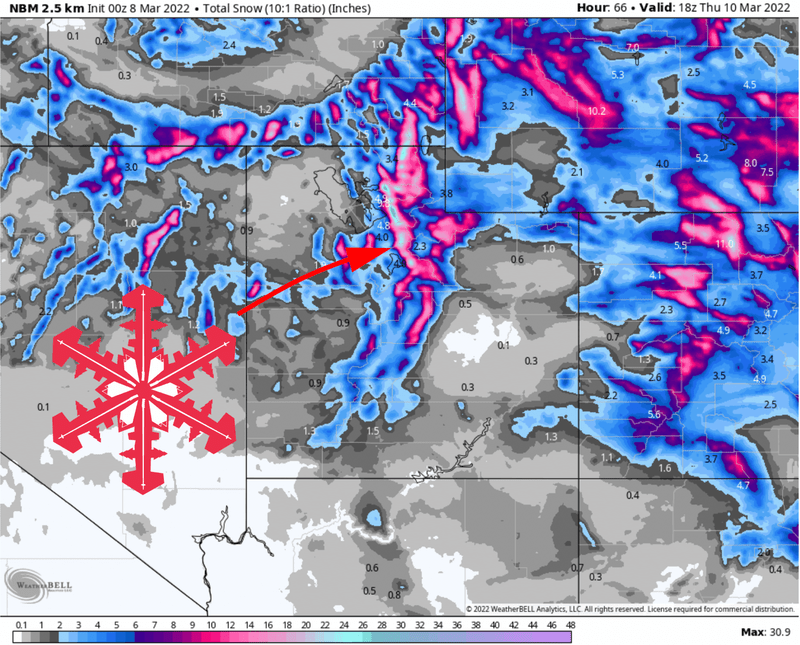 Forecast by SnowBrains Meteorologist Nathan Tarino
Updated Tuesday, March 8th – 10 AM MST
Forecast Summary
After at least a month without real snow, Alta skiers finally got a few flakes over the weekend. Still, the 8-9″ that fell was a far cry from the 12″+ totals forecast. It wasn't enough to cover up the icy moguls underneath, and reports of dust-on-crust skiing and unmet expectations dominated. Fortunately, another shot at snow will finally bury the bumpy crusty snow surface for good this week. 
Snow will begin Tuesday night, after the mountain closes. Steady snow will fall through the overnight hours, treating Alta rippers to nice soft skiing Wednesday morning. Snow will begin to taper off by lunchtime Wednesday, with a few snow showers lasting into the evening.
The long-range forecast is no better than mediocre. The Wasatch might see another shot of accumulating snow next weekend as a system brushes by to the north. More importantly, the large scale pattern is expected to remain generally progressive as we head into the middle of March, which should allow for at least a few more storms in the long range.
Short Term
Cold but generally uneventful weather will prevail on Tuesday. A few snow showers are possible, especially in the afternoon, but I don't expect enough to make an impact on ski conditions until later in the evening.
Snowfall intensities will increase through Tuesday evening. Heavy snow will fall through the overnight hours and into Wednesday morning. Though the timing remains at least a little unclear, I expect 8-14″ by the first chair on Wednesday. As always, I will update this post should the forecast change. You can also track Alta's snow in real time if you like with the Alta Collins snow sensor. Bookmark that if you're an Alta local!
Skiing should improve through the morning as snow continues until about lunchtime. A few lingering showers will persist as late as Thursday morning, by which point 12-20″ of snow will have fallen. I expect Wednesday will offer up some excellent skiing. 
Thursday will feature leftover pow turns, a few snow showers, and very chilly weather. 700mb temperatures (the air at about 9,500 ft) are forecast to fall to around -15 Celcius through the day, which will make for single-digit high temperatures at the top of the chairlifts.
Long Term
As I mentioned above, no really exciting prospects in the long range just yet. However, the upper level pattern looks to remain fairly progressive into the middle of March. This will at the very least keep periods of unsettled weather around through mid-March. It's kind of a wait-and-see pattern, but it's a lot better than what we've been dealing with since late January.
The CPC long range outlooks inspire cautious optimism: