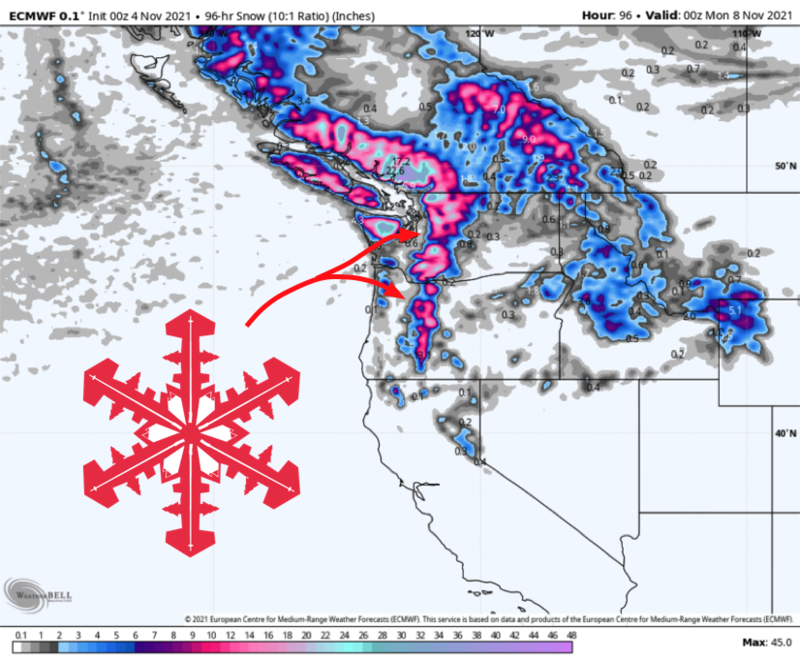 Forecast by SnowBrains Meteorologist Rowan Sullivan
4:20 a.m. MST 11/4/2021
Forecast Summary:
The first storm in a series of many will arrive in the Pacific Northwest Thursday afternoon. Warm temperatures initially will keep snow levels above pass levels through Thursday before lowering to 4,000 ft. by Friday and 3,000 ft. through the weekend. This will be sufficiently low for some legitimate base building for Pac NW resorts!
There will be no blockbuster storms, but a nearly constant stream of moisture and disturbances will keep the snow coming into Sunday night. 
Generally, expect 10-16″ of snow by early next week across the Washington resorts and the Oregon Volcanoes. 
A short break from snow will come Monday and Tuesday of next week, before chances for snow return again. 
Short Term Forecast:
Through Early Monday
A parade of upper-level disturbances will take aim at the Pacific Northwest. Weak storms Thursday, Friday, Saturday, and Sunday will keep the high elevation snow falling on and off for an extended period, and snow will start to stack up.
Resort base areas will see mostly rain Thursday, before switching to snow by Friday morning as cooler air filters in. Snow totals will be elevation-dependent as a result of this changeover.
By Monday, 10-16″ of snow is forecast across the Cascades, with a few exceptions. The higher elevation resorts like Crystal Mountain and Mount Baker will be favored and will have a chance to break the 20″ mark. In Oregon, Mount Hood will be favored and is looking at 12-20″ of snow. 
Snow will taper off during the day Monday, persisting longest across Oregon.
Extended Forecast:
Tuesday and Beyond
Another storm is possible in the middle of next week. Again, not a blockbuster, but it all counts toward getting mountains open for the season. This one is still a way out, so it's too early to forecast details, but another quick 6″+ dump seems plausible.
Ensembles suggest that an upper ridge will build across the Western US as we head into the heart of November. This will bring warmer weather to the Pacific Northwest, keeping snow levels a little higher, limiting additional snow to the highest elevations.  The Climate Prediction Center's extended outlooks call for wet but warm weather across the region as a result: