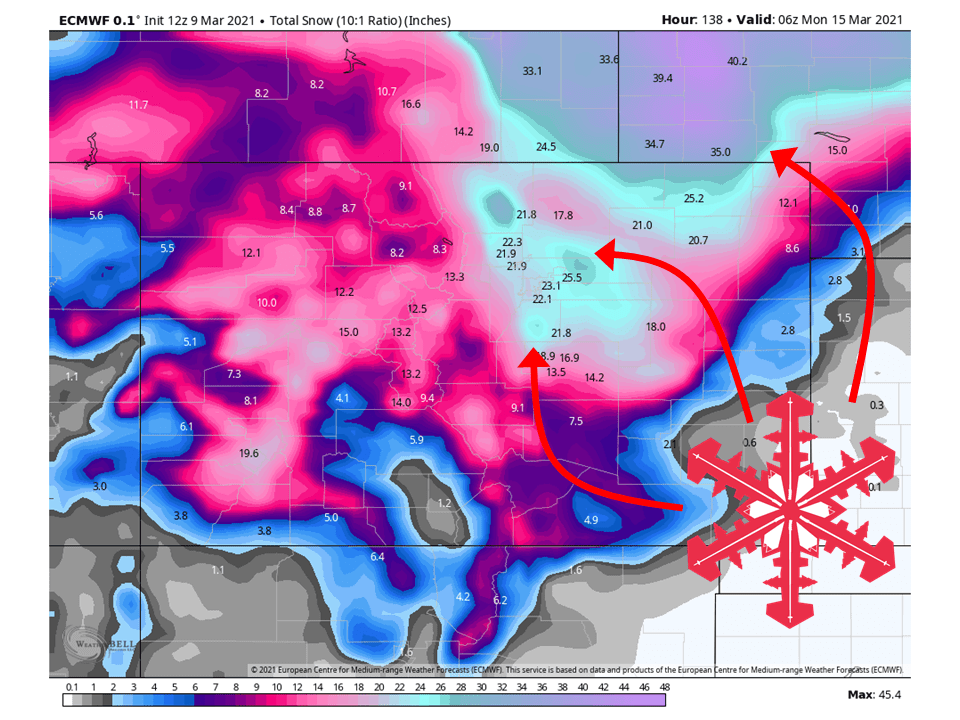 Forecast By SnowBrains Meteorologist – Eric McNamee
Brought to you by Monarch Mountain
 5:10 PM MST, 3/9/2021
Forecast Summary:
An upper-level low off the west coast is expected to dig into the Southwest US and close off, possibly bringing significant snow accumulations across the Colorado Front Range this weekend.
Before then, 4-12″ of snow is expected across the Western mountains through Thursday as the system approaches. 
Below-average temperatures and near-to-above average precipitation in the extended.
Resorts that look to see the most snow are Aspen, Vail, Arapahoe Basin, Steamboat, Keystone, Copper Moutain, Breckenridge, Telluride, Monarch, Wolf Creek, Winter Park, and Crested Butte.
Short-Term Forecast:
Tuesday-Thursday:
4-12″ of snow is expected through Thursday as a shortwave trough ejects across the state from the main upper-level low.
Associated with it will be a moist southwest flow and weak dynamics.
The highest snowfall amounts will be found in the San Juans.
The real fun (or headache) of the forecast comes in the long-term.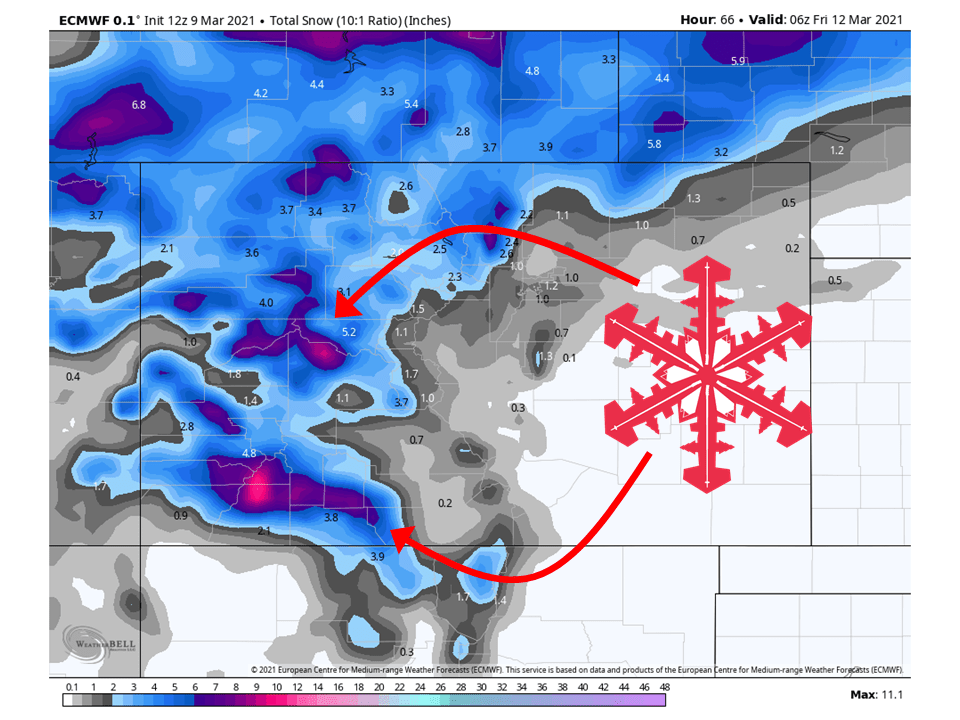 Long-Term Forecast:
Friday-Monday:
This is when things get interesting as significant snowfall is likely along the Front Range through the weekend from a strong closed low.
Snow will begin during the day Friday and pick up in intensity Saturday.
The reason for this is the high amount of moisture from the Gulf of Mexico being forced into the Rockies and creating a broad area of upslope snow (depicted at the bottom).
However, this will be a tricky forecast depending on the track and timing of when the upper-level low closes off and moves across the region.
The GFS currently wants to drop snow that would surpass totals from the March 2003 Blizzard (info on that event here and here).
I don't think this will be likely since the GFS (and Euro) uses 10:1 SLR and SLR for this event will likely be lower due to the warm origins of the moisture tap but is still a possibility. 
Most global ensembles show totals close to around 2 FEET along the Front Range, with more in the foothills and mountains.
This is the more likely outcome from this storm.
There does seem to be more agreement of where the heaviest snow will fall, with the heaviest totals from about Monument-Northward.
This has been a pretty fluid situation so make sure to stay tuned for snow totals later this week.
Snow looks to taper off by Sunday night as the trough moves off to the east.
Another chance of snow is possible Monday but there is still some disagreement on this.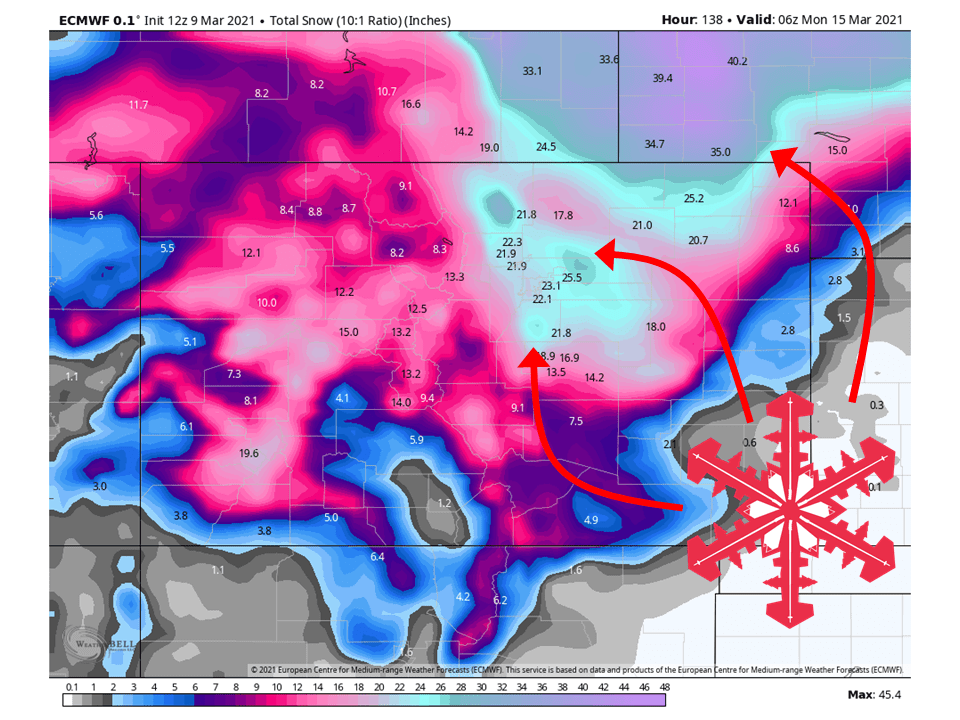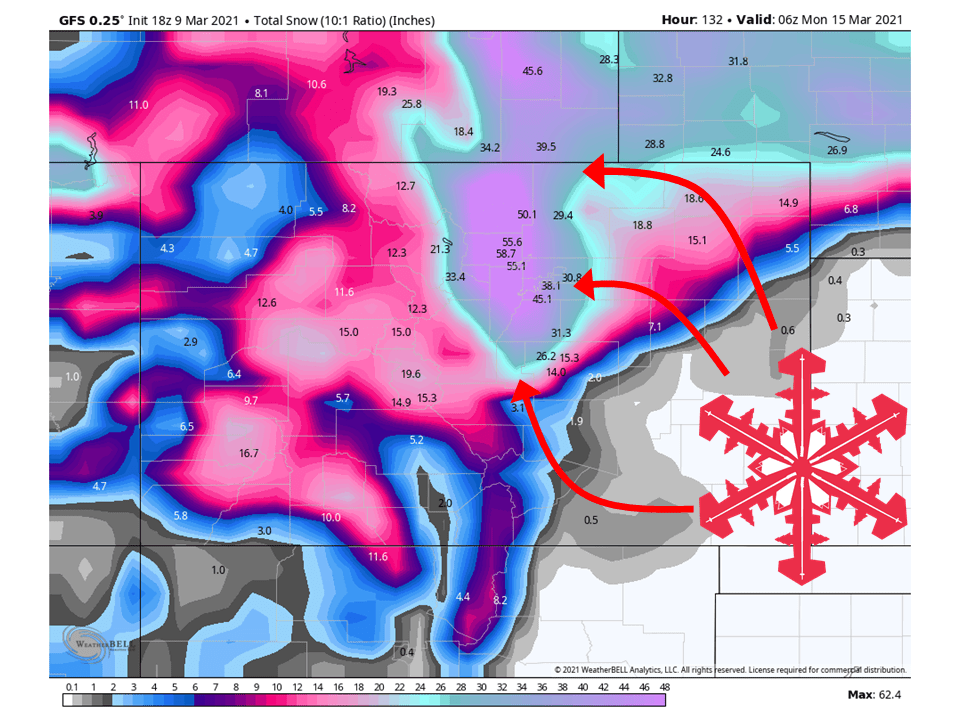 Extended Forecast:
Wednesday and Beyond:
Global ensembles are indicating below-average temperatures across Colorado, with a split of near and above-average precipitation.