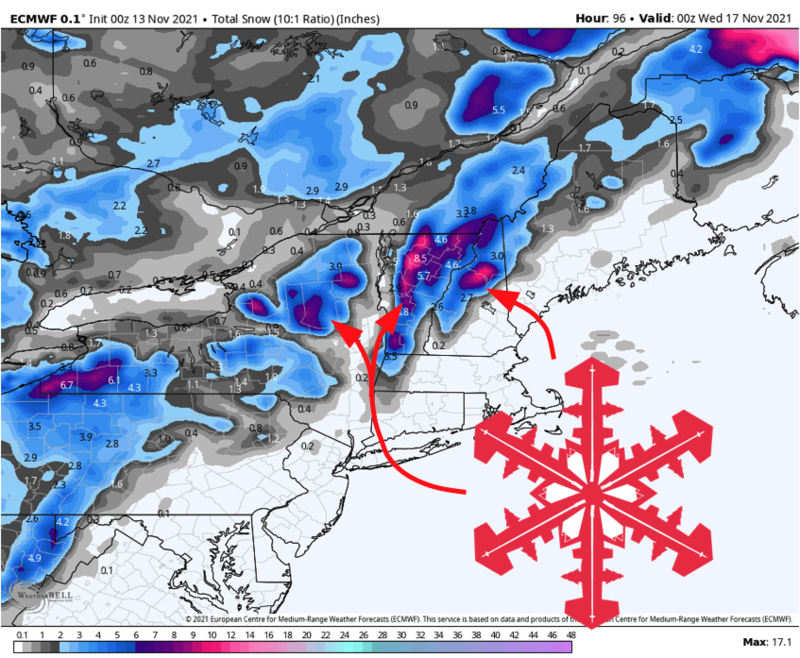 Forecast by SnowBrains Meteorologist Rowan Sullivan
2:00 AM MST    11/13/2021
Forecast Summary
A series of storms will keep the snow falling across the Northeast this weekend and into the workweek. While only Killington is spinning lifts so far, resorts in the Adirondacks, the Green Mountains, and the Whites will get a base boost to help get the season underway.
The heaviest snow will arrive late Saturday and again late Monday. Snow showers will fall on and off through Tuesday, adding up over time.
The Green Mountains, Adirondacks, and Whites are in for the best totals. Even the Catskills in southern New York will see an inch or two! By Tuesday evening, up to 10″ of snow will have fallen in Vermont and New Hampshire.
Short – Midrange Forecast
Saturday Afternoon & Night:
The first period of heavy snow will arrive Saturday afternoon in the Adirondacks, and later in the evening across Vermont and New Hampshire. This storm will come in warm with rain to the mid and even high elevations for an hour or two before a quick transition to snow. A short burst of very very heavy snow will last into early Sunday morning, with snow levels crashing into the Valleys.
Expect 2-5″ across Vermont Resorts, and 2-4″ across the Whites in New Hampshire by Sunday morning. 1-3″ of snow will fall across the Adirondacks. Don't be shocked to see up to 6 inches reported somewhere in central Vermont if the rain to snow transition happens a little quicker than expected. The farthest north resorts like Jay Peak will see lighter totals with this storm but will likely make up the difference in round two early next week.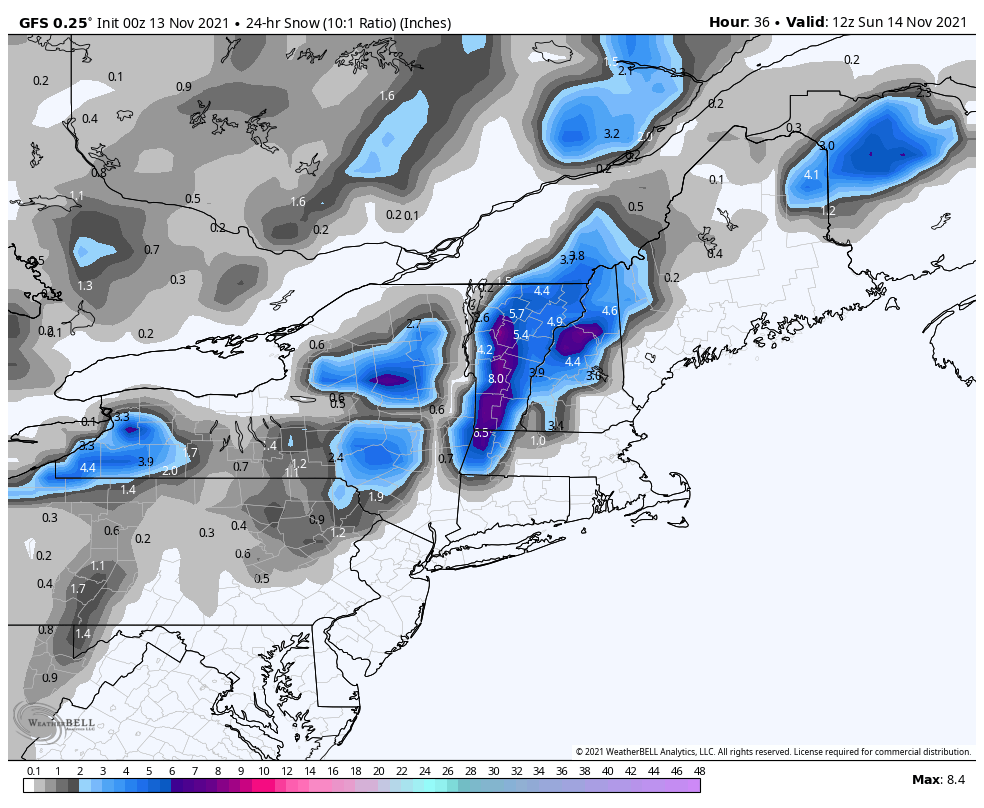 Sunday evening – Tuesday:
Persistent snow showers will bring additional snow Sunday night. Expect 1-3″ of snow across most New England Resorts, with the Adirondacks and northern Vermont resort getting the most. 
Another legitimate storm comes Monday night into Tuesday. Snow showers will bring occasionally heavy snow across New England mountains as cool, unstable northwesterly flow impinges on the higher terrain.
Look for another 3-6″ in northern Vermont, with 2-3″ farther south in the Greens and the Adirondacks. 2-5″ looks likely in the White Mountains. 
By midweek, Vermont resorts are looking at up to 10″ of snow! New Hampshire resorts will be close behind, and the Adirondacks will pull down some good snow as well. 
Long Range
Not much excitement in the forecast beyond what's discussed here. However, it is worth mentioning that a few recent model runs have fired up a strong storm (nor'easter?) somewhere in the east sometime around the 22nd of November. At such long lead times, it's wishful thinking to accurately forecast anything, but I'd be a liar if I said I wasn't keeping a close eye on it.