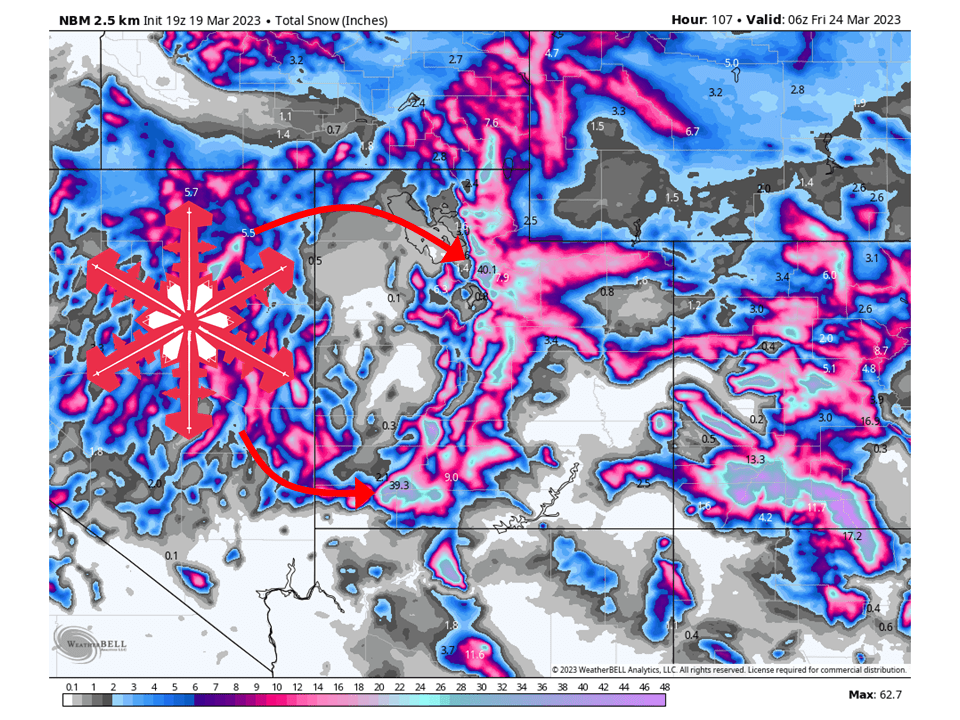 Forecast By SnowBrains Chief Meteorologist – Eric McNamee
 9:10 PM MDT, 3/19/2023
Forecast Summary:
Busy week ahead for Utah as a progressive pattern will bring a series of storms to the state. As mentioned earlier, the first of the storms move into the state tonight as moisture associated with warm tongue streams into the state. This will bring widespread snow showers to mountain locations above 6000′. Snow falling over southern Utah this evening will move north through the night. A slight lull in snow showers is expected midday Monday before the cold front associated with the storm pushes through the state from the west during the afternoon. Along this cold front will be a pronounced band of convective precipitation. With that will be intense snowfall rates that exceed 1″/hr and embedded thunderstorms.
Conditions dry out Tuesday night ahead of another robust storm system moving into the state Tuesday afternoon and evening. This will bring the chance for more widespread snow to most mountain locations as moisture again streams into the state ahead of the main cold front. The cold front associated with this system will push through the state in the early morning hours Wednesday. The line of snow associated with this storm won't be as pronounced due to the lack of daytime heating, but snowfall rates upwards of 1″/hr are still very likely. However, this storm will be colder, so unstable W-NW flow will help keep snow going over the mountains of northern Utah through Wednesday.
Behind these two more robust storm systems will be smaller but colder storms that will help keep snow going almost nonstop over the mountains, especially in northern Utah. This will keep up through the weekend.
The big winners will be the Cottonwoods and the Brian Head Plateau over the next week. However, most resorts and mountains will see MULTIPLE FEET of snow.
Resorts that will see the most snow are:
Alta
Snowbird
Brighton
Solitude
Powder Mountain
Snowbasin
Park City
Deer Valley
Canyons
Beaver Mountain
Eagle Point
Brian Head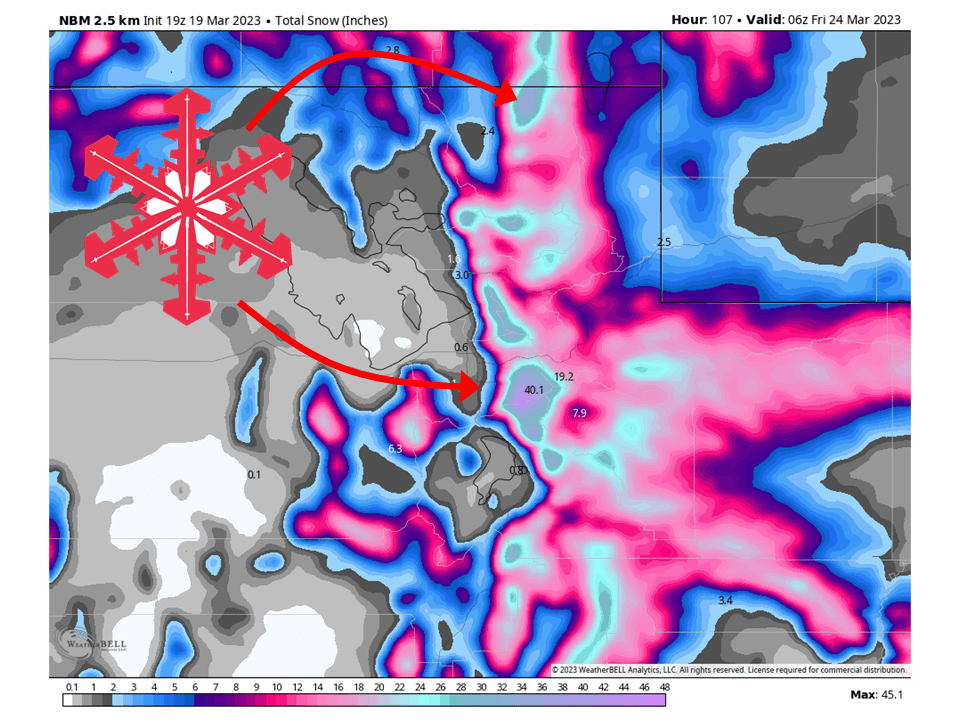 Extended Forecast:
Heading into next week, the active pattern appears to continue as global ensembles indicate above-average precipitation and below-average temperature across Utah through the extended period. Long live this season!