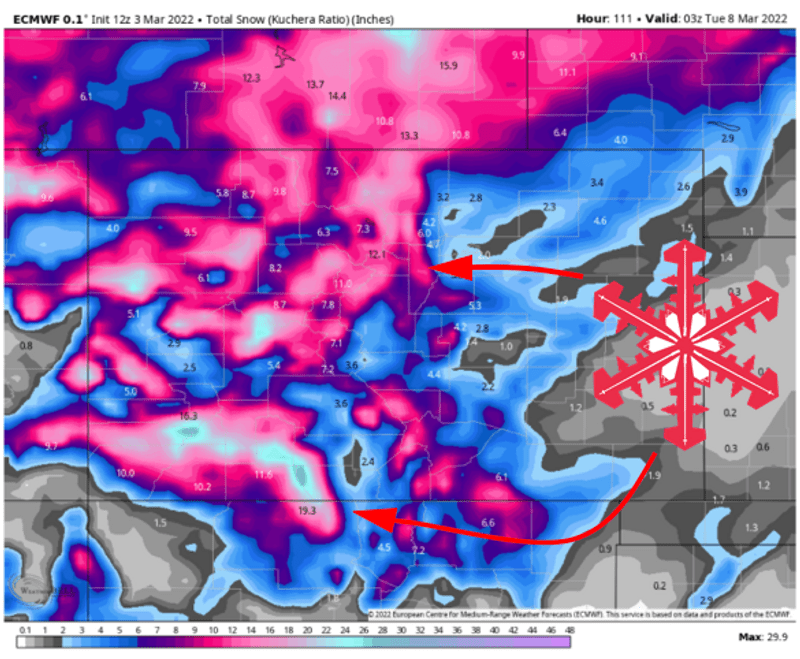 Forecast By SnowBrains Meteorologist Nathan Tarino
6 PM MST Thursday, March 3, 2022
Forecast Summary
A series of three weather systems will bring a multi-day stretch of unsettled weather to Colorado this weekend. The first period of snow will come Friday afternoon through the midday of Saturday, a second wave will bring snow Saturday afternoon and Sunday, and one final disturbance will tack on a bit more snow on Monday.
The deepest skiing will be found in the San Juans, the Park Range, and the western Sawatch mountains. Expect the further west resorts to be the winners this weekend, with places like Wolf Creek, Crested Butte, Telluride, and Steamboat Springs offering up the best snow. The I-70 corridor will see accumulating snowfall and improving ski conditions as well.
Decent turns will be found across the state on Saturday, Sunday, and into the workweek.
Looking ahead, more snow is expected in the middle of next week. The large scale pattern looks to remain progressive, enabling more shots at accumulating snow into the middle of March.
Short Range Forecast
The short range forecast will be dominated by three shortwave troughs, each bringing snow and increasingly cool air into the area:
Wave #1  – Friday Afternoon through Midday Saturday
Snow will begin Friday afternoon in a moist southwesterly flow. This will favor southwestern Colorado while shadowing the I-70 corridor somewhat. Periods of snow will continue into midmorning Saturday, dropping 6-12″ in the San Juans, 4-8″ in Steamboat, and 2-5″ along the I-70 corridor.  
Temperatures will be rather mild with snow levels as high as 9,000′ Friday afternoon, falling to 6,000′ overnight. 
Good turns should be easy to find Saturday morning. Periods of snow will taper off through the day, helping to keep things soft.
Wave #2 – Late Saturday through Sunday Evening
Snow will resume late Saturday. This time the winds will turn a little more westerly, enabling moisture into the I-70 area a bit more. More abundant cold air with this system too, meaning better snow ratios and low snow levels.
Accumulating snow will continue through the day Sunday, finally ending Sunday evening. Over that period, I expect snow totals generally in the range of 5-10″ in the San Juans, 4-6″ in Steamboat, and 4-8″ along the I-70 corridor.
Sunday will feature the best conditions in the short term forecast. 
Wave #3 – Monday afternoon
By Monday morning some respectable snow will have fallen. Bear in mind the totals listed here for Vail and Aspen are for town elevations and not resorts:
One final disturbance will keep a few snow showers around on Monday. I expect a bonus 1-3″ of snow to fall across the state mostly in the morning, finally ending in the afternoon.
Extended Forecast
Another shot of snow looks likely next Thursday. The pattern is forecast to remain generally favorable for continued stormy weather into the middle of the month as well, with cool and wet weather forecast by the Climate Prediction Center:
Happy skiing!