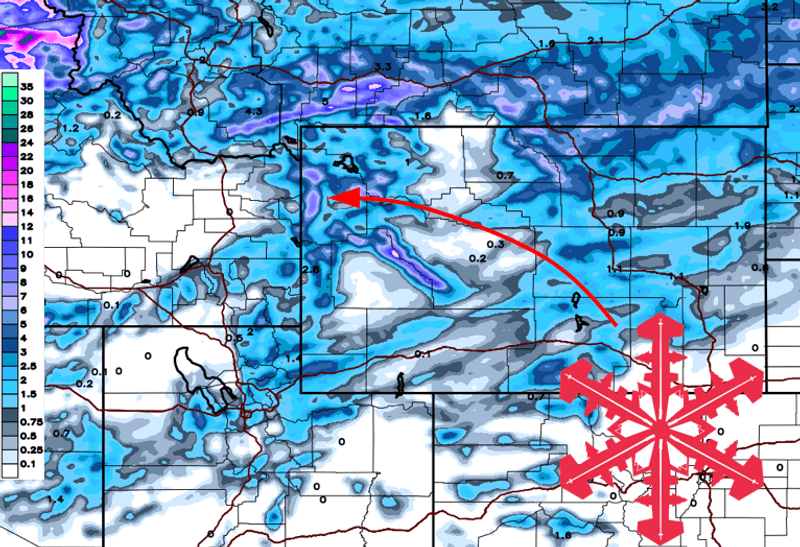 Updated 1 AM MST Feb 21
Forecast by SnowBrains Meteorologist Nathan Tarino
Forecast Summary
Snow will return to the Tetons on Sunday afternoon, falling steadily overnight. Accumulations won't be huge, but enough for some soft turns on President's day.
Monday will feature the best skiing conditions. Tuesday and the rest of the week will benefit from this storm too, as chilly temperatures and a few snow showers will linger after the main event has concluded.
The long range forecast remains mediocre. No good news on this front, but there's still hope toward the end of February.
Short Range
A few snow showers will develop through the day Sunday. The main event will begin after resorts close for the day with steadily accumulating snow lasting into Monday morning. By first chair Monday, I expect both Jackson Hole and Grand Targhee to report 5-9″ of snow. A great day of soft turns will follow.
Very cold air aloft will foster convective snow showers all the way into Tuesday afternoon. An additional 1-4″ of snow is likely and will contribute to decent ski conditions for the whole workweek.
Be prepared for chilly skiing with subzero morning lows Tuesday through Friday. Warmer weather looks to finally arrive by next weekend.
This is an interesting storm meteorologically. I am curious to see if the western slope of the Tetons will outperform the eastern side, with Grand Targhee reporting deeper snow than Jackson Hole this time around.
Extended Forecast
The extended forecast is a mixed bag. On one hand, it's unlikely to snow much for about a week after this refresh. However, there is some indication a more productive pattern may develop to close out the month of February.
Potential for snow looks to return sometime around February 28-30th. It's far from a sure thing that the Tetons will see another notable storm this month, but there's reason to be optimistic. Long-range forecast tools suggest there is potential for a pow-filled start to March.