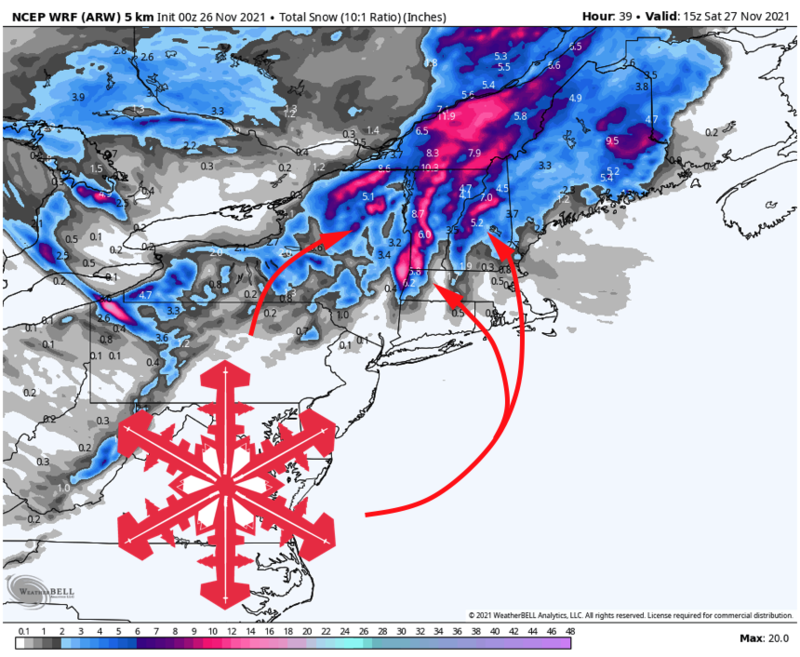 Forecast By SnowBrains Meteorologist Nathan Tarino
11:00 pm – Thanksgiving 2021
Forecast Summary
A respectable weather system is moving toward the Northeast tonight and will bring a period of wintery weather across New England on Friday and Friday night. There will be some fairly deep snow totals by midday Saturday, with 6-12″ across the Green Mountains, 5-9″ in the Whites, and 4-6″ across the Adirondacks. Most Maine ski resorts are looking at 3-6″ of snow by Saturday.
Snow will fall just in time for a number of resorts' opening weekends. Killington, Stowe, Jay Peak, and several others will all have lifts spinning by the end of this storm. A few lucky skiers and boarders will get some great turns off the first couple of chairs on Saturday.
Cool and showery weather will hang around into the first week of December. Occasional chances for light snow will pile on another inch or two in the mountains through about the 4th of December.
The next chance for noteworthy weather in the Northeast will arrive around next weekend. Uncertainty in the forecast remains high, but there is a chance for more snow should ingredients fall into place over the next handful of days.
Short Term Forecast
Friday-Saturday:
A potent snowstorm is on tap for the mountains across the Northeast. Valley rain and mountain snow will begin Friday morning, with snow levels falling as cooler air works in through the afternoon and evening. Snow will generally taper off by Saturday morning, lasting a bit longer along the northern end of the Green Mountains and across the Whites.
Expect excellent early season conditions Saturday morning. The best skiing will be found in Vermont, with 6-12″ across the Green Mountains. Particularly deep snow is possible in the vicinity of Mt. Mansfield and northward, where the highest elevations could see as much as 15″ of snow. Expect 5-9″ across the higher peaks in New Hampshire and 4-6″ for Whiteface. Favored resorts in Maine could see as much as 6″ of snow.
Next Week and Beyond
After the weekend, cool and showery weather will close out November and open up December. A few resorts could see an inch or two over the week, and many will have a nice window for snowmaking.
Next weekend into the early workweek could offer another shot at a storm. The devil is always in the details, and it remains uncertain if any snow will fall south of the international border. Still, it'll be worth monitoring as next weekend approaches.