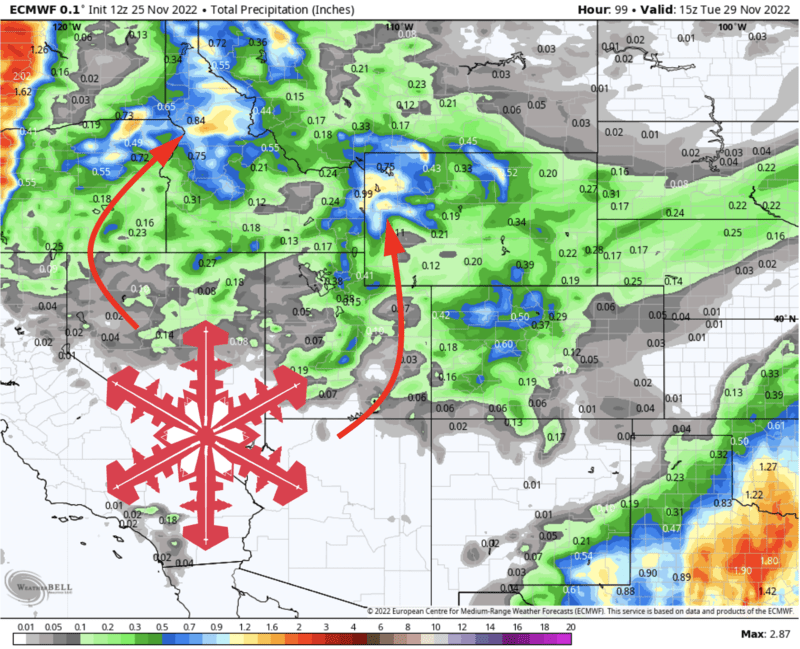 Updated 11 PM MST Nov. 25th
Forecast Summary
A stretch of active weather will bring nice skiing/riding conditions to resorts in Idaho, Montana, and Wyoming this week. 
The first of two storms is pushing into Idaho and Montana, as I write late Friday evening, and the second will come Sunday/Monday. Storm #1 won't bring more than an inch or two, but the second will bring solid accumulations across the region.
The long-range forecast is cause for optimism. More snow is possible sometime around the first weekend of December and beyond.
Short Term
As I type, a little storm is moving across northern Idaho and far northwestern Montana. Light/moderate snowfall is ongoing and will press eastward across the ski country of Idaho, Montana, and Wyoming by Saturday evening. 
Accumulations from this wave will be pretty modest, with most resorts in the region looking at 1-3″ of snow by Saturday evening. Resorts in far northwestern Montana (like Whitefish, Lookout Pass, etc.) could stand to pick up slightly better totals, with 2-4″ possible.
The second storm will push into the Idaho Panhandle and northwestern Montana by Sunday morning. Heavy snow will fall there through the day, slowly advancing southeastward toward the Sun Valley/Jackon Hole/Big Sky areas by Sunday evening.
Snow will end for the Idaho Panhandle and northwestern Montana by Monday morning, after which another 3-6″ of snow is likely for resorts in the area.
Snowfall will continue at times across central Idaho, western Wyoming, and south-central Montana into the day Tuesday, heaviest Monday morning. By the time snow tapers off, I'm looking for 8-14″ for Jackson Hole/Grand Targhee, 4-8″ for Big Sky and other nearby resorts, and 4-8″ for the central Idaho resorts.
Monday looks to offer the best riding conditions across the region.
Long Range
Active weather looks to continue into the extended forecast as well. Another storm looks likely sometime around the beginning of December, and the large-scale weather pattern will favor cool temperatures as we head into the last month of 2022.