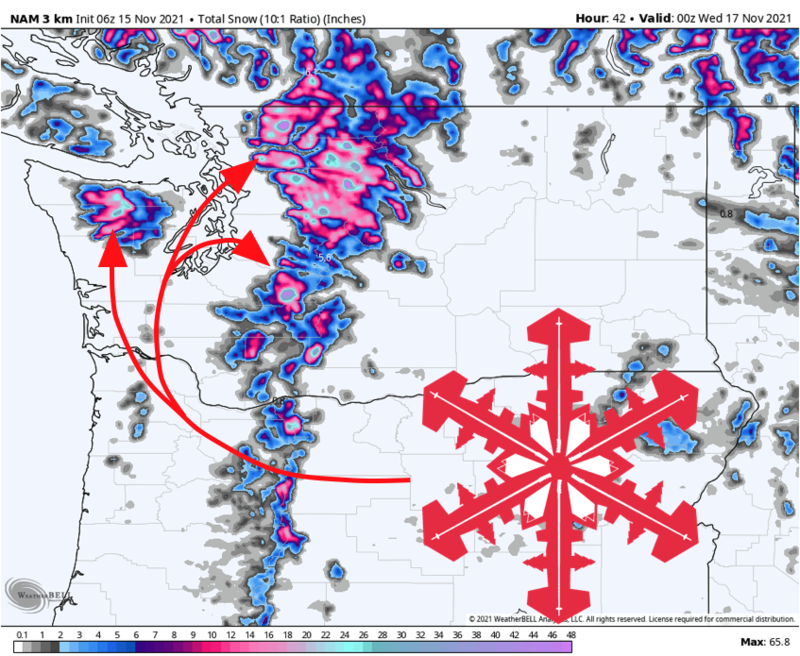 Forecast by SnowBrains Meteorologist Rowan Sullivan
6:00 AM MST – November 15th, 2021
Forecast Summary
An atmospheric river has been soaking the Pacific Northwest for the past few days. Warm temperatures aloft have precluded much mountain snow thus far, but a cold front passing through Monday afternoon will change that.
Heavy snow will fall Monday evening and night, with snow showers continuing into Tuesday afternoon. Washington ski resorts can generally expect around 3-6″ before the storm eventually heads off to the east late Tuesday.
A short break will bring fair weather Wednesday and Thursday morning before another chance at fresh snow arrives Thursday evening. Some uncertainty remains regarding the track of this storm, and it remains to be seen which Washington resorts will pick up the best accumulations. Regardless, another period of heavy snow is likely across the Cascades.
With Crystal Mountian and Mt. Baker opening soon, back-to-back storms could make for great conditions to kick off the season. 
Short Term Forecast
Monday Afternoon – Tuesday
Heavy rain will fall through Monday morning across the Northern Cascades. A cold front will pass through the Seattle metro area in the early afternoon and quickly drop snow levels from near 10,000′ down to 2,000′ through the evening. Plenty of cold air behind the front will make for unusually light, low-density snow.
Heavy snow will fall overnight, with showers lingering through Tuesday afternoon. The heaviest snow will fall across northern Washington, with slightly lower snowfall totals to the south.
By Tuesday evening, expect 3-6″ at Crystal Mountain and the Snoqualmie resorts, 4-8″ in the Olympics and Stevens Pass, with Mt. Baker pulling down 5-10″. 
Extended Forecast
Thursday-Friday
Another good shot at mountain snow will arrive in the Cascades by Thursday evening. We're still a handful of days out from this one, so some uncertainty remains in the forecast.
Confidence is high that another potent storm system will move into the Pacific Northwest by Thursday afternoon. The exact track of the storm remains open for debate. A more northerly track would bring additional heavy accumulations to the Washington Cascades, whereas a more southerly track would hit Oregon the hardest.
This late-week storm looks to be accompanied by mountain snow on the order of up to 8-14″ somewhere along the Cascades. We'll need to wait and see exactly where the best accumulations will fall. Hopefully, things line up for a couple of great opening days.