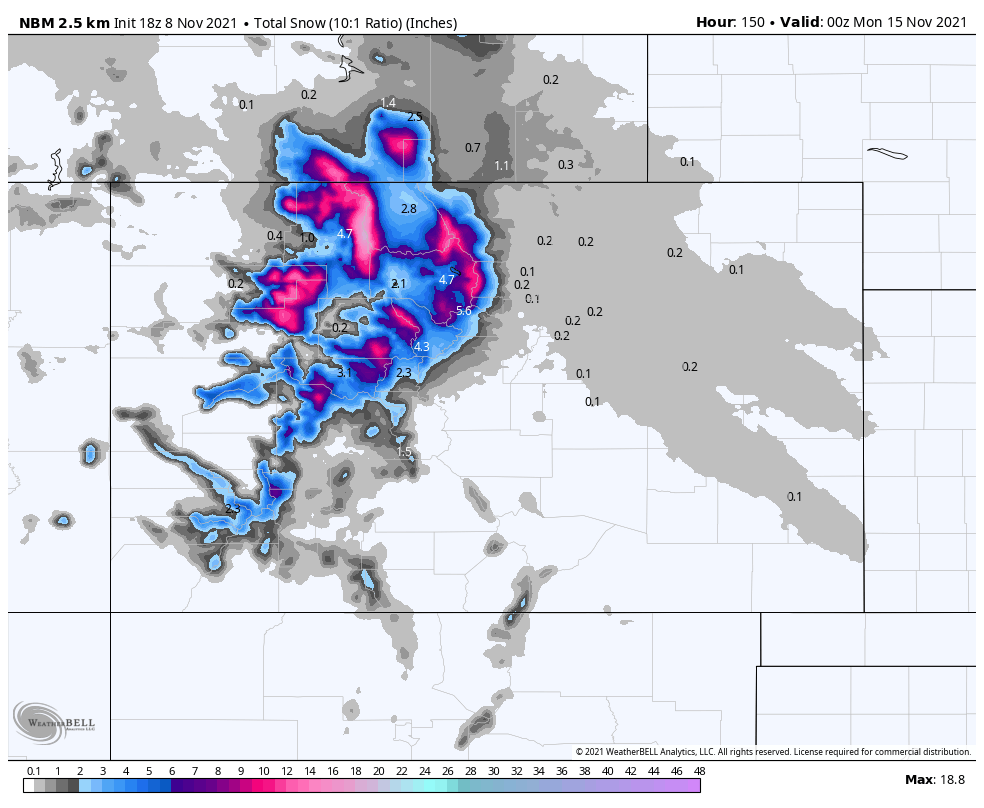 Summary:
A moderate winter storm will pass through northern Colorado this week, bringing respectable totals to upper elevation regions. The most snow will accumulate between Wednesday morning and Thursday afternoon with lingering precipitation in the far northern mountains through Friday evening. 4-8″ can be expected for most mountainous regions, with totals up to 12″ on the peaks and up to 20″ or more in the Steamboat-Buffalo Pass area.
This storm will be heavily favored by low-level topographic vertical forcing. Considering the strong west-northwest flow associated with the storm direction, areas on the western and northwestern slopes of mountain ranges will be favored. Even a few miles can make a huge difference in this regard.
Wednesday-Thursday
The first moisture will begin to work its way into the mountains of Colorado sometime overnight either very late Tuesday or early Wednesday morning. Below is the NBM and WPC precipitation output for 6-hour precipitation early morning on Wednesday, November 10. Both models are in good agreement about the precip timing and strong west-northwest flow along the western slope of the CO Rockies:
At first glance, mild moisture supply appears to permit fairly balanced between the northern and southern regions, as seen with the ECMWF 500mb relative humidity chart:
However, the moisture transport quickly shifts to heavily favor the north:
In terms of totals, the heaviest snow will fall in the central and southern mountains on Wednesday morning before the moisture source shifts further north. Max totals in the southern and central mountains should be between 5-8″ with widespread accumulation around 3″ or more.
In the north, the northwest slopes of the Rockies will be most favored, so areas like the Flat Tops, Park Range, and the western slope of the Front Range should see the highest totals. Totals in the upper elevations of these ranges should be between 8-15″ and have a good shot at 20″ or more on the highest peaks with the best access to west-northwest moisture transport. Resorts like Steamboat, Arapahoe Basin, Loveland, and Vail will most likely end up being the winning resorts from this pattern.