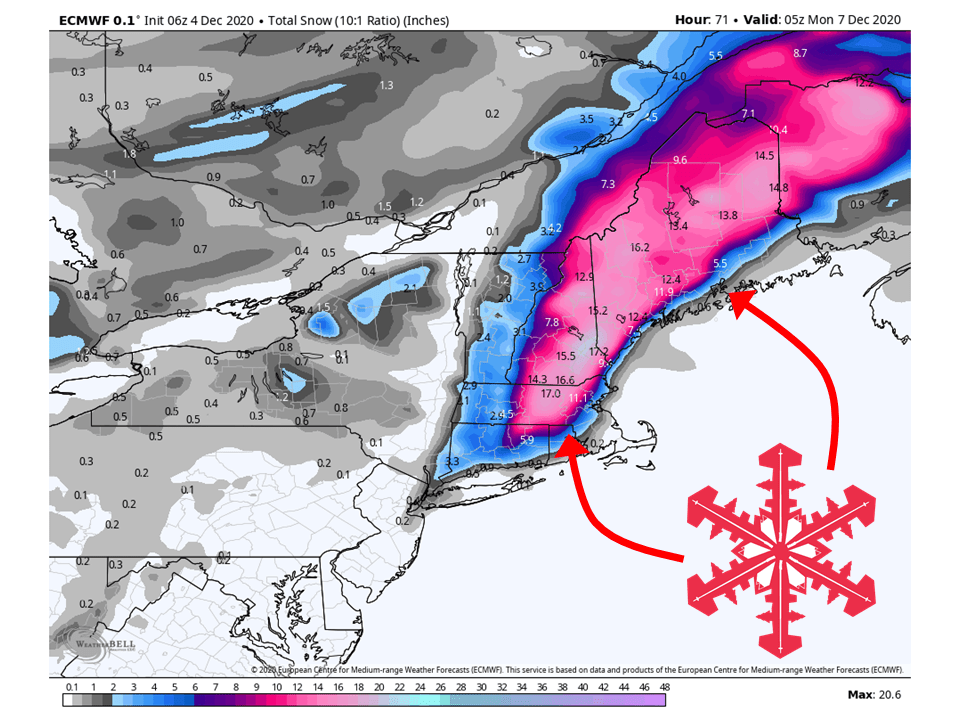 Forecast By SnowBrains Meteorologist – Eric McNamee
10:20 AM MST, Dec. 4, 2020
Forecast Summary:
A strong closed low is expected to develop this weekend across the Northeast, bringing 6-18″ of snow to New England.
Models are in much better agreement than Wednesday for the track of this storm and the amount of snowfall.
Getting into next week, conditions generally clear out with a chance of some more snow late next week.
Resorts likely to get the most snow are Loon Mountain, Sunday River, Sugarloaf, and Big Squaw Mountain.
Short-Term Forecast:
Friday-Sunday:
A potent winter storm will develop over New England this weekend, bringing 6-18″ of snow across the region.
A strong closed low will develop just off the coast of New England Saturday.
As it does so, an abundance of moisture from the south will collide with cold air from Canada.
These coupled together will bring heavy snow to the region and some gusty winds.
Snow will taper off Sunday evening as the low moves off to the northeast.
Easily the largest, most widespread winter storm of the season
(so far) is on the way. Models have come into much better
agreement on the track of the strong surface low from near or
just east of Cape Cod late Saturday, northeast to the Bay of
Fundy late Saturday night, then northeast to the Gulf of Saint
Lawrence Sunday night. The low will intensify rapidly as it
moves northeast from the Mid-Atlantic to the Bay of Fundy,
reaching its max intensity around the Bay of Fundy, then
gradually weaken. Pretty impressive dynamics at play with
strong frontogenesis N/W of the low track with heavy
precipitation in this area.

While model agreement is better than it was, it`s still far
from perfect. The exact low track will be crucial to the all-
important rain/snow line. There is still approximately 50-75
miles of uncertainty in the position of the rain/snow line
through the event. We are going with a middle-of-the-road low
track and rain/snow line, with roughly W/NW of I-95 being where
it`s mostly snow, and areas SE/E of I-95 tending to be more
rain, especially to start out late Saturday into Saturday
evening, then the rain/snow line should begin to pivot east.
This puts the highest uncertainty in snow totals from Bangor to
Houlton. Where we are more confident in over 7" of snow, we have
issued a winter storm watch. This includes all of Piscataquis,
Northern Penobscot, and all of Aroostook. We believe that
somewhere in the watch zone will get over a foot of snow, but
where exactly that happens, it`s too early to say.
-NWS Caribou 12/4/2020
Long-Term Forecast:
Monday-Thursday:
 Getting into next week, conditions will generally clear out as high pressure builds over the region.
This will give way to partly cloudy skies and warmer temperatures.
There are some hints of some more snow by Thursday, but it's too far out to guarantee.
Extended Forecast:
Tuesday and Beyond:
Global ensembles indicate below-average precipitation and above-average temperatures for the Northeast.
Below-average precipitation is executed in general across the entire East Coast.