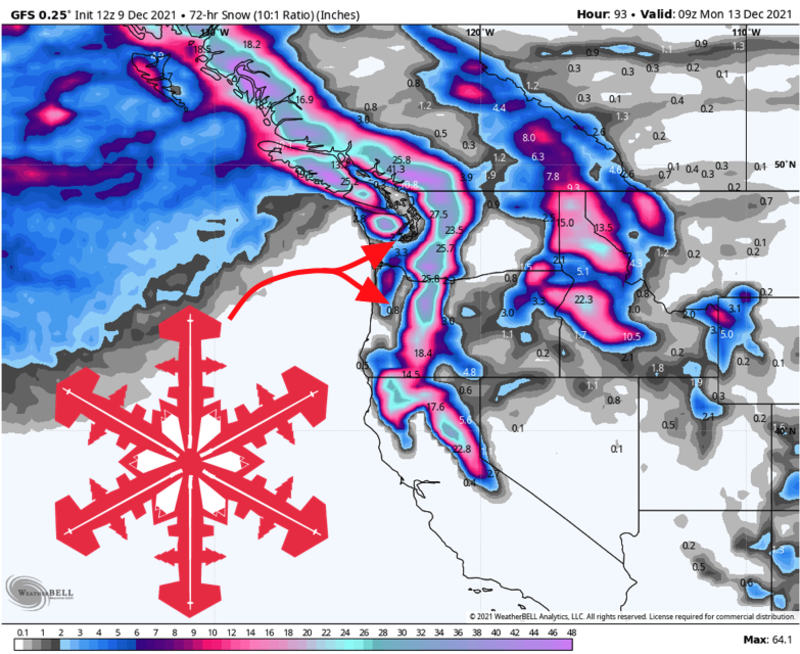 Forecast by SnowBrains Meteorologist Nathan Tarino
23:00 MST 12/9/21
Forecast Summary
Warm weather through the month of November delayed opening dates across the Pacific Northwest this season. After a long wait, a cooler and snowier pattern is finally setting up over the West and is slated to deliver deep snowfall to the Cascades.
Snow has been steadily falling since Wednesday and will continue into Friday afternoon. Accumulations have been impressive thus far, with resorts across Oregon and Washington picking up 6-9″ already. With storm totals of 8-14″ expected by Friday, this storm will serve as a nice prelude to the heavier snowfall expected over the weekend.
Another round of heavy snow will bury the Cascades through the weekend. By early next week, another 20-40″ will fall at most of the Washington Resorts with 15-30″ for Oregon's volcanoes. For many resorts in the Pacific Northwest, the new snow will be enough to finally get the season underway. 
Short Term Forecast
Steady light snow will continue into Friday, piling a few inches of low density snow on top of what's already fallen. Mt. Baker and the Mt. Hood resorts have seen the heaviest snowfall so far and have a shot at exceeding the aforementioned 8-14″ range.
Washington resorts will see snow return by late Friday. A burst of heavy snow overnight will be followed by periods of snow all the way into Tuesday morning. Storm total snow will exceed 2 feet for most mountains. Mt. Baker specifically will benefit the southwesterly flow direction and could see as much as 40″ of snow. 
Oregon will see a burst of heavy snow on Saturday, with periods of additional snow continuing into Tuesday. Oregon's mountains are in for 15-30″ of snow through Monday, though the resorts on Mt. Hood may end up with as much as 3 feet!
Quiet weather returns by Wednesday.
Long Range
Beyond Tuesday there aren't any crazy prospects for additional snow. Still, the pattern remains generally favorable for skiing conditions with cool weather and occasional snow tacking on a couple of inches here and there.
The CPC outlooks call for an increased likelihood for cool, wet weather as Christmas approaches: