Brought to you by Visit Idaho and Ski Idaho
Report from Sunday, February 19, 2023
Soldier Mountain is an absolute gem of a ski area tucked away in the Sawtooth National Forest. Soldier has a rich history and it was a pleasure to ride there for my first time snowboarding in Idaho. For anyone seeking a nice, quiet ski trip, look no further than Soldier Mountain; it is even one of the few ski areas in the country that you can rent out all to yourself.
By far, the best part of Soldier Mountain was its serene atmosphere, including my one-night stay in the town of Fairfield, a calming 15-minute drive to the resort. The mountain was once owned by Bruce Willis but has never lost its peaceful, local charm. Something about riding that always seems to stress me out is parking, but not here. On a holiday Sunday, I arrived around 10 am and got a prime spot, maybe a 2-minute walk from the lodge and lifts. From here, I didn't wait in a lift line all day, something that, nowadays, is uncommon on the mountain. Loudspeakers on top of the lift towers assured that vibes were at an all-time high throughout the day.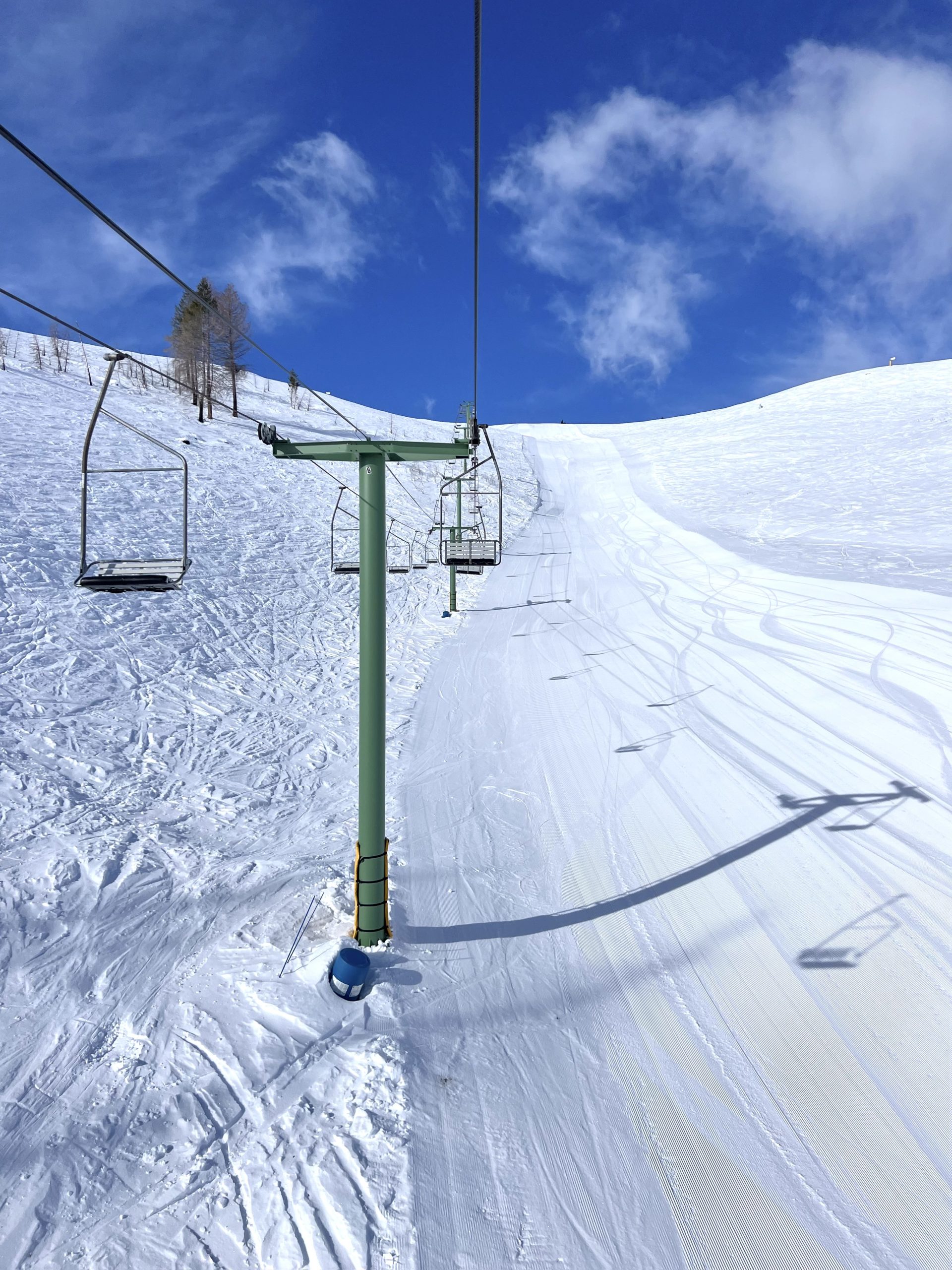 In terms of coverage and conditions, the current state of the mountain is hard-packed and tracked out, but the weather was flawless today and the coverage was great; no sharks or unmarked obstacles. Given that Soldier had not seen snow in at least the few days before I rode, I was mainly seeking out side-hits and smaller bowl sections rather than steeps and intense hike-to terrain. Groomers were running enjoyably fast and it was a great feeling to speed down in cruise control. My favorite groomers were Wally's Wallop, Canyon, and Ruby's Ridge. Despite the hardpack, I was still able to make it into some of the bowls. Challenge and Dave's Dream were definitely my two favorite off-piste runs of the day and featured sweet sections of open trees, and mini-cliffs that could be hit as small or large as speed would take you. In addition to all of the inbound terrain, Soldier Mountain offers snowcat skiing and yurt retreats and has a plethora of backcountry terrain that is easily accessible from the mountain.
Lunch was on another level. In Colorado, I am used to paying $30 for chicken tenders. However, at Soldier Mountain, I paid $20 for a wagyu burger (yes, wagyu), fresh Idaho fries, and an IPA. The quality of the food was Michelin, and it paired excellently with the snowboarding I did. More than the food, though, the people that run this place were awesome. Whether it was the food & beverage employees, lifties, patrollers, or instructors, everyone was welcoming and willing to answer any questions I had.
To wrap things up, my first and overall impression of Soldier was great. It is a welcoming, family-friendly resort that has terrain for all skill levels. Even though I didn't go through many tree runs, due to conditions, the potential was there, and I am jealous of anyone who has skied those runs on a pow day. Lastly, I want to give a special shoutout to NubAbility, an organization that has instructors train amputees to ride at a high level. They were training riders all over the mountain which was special to see firsthand, and it is especially awesome that the ski and ride community is coming together to ensure that athletes of all abilities can rip down the mountain. Soldier Mountain is the place to be, especially if you're looking for sick terrain, no-hassle parking, and non-existent lift-lines.
Connect With Soldier Mountain:
Website – Soldiermountain.com
Instagram – @SoliderMountain
Facebook – Soldier Mountain
Phone – (208) 765 3437
Snow Numbers
Forecast
Trail Map