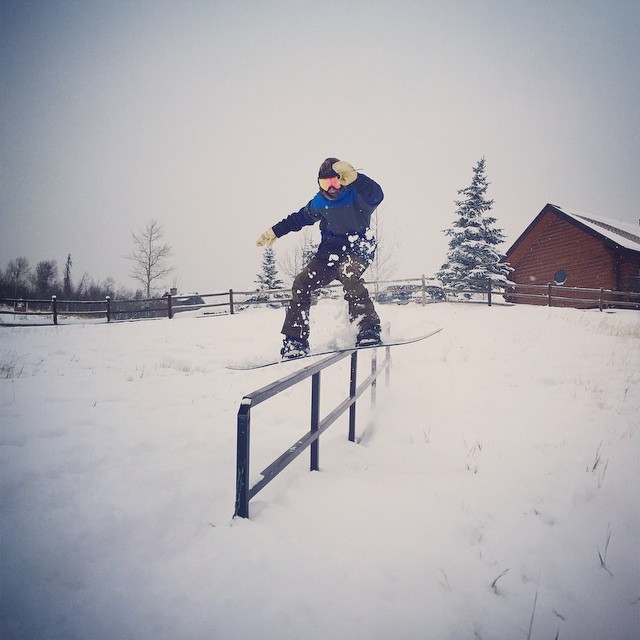 In the world of freestyle snowsports, the word terrain park, or just 'park' for short means a lot.  Most skiers and riders know that if you hear someone say they want to go "rip the park" that doesn't mean go and rip up the local playground down the street.  It means go ski or ride a couple of terrain park laps.  While the word rip is used loosely, we expect that people who say this phrase can actually hold their own in the park.
As the season is coming into full swing here in the next few weeks, many people will be putting that first coat of wax on the equipment and heading out to the home mountain for some first turns or laps.  What if your home mountain was your backyard? For some lucky/talented/well-known folk, this is the case.  Here is a look at the backyard parks that we all would absolutely LOVE to shred.
Red Gerard:  Most people know Red Gerard for his heroic final run that leaped him onto the podium in first place with gold.  What you may not know about Gerard is that he snowboards in his backyard.  Literally.  Gerard has a unique terrain park set up in his backyard in Colorado.  When Gerard first moved to Colorado, he had his eye set on the fun that could be had in the backyard.  A sloping property allows for a number of different line choices for Gerard and his buddies.  They also use an ATV for a pull into a jump right off of his driveway which can lead to the park as well.  Quite possibly the coolest part of this park is the rope tow.  Gerard took an old motocross bike and removed the back tire and attached a rope to it and another winch down at the base of the park and it runs like any real mountain rope tow you would see.  Gerard is now working with the Woodward family at Copper and Killington to recreate "a Red's Backyard" style park for the public to have fun on.
Danny Davis:  Davis is older than Gerard…but who says this is a young kid's game? Davis has a much different set up on the wooded property he owns in Truckee, California.  With a ton of snow, Davis has a number of line choices he can choose.  His park is more natural and flowy, usually starting up on his roof, he can ride down his snow-covered driveway and then into the woods where he has mini jumps on what almost seems like a mountain bike track that takes him around the property.  Watch a video of Davis shredding his property.
Andreas Hatveit: Not many people know about freeskier Andreas Hatveit's backyard and for good reason, it isn't in North America.  Sitting in the Norwegian ski town of Sudndalen, it is an absolute gem.  Probably the most complete set up amongst these three, it has an elevator lift to the top of the in-run as well as a multitude of different features and lines to be chosen.  The park is lit for when Hatveit wants to shred it up at night which is huge, especially in Norway when the sun goes down early in the winter.  The best part of Hatveit's setup…he has a few fan guns and Pisten Bully cat to do the work for him.  That puts this park over the top.  It doesn't look any different from something you would see at a normal mountain.
If this doesn't inspire you to get the shovels out, go to the hardware store and grab PVC piping and pray for snow, then what will?!